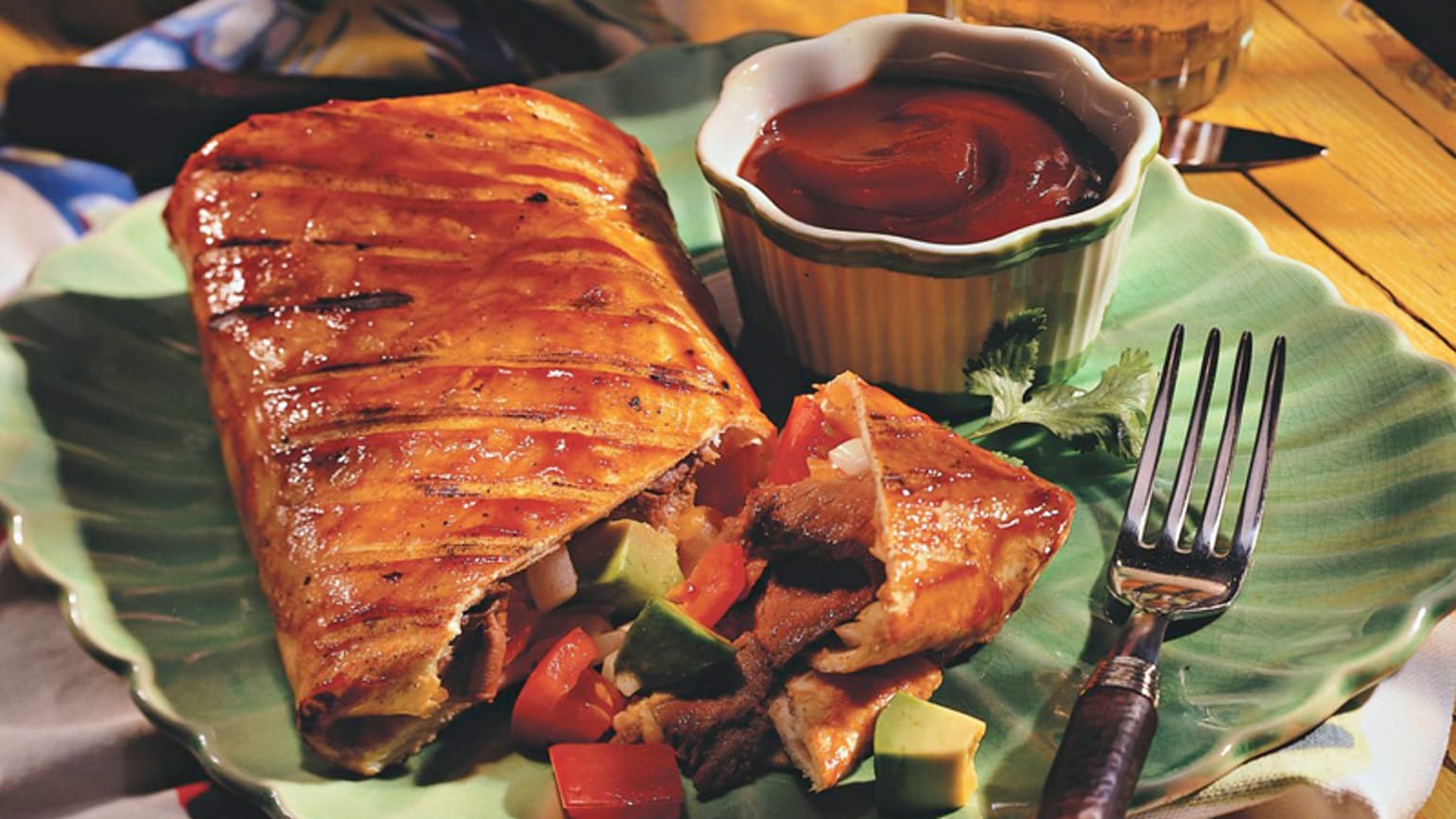 Barbecued Burritos
Betty Crocker's Great Grilling cookbook shares a recipe! Brushing the folded burritos with barbecue sauce before grilling is a bit unusual, but the wonderful flavor is well worth it!
Ingredient List
1 lb (500 g) boneless beef top round steak (about 1 inch/2.5 cm thick)
2/3 cup (150 mL) spicy eight vegetable juice
2 tbsp (30 mL) lime juice
1 tbsp (15 mL) vegetable oil
1/4 tsp (1 mL) salt
1 medium orange, peeled, chopped
1/2 cup (125 mL) chopped peeled jicama
1/4 cup (50 mL) chopped tomatillos
1/4 cup (50 mL) chopped red onion
2 tbsp (30 mL) chopped fresh cilantro or parsley
1 tbsp (15 mL) lime juice
1 tsp (5 mL) honey
1/4 tsp (1 mL) salt
1 small serrano chile, seeded, finely chopped (1 tbsp/15 mL)
1 pkg (8 count) Old El Paso™ Large Soft Flour Tortillas
Preparation
With fork, pierce beef several times on both sides. In shallow nonmetal dish or resealable food-storage plastic bag, mix all remaining beef ingredients. Add beef; turn to coat with marinade. Cover dish or seal bag; refrigerate, turning beef occasionally, at least 8 hours but no longer than 24 hours.
In small nonmetal bowl, mix all salsa ingredients until blended. Cover; refrigerate at least 2 hours to blend flavors.
Brush grill rack with vegetable oil. Heat coals or gas grill for direct heat. Wrap tortillas in heavy-duty foil.
Remove beef from marinade; discard marinade. Place beef on grill rack. Cover and grill beef over medium heat 25 to 30 minutes for medium doneness, turning once. Add packet of tortillas for last 5 minutes of grilling, turning occasionally, until warm.
Cut beef across grain into thin slices. Place beef, cheese, onion, tomato and avocado on center of each tortilla. Fold one end of tortilla up about 1 inch over filling; fold right and left sides over folded end, overlapping. Fold remaining end down. Brush burritos with barbecue sauce.
Grill burritos uncovered over medium heat 5 minutes, turning once, until hot. Serve burritos with salsa.
Expert Tips
Jicama is related to the sharp-tasting turnip, but it is very mild in flavor and packs an inviting crunch in the fresh salsa. Peel the brown outer skin, and then chop the white flesh. Tomatillos are green vegetables that look like cherry tomatoes. They come in husks, so remove the husks and rinse off any sticky residue before chopping.
For a tomatillo substitute, buy underripe tomatoes and add a squeeze of lime juice.