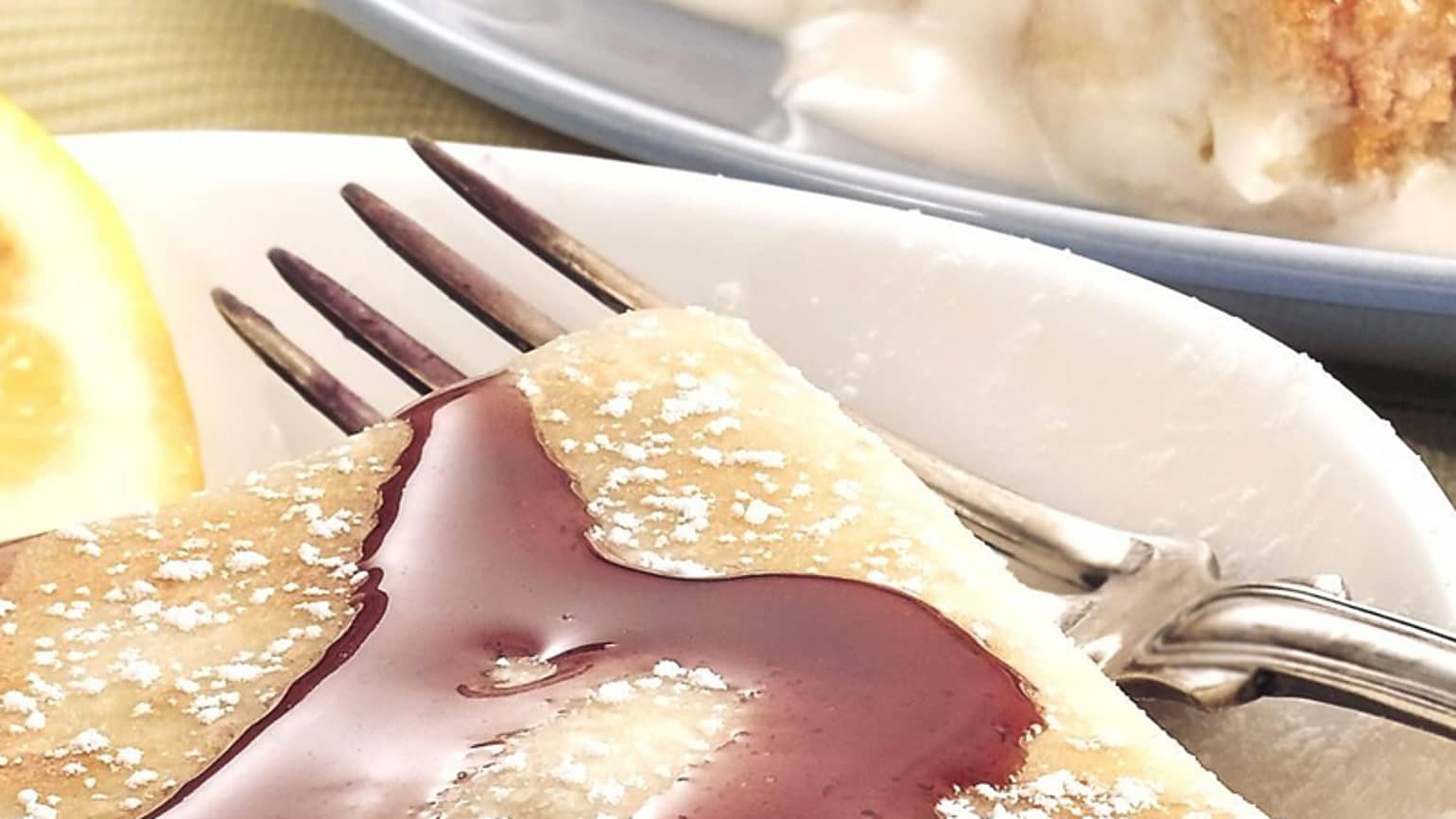 Blueberry Burrito Blintzes
Simply delicious! Your whole family will love this blueberry-flavoured twist on a classic blintz.
Ingredient List
2 1/4 cups (550 mL) frozen blueberries
1/2 cup (125 mL) low-fat cottage cheese
2 tbsp (25 mL) sugar
1/2 tsp (2 mL) grated lemon peel
1/4-1/2 tsp (1-2 mL) each nutmeg and cinnamon
1/2 pkg (250 g) low-fat cream cheese, softened
3/4 cup (175 mL) low-fat blueberry yogurt
1 pkg (334 g) Old El Paso* 8 Large Flour Tortillas
1 tbsp (15 mL) butter or margarine
1/4 cup (50 mL) maple syrup
Icing sugar
Lemon slice, if desired
Preparation
Thaw blueberries as directed on package. Drain; reserve juice.
In a medium bowl, mix cottage cheese, sugar, lemon peel, nutmeg, cinnamon, cream cheese and yogurt until well blended. Gently stir in drained blueberries.
Place large sheet of waxed paper on work surface. For each blintz, place 1 tortilla on waxed paper. Spoon about 1/4 cup (50 mL) yogurt mixture in centre. With pastry brush, moisten outer edge of tortilla with reserved blueberry juice. Fold opposite sides of tortilla over filling, ends meeting in centre; fold remaining 2 sides of tortilla over each other.
In large non- stick skillet, melt half the butter over medium heat. Cook 4 blintzes at a time, starting with seam-side-down, about 3 minutes on each side until golden brown. Place blintzes, seam-side-down, on serving platter; drizzle with maple syrup. Sprinkle with icing sugar and garnish with lemon slice if desired.
Expert Tips
Try with other frozen fruits and flavoured yogurts.