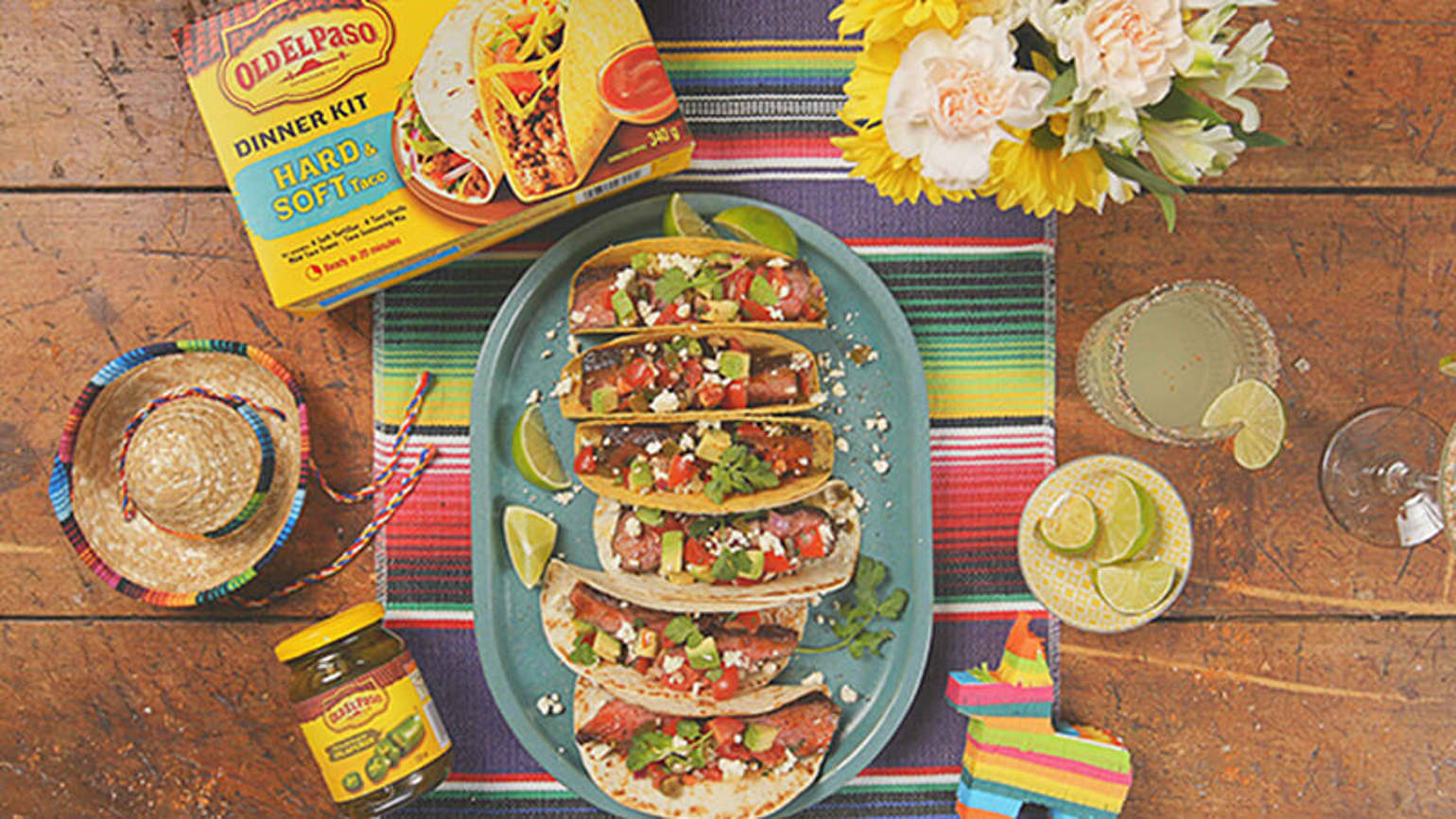 Ingredient List
2 tbsp (30 mL) olive oil or vegetable oil, divided
400 g striploin grilling steak
1 pkg Old El Paso Hard and Soft Dinner Kit
1/2 tsp (2 mL) kosher salt, divided
3 tomatoes, chopped
Half small red onion, diced
1 tbsp (15 mL) lime juice
3 tbsp (45 mL) chopped Old El Paso Pickled Sliced Jalapenos
Handful cilantro, chopped
1 lime, cut into wedges
½ cup (125 mL) crumbled feta cheese
1 avocado, diced
Preparation
Drizzle 1 tbsp of the oil all over steak and sprinkle with 2 tbsp of the Taco Spice Mixture and ¼ tsp of the salt. Heat remaining 1 tbsp oil in a skillet over medium heat and cook prepared steak until medium-rare, 3-4 minutes per side. Let stand 5 minutes before thinly slice against the grain.
In a bowl, stir together the tomatoes, onions, 1 tsp of the Taco Seasoning Mix, the remaining ¼ tsp salt, 1 tbsp lime juice and OEP Jalapenos. Stir in cilantro.
Divide and fill the tacos with tomato mixture, steak and garnish with thinly sliced red onion, feta and avocado.
Expert Tips
Bulk up your taco with finely shredded cabbage then top with the tomato mixture, steak, onion, feta and avocado.