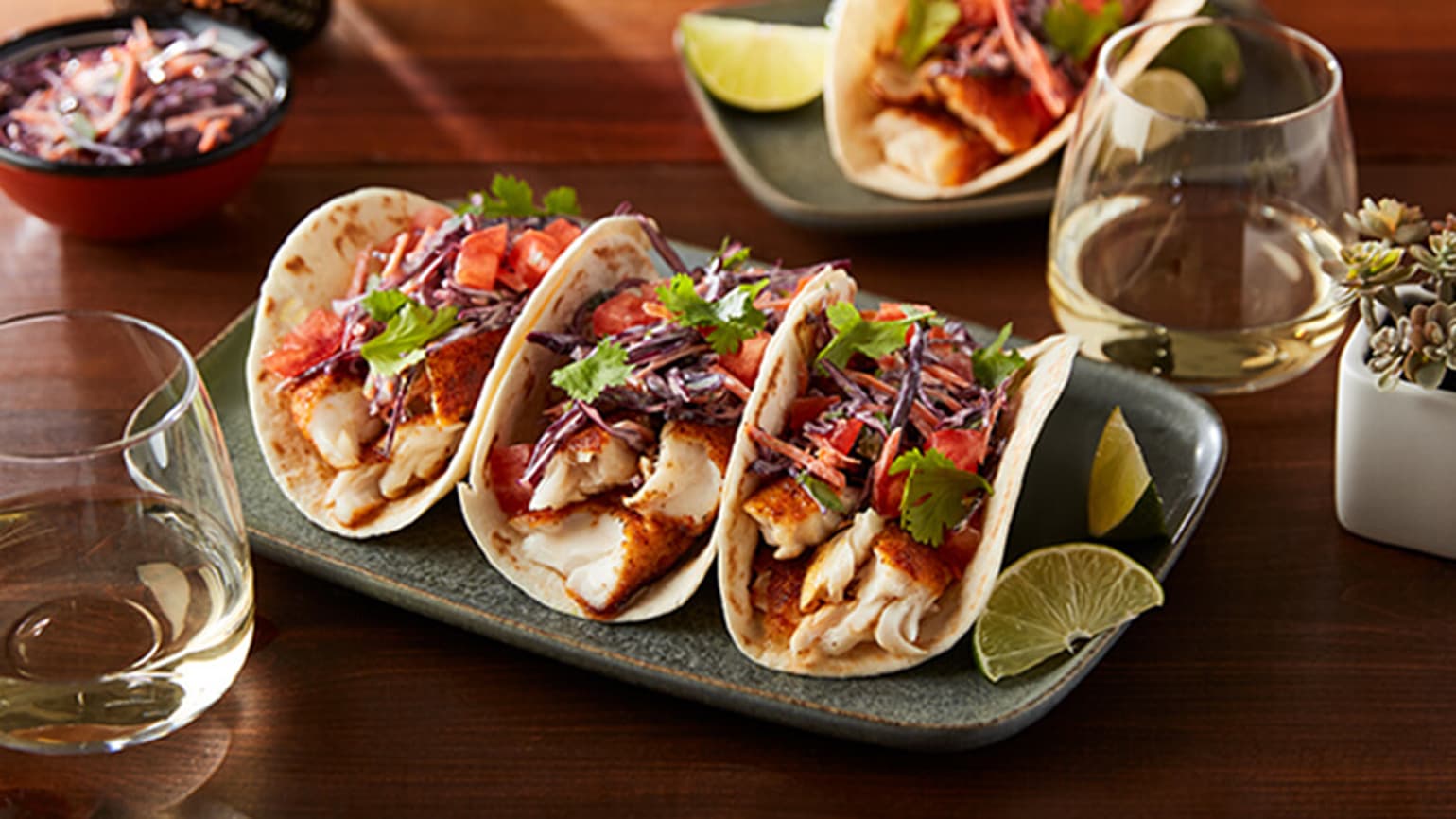 Date Night Spicy Fish Tacos
Crispy taco-seasoned fish fillets topped with fresh cabbage and lime sauce!
Ingredient List
1/3 cup (75 mL) Greek plain yogurt
½ tsp (2 mL) grated lime peel
½ tsp (2 mL) fresh squeezed lime juice
½ tsp (2 mL) sugar
1/8 tsp (1 mL) salt
2 cups (500 mL) coleslaw mix (shredded cabbage and carrots)
1 tbsp (15 mL) chopped fresh cilantro (optional)
¼ cup (50 mL) breadcrumbs
1 Old El Paso™ Tacos For Two Soft Taco Kit
1 large fresh tilapia fillet or any white fish fillet (about ½ lb/250 g)
2 tbsp. (30 mL) vegetable oil
1 small tomato, diced (optional)
Preparation
To make the cabbage and lime sauce mixture, combine first seven ingredients in a medium bowl and set aside.
In a small bowl, mix breadcrumbs and taco seasoning mix from kit until well combined. Transfer seasoned breadcrumbs to a large dinner plate or flat dish.
If fish filet is dry, moisten with cold water. Place fish on top of breadcrumb mixture and press into crumbs to coat. Flip fish over to coat the other side.
Heat oil in 12-inch skillet until hot. Cook fish in oil 6 to 8 minutes over medium heat, turning once, until fish is golden and crispy on both sides and flakes easily with a fork. Cut into pieces.
Place tortillas from the kit on a microwaveable plate and cover. Microwave about 30 seconds until warm.
To assemble, place piece(s) of fish on each warmed tortilla and top with coleslaw mixture. Sprinkle with diced tomatoes, if desired.