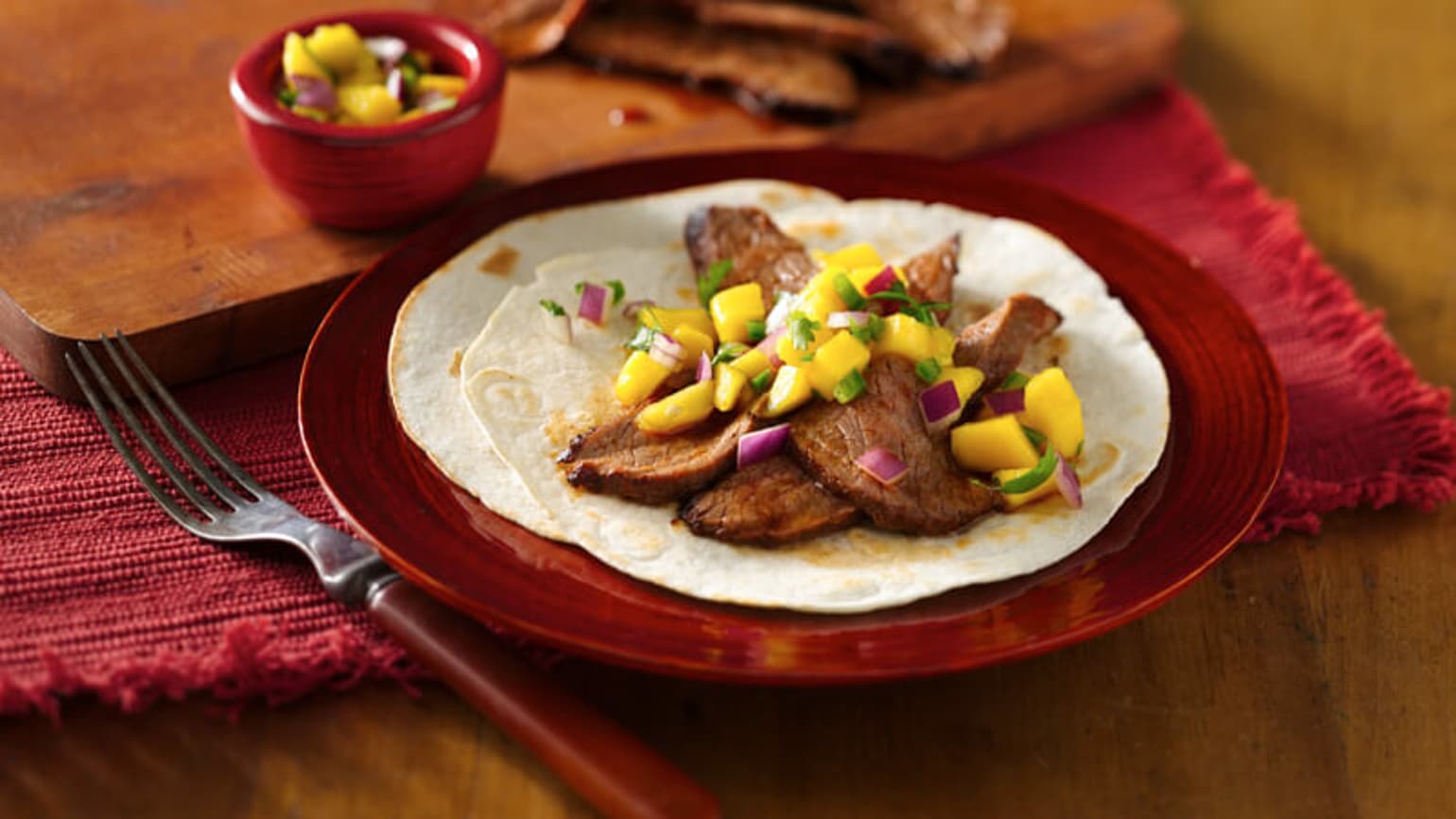 Flank Steak Tacos with Mango Salsa
Try these delicious steak tacos with vibrant mango salsa for a real treat!
Ingredient List
1 tbsp (15 mL) vegetable oil
1 pkg Old El Pasoᵀᴹ Taco Seasoning Mix
1 beef flank steak (about 1 1/4 lb/625 g)
8 (6 inch)Old El Pasoᵀᴹ Medium Flour Tortillas (from 12 count package)
2 ripe medium mangoes, seed removed, peeled and diced
Juice of 1 medium lime
1 jalapeno chili, seeded, chopped (if desired)
1/4 cup (50 mL) chopped red onion
1/4 cup (50 mL) chopped fresh cilantro leaves
Preparation
Heat oven to 400°F. Line cookie sheet with foil.
In 10-inch skillet, heat oil over high heat. Sprinkle taco seasoning mix over flank steak, pressing to coat. Brown steak in oil on both sides. Place steak on cookie sheet. Roast until meat thermometer inserted in center of steak reads 135°F. Remove from oven, and let rest 10 minutes.
Meanwhile, in large bowl, mix salsa ingredients. Refrigerate until ready to serve.
Cut steak into thin slices. Place 2 or 3 slices steak on each tortilla. Top with salsa. Roll up tortillas.
Expert Tips
Want to speed up dinner? Buy prepared mango salsa, found in many stores, instead of making the salsa yourself. Both are delicious with this dish!