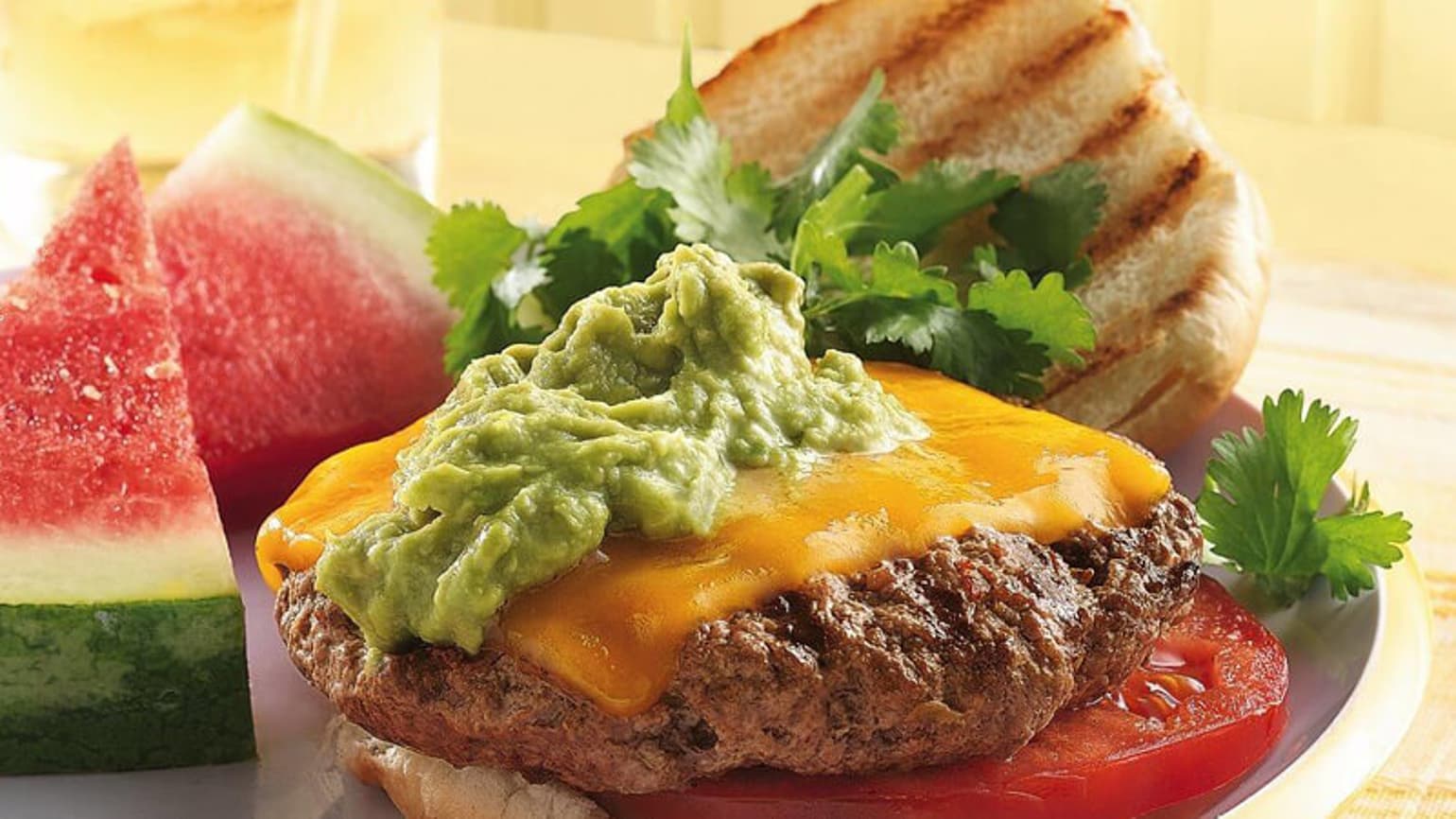 Grilled Chipotle Burgers with Guacamole
Looking for a change from plain old hamburgers? With smoky chipotles inside and zippy guacamole on top, these will do the trick.
Ingredient List
2 1/2 lb (1.25 kg) lean ground beef
1/4 tsp (1 mL) red pepper sauce
1/4 tsp (1 mL) salt, if desired
1 clove garlic, finely chopped
1 can Old El Paso* Chopped Green Chilies
3 tbsp (45 mL) chopped canned chipotle chilies in adobo sauce, undrained
8 slices Cheddar or Monterey Jack cheese, if desired
8 burger buns, split
2 medium tomatoes, sliced
2 large avocados, pitted, peeled and cubed
1 tbsp (15 mL) lime juice
Preparation
Heat gas or charcoal grill. In large bowl, mix beef, green chiles and chipotle chiles. Shape into 8 patties, about 3/4 inch thick.
In medium bowl, mash guacamole ingredients, using pastry blender or fork.
Place patties on grill over medium heat. cover grill; cook 13 to 15 minutes, turning once, until meat thermometer inserted in center of patties reads 160ºF (71ºC). Top each patty with cheese slice; cook just until cheese is melted. To toast buns, place cut sides down on grill during last 1 to 2 minutes of cook time.
Layer buns with tomato slices, burgers and guacamole.
Expert Tips
Tip: You can control the spiciness of these burgers by adjusting the amount of chipotle chiles and adobo sauce in them.
Short on time? : Skip the guacamole and top your burger with a slice of avocado instead.
Substitution: Canned chipotle chilies can be substituted with 3 tsp/15 mL chipotle hot red pepper sauce.