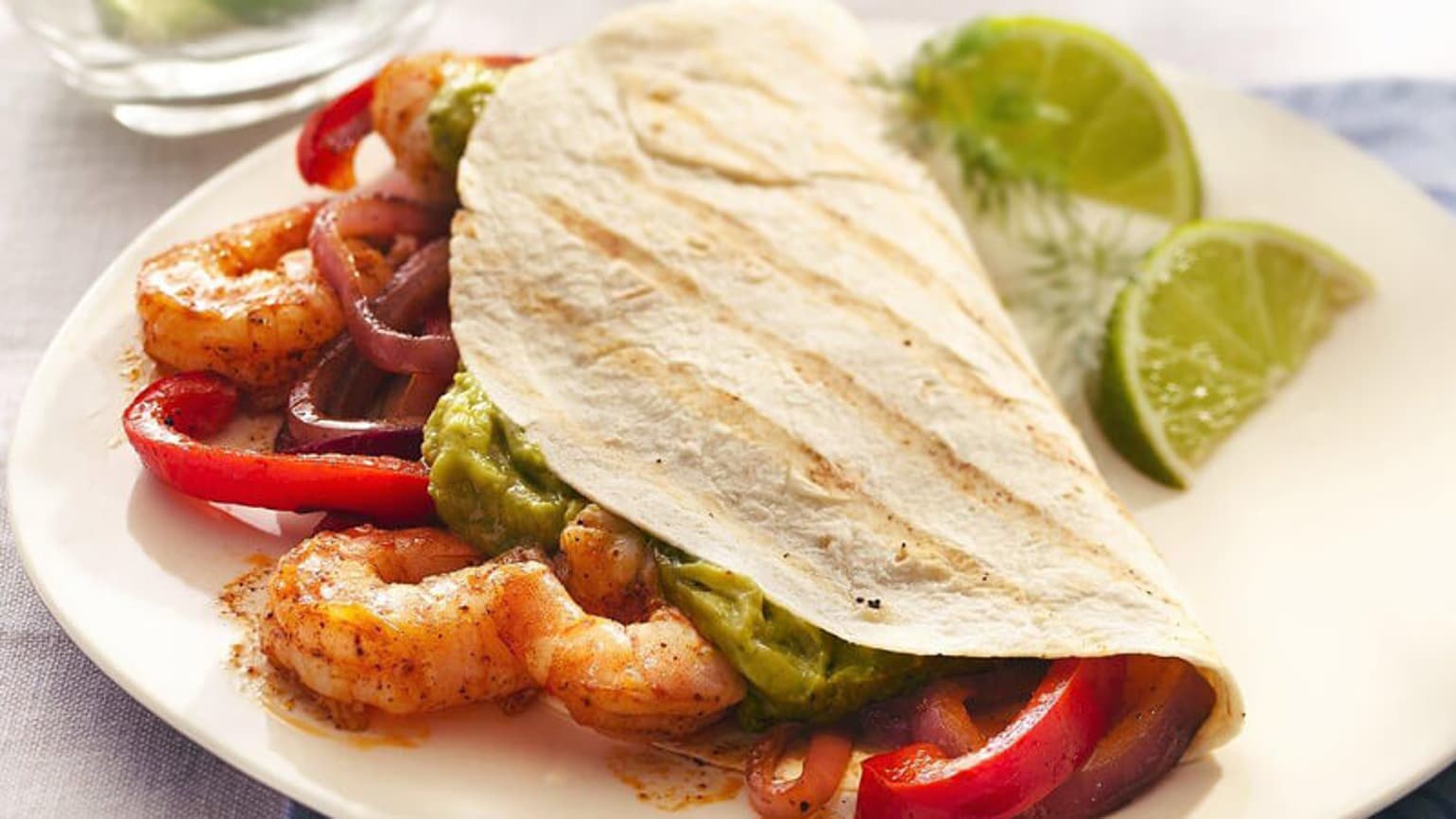 Grilled Shrimp Fajitas
Surprise your family with sizzling, restaurant-quality fajitas! A spicy marinade fabulously flavours the shrimp.
Ingredient List
1 tbsp (15 mL) lime juice
1 tbsp (15 mL) olive or vegetable oil
1 tsp (5 mL) salt
1 tsp (5 mL) chili powder
1 tsp (5 mL) ground cumin
2 medium cloves garlic, crushed
Pinch ground red pepper (cayenne)
2 lbs (1 kg) uncooked deveined peeled medium shrimp, thawed if frozen, tail shells removed
2 medium red bell peppers, cut into strips (about 2 cups/500 mL)
1 medium red onion, sliced (about 2 cups/500 mL)
Olive oil cooking spray
6 Old El Paso* Large Flour Tortillas (from 8 count package)
1 1/2 cups (375 mL) refrigerated guacamole
Preparation
Heat gas or charcoal grill. In large resealable food-storage plastic bag, mix marinade ingredients until well blended. Add shrimp; toss to coat. Cover; refrigerate 20 minutes to marinate, turning once. Meanwhile, in medium bowl, place bell peppers and onion; spray with cooking spray. Place vegetables in grill basket (grill ""wok""). Wrap tortillas in foil; set aside.
Place basket on grill rack over medium heat. Cover grill; cook 10 minutes, turning vegetables once.
Drain shrimp; discard marinade. Add shrimp to grill basket. Cover grill; cook 5 to 7 minutes longer, turning shrimp and vegetables once, until shrimp are pink. Place wrapped tortillas on grill. Cook 2 minutes, turning once, until warm.
On serving platter, place shrimp and vegetables; cover to keep warm. Place warmed tortillas on plate; place guacamole in serving bowl. For each serving, top tortilla with shrimp, vegetables and guacamole; fold tortilla over filling.
Expert Tips
Do not marinate the shrimp longer than 20 minutes or they will start to cook in the marinade.
Look for prepared guacamole in the refrigerated section of your supermarket.