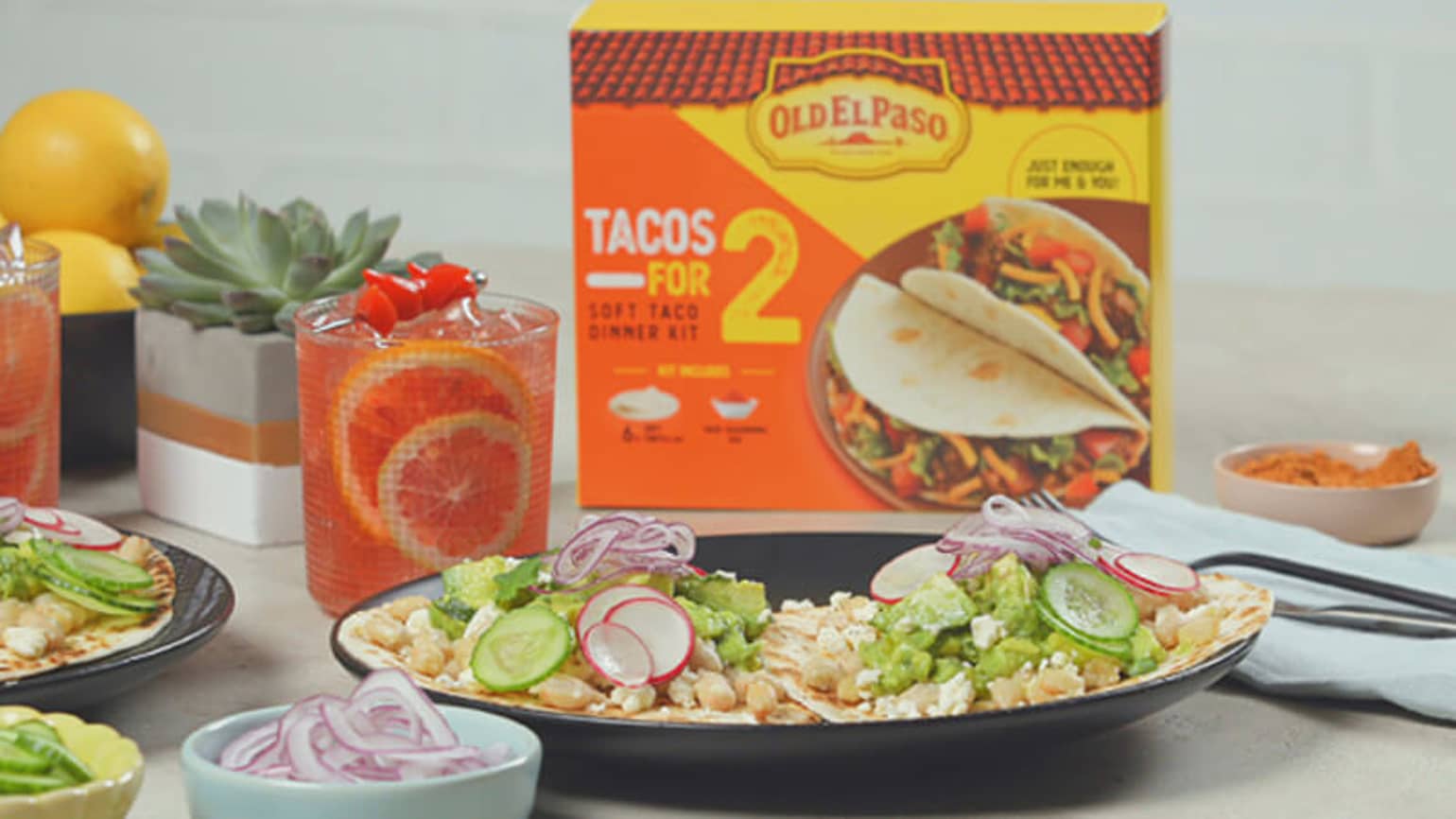 Ingredient List
2 ripe avocados
3 tbsp (45 mL) extra-virgin olive oil, divided
4 tsp (20 mL) lemon juice
1 small clove garlic, minced
½ tsp (2 mL) kosher salt
1/3 cup (75 mL) chopped cilantro, divided
540 mL can navy beans or white beans, drained and rinsed
½ cup (125 mL) crumbled feta cheese
¼ thinly (50 mL) thinly sliced red onion
2 mini cucumbers, thinly sliced
1 pkg Old El Paso Taco Kit For 2 Soft Dinner Kit
Yogurt Crema
1/3 cup (75 mL) Balkan-style plain yogurt
1 tbsp (15 mL) Old El Paso Taco Seasoning Mix
Garnish: Thinly sliced red finger chili or Thai chili on top
Preparation
Halve, pit, and dice avocados in a bowl; add 1 tbsp of the oil, lemon juice, garlic and salt. Using a fork, mash until combined with some chunks remaining. Sprinkle with 3 tbsp of the cilantro, stirring to combine.
Place beans on a plate and microwave until warm, about 40 seconds. Drizzle with the remaining 2 tbsp oil and lightly mash with a fork. Stir in half of the feta cheese.
Heat tortillas according to package. Divide bean mixture among tortillas, top with smashed avocado, remaining cilantro and feta, red onion and cucumbers.
To make yogurt crema, stir yogurt and Old El Paso Taco Seasoning and serve with tacos.
Expert Tips
Mashed beans can quickly become a base for any vegetarian-based taco, top with cheese, meaty mushrooms or a quick salsa for an easy and satisfying meal.