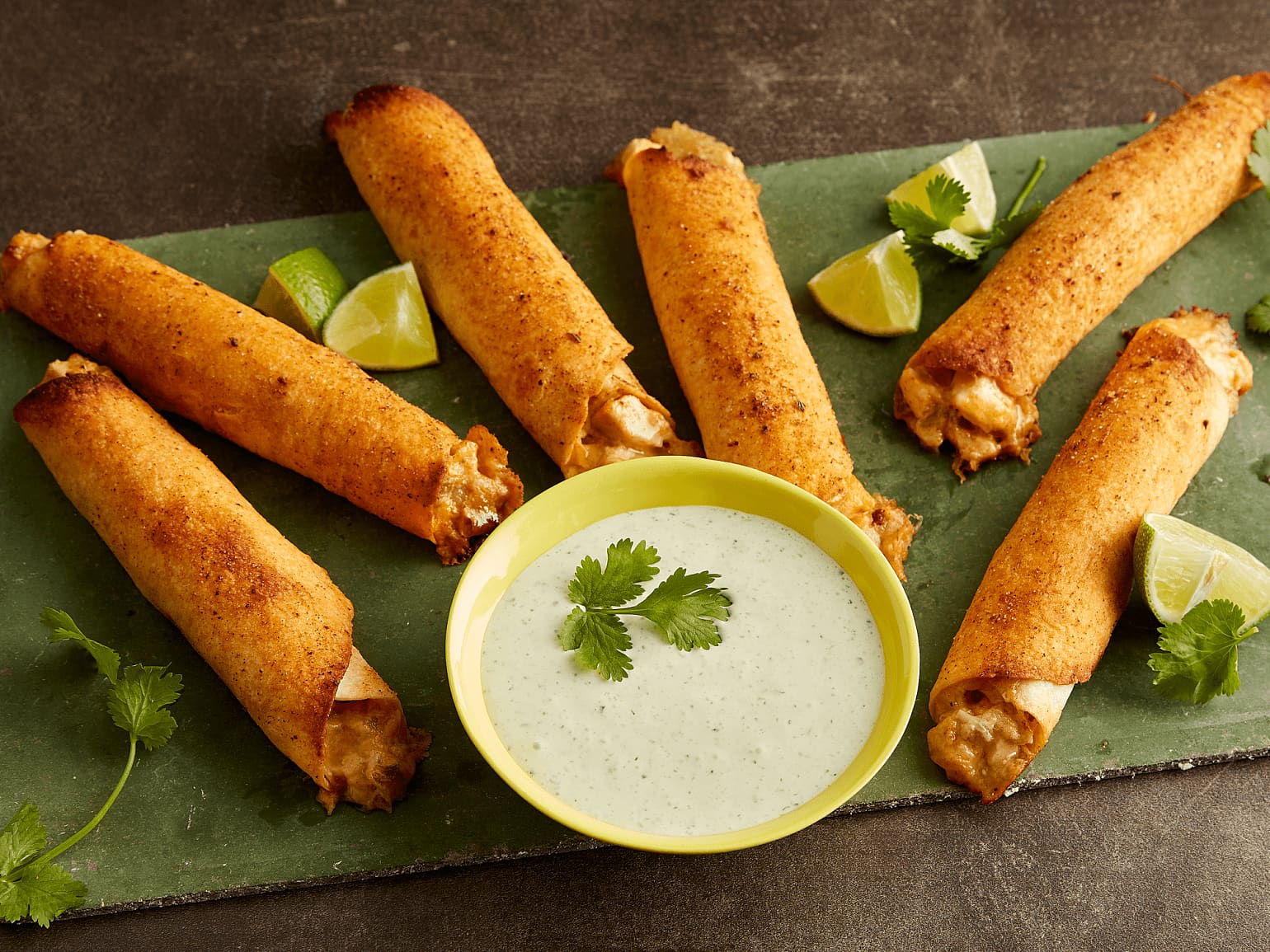 Baked Cheesy Chicken Flautas
You don't need to deep fry to get crispy delicious flautas. These are easy to make and as crispy as you'd get in any Mexican restaurant!
Ingredient List
Herbed Sour Cream
1 container (250 mL) sour cream
1/4 cup (50 mL) fresh cilantro leaves
2 tablespoons (30 mL) roughly chopped green onions
1 tablespoon (15 mL) honey
1 tablespoon (15 mL) fresh lime juice
1/4 teaspoon (1 mL) salt
Flautas
2 tablespoons (30 mL) vegetable oil
1 package (24 g) Old El Paso™ Taco Seasoning Mix
1 cup (250 mL) chopped or shredded cooked chicken
1 cup (250 mL) shredded Mexican cheese blend
125 g (half of 250 g package) cream cheese, softened
1 can (127 mL) Old El Paso™ chopped green chilies
10 tortillas from 1 package (297 g) Old El Paso™ Medium Flour Tortillas (12 Count)
Preparation
Place Herbed Sour Cream ingredients in blender; cover and puree 30 to 60 seconds or until smooth. Transfer to small bowl; cover and refrigerate until ready to serve.
Heat oven to 425°F (220°C). Spray large rimmed baking sheet with cooking spray. In small bowl, mix oil and 1 tablespoon (15 mL) of the taco seasoning mix.
In medium bowl, mix chicken, shredded cheese, cream cheese, chilies and remaining taco seasoning mix.
Place slightly less than 1/4 cup (50 mL) chicken mixture on bottom third of each tortilla. Roll up tightly; place seam-side down in pan. Brush filled tortillas with oil mixture. Bake 10 to 13 minutes or until filling is hot (at least 165°F/74°C) and flautas are crispy. Serve with Herbed Sour Cream.
Expert Tips
Herbed Sour Cream can be made up to a day ahead; store covered in refrigerator. It is a great Mexican topping to have on hand for taco night and also a great dip for veggies!
Any leftover cooked chicken will work great for this recipe.
Kick up the heat level by adding a few red pepper flakes or hot sauce to the chicken mixture.