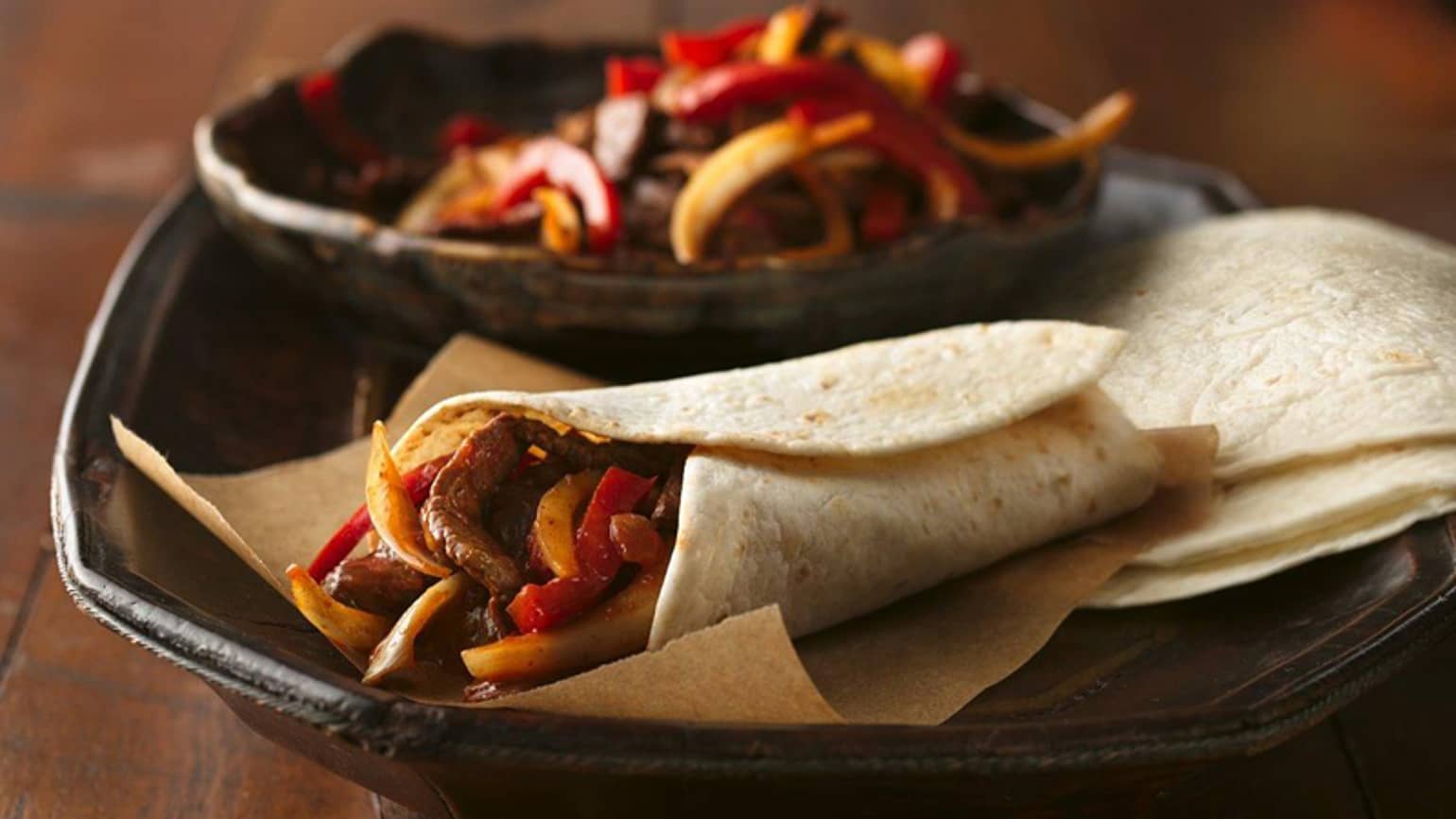 Beef Fajitas
Marinate beef steak strips in a kicky lime mixture before cooking. Then serve in warm tortillas with onions, peppers, salsa and guacamole.
Ingredient List
2 tbsp (30 mL) lime juice
1 tbsp (15 mL) honey
1 tbsp (15 mL) vegetable oil
2 tsp (10 mL) chili powder
2 cloves garlic, finely chopped
3/4 lb (375 g) lean boneless beef top round steak, slightly frozen, cut into thin strips
1 onion, thinly sliced
1 red or green bell pepper, cut into strips
1 tsp (5 mL) cornstarch
1/4 cup (50 mL) cold water
1/3 cup (75 mL) guacamole
4 Old El Paso* (Large) Flour Tortillas (8-inch) warmed
1/3 cup (75 mL) Old El Paso* Thick N' Chunky Salsa
Preparation
In medium nonmetal bowl, stir together all marinade ingredients. Add beef strips; stir to coat. Cover; refrigerate 30 minutes to marinate, stirring occasionally.
Spray 12-inch nonstick skillet with cooking spray. Heat over medium-high heat until hot. Add beef and marinade; cook and stir 2 minutes. Add onion and bell pepper; cook and stir 3 to 4 minutes or until vegetables are crisp-tender and beef is no longer pink. In small bowl, stir cornstarch and cold water until smooth. Add to beef mixture; cook and stir 1 to 2 minutes or until thickened.
To serve, spoon 1/4 of guacamole down center of each tortilla. Top each with 1/4 of beef mixture. Top with salsa. Fold bottom edge of tortilla toward centre; fold 2 sides toward centre, slightly overlapping.
Expert Tips
Serve With : Serve fajitas with fresh pineapple or mango slices.