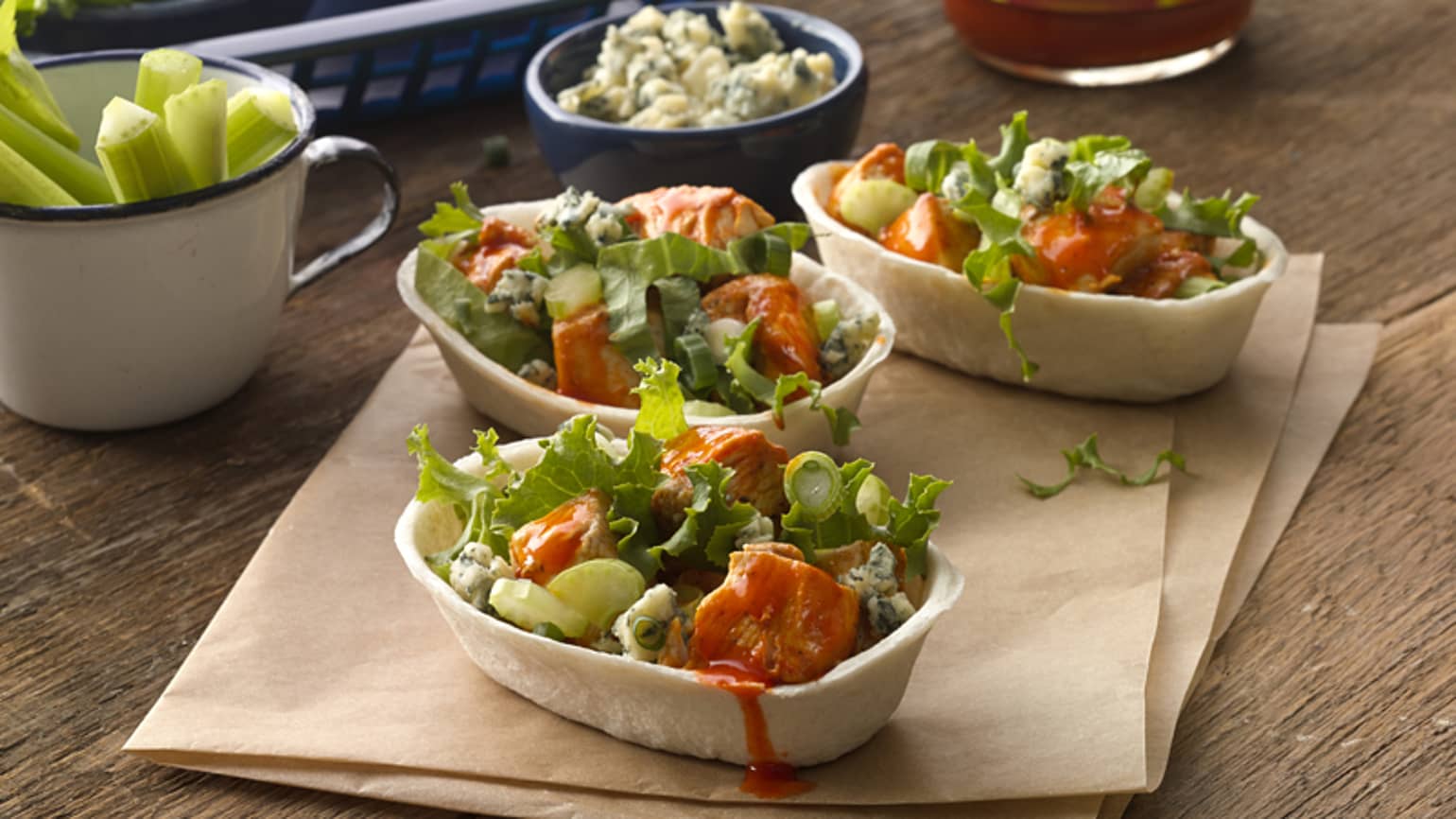 Buffalo Chicken Mini Taco Boats
New York is known for two things: inventing the flavor of Buffalo and thin crust pizza. Celebrate the origin of your favorite sauce with chicken, and make a taco out of it!
Ingredient List
1 package (1 1/4 lb/625 g) boneless skinless chicken breasts, cut into 2-inch (5 cm) cubes
1/3 cup (75 mL) bottled red hot sauce (wings sauce style preferred)
1/4 teaspoon (1 mL) ground red pepper (cayenne)
1/2 teaspoon (2 mL) salt
1/4 teaspoon (1 mL) pepper
2 tablespoons (30 mL) butter
12 Old El Paso™ mini tortilla bowls
Shredded lettuce, chopped green onions, diced celery, blue cheese crumbles, ranch dressing, if desired
Preparation
In medium bowl, stir together chicken, wings hot sauce, red pepper, salt and pepper.
In 10-inch nonstick skillet, melt butter over medium-high heat. Add chicken mixture. Cook 7 to 9 minutes, stirring occasionally, until no longer pink in center.
Heat tortilla bowls as directed on package. Spoon chicken mixture evenly into warmed bowls. Top with shredded lettuce, green onions, celery, blue cheese crumbles and ranch dressing.
Expert Tips
The original chicken wings were first served in 1964 at the Anchor Bar in Buffalo, New York. In Buffalo, chicken wings are always served with celery sticks and blue cheese dressing.
Serve with extra Buffalo wing sauce for added kick!