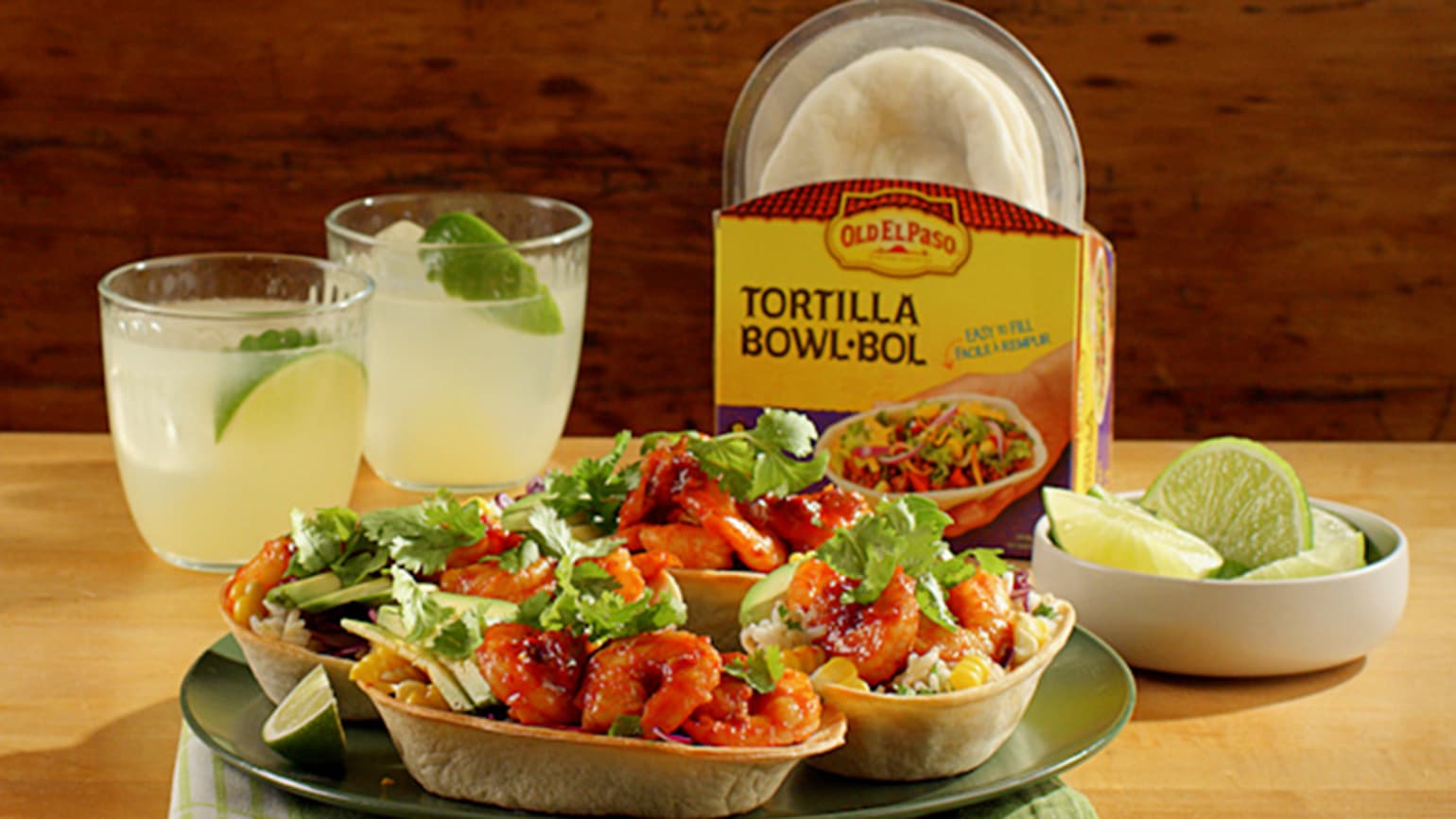 Chipotle & Lime Shrimp Bowls
Every taco bowl is perfect when you build it yourself! Try our recipe for chipotle & lime shrimp and enjoy it family style with our signature tortilla bowls!
Ingredient List
Shrimp
Old El Paso Tortilla Bowl Kit
16 large cooked shrimp, deveined and peeled
3 tablespoons olive oil, divided
3 tablespoons fresh lime juice
1 chipotle pepper in adobo sauce, finely minced
1 tablespoon adobo sauce liquid from can of peppers
2 garlic cloves minced
Bowls
2 cups cooked brown or white rice, divided
1 cup corn, drained or fresh sweet corn from 2 cobs, divided
2 cups shredded purple cabbage, divided
1-2 avocados thinly sliced
1-2 tablespoons chopped fresh cilantro
Lime wedges for serving
Preparation
Stir together 2 tablespoons of oil, 2 tablespoons of Old El Paso taco seasoning, lime juice, diced chipotle pepper and adobo sauce. Add the shrimp and toss to coat all the shrimp in the mixture and set aside. Let the shrimp rest on the counter while you prep your other ingredients.
Heat a 10" stainless steel pan over medium-high heat. Add the remaining teaspoons of olive oil to the pan and swirl to coat. Add the garlic and sauté until fragrant, about 2 min.
Add the shrimp and half of the remaining marinade to the pan. Let the shrimp cook for 2 minutes then turn them over and cook for an additional minute. Remove shrimp from the pan when they're finished cooking.
Divide the rice between the 4 burrito bowls and top each with a drizzle of the remaining chipotle sauce from the pan. Add the purple cabbage, corn, avocados and shrimp. Garnish each bowl with chopped cilantro.
Serve and enjoy!