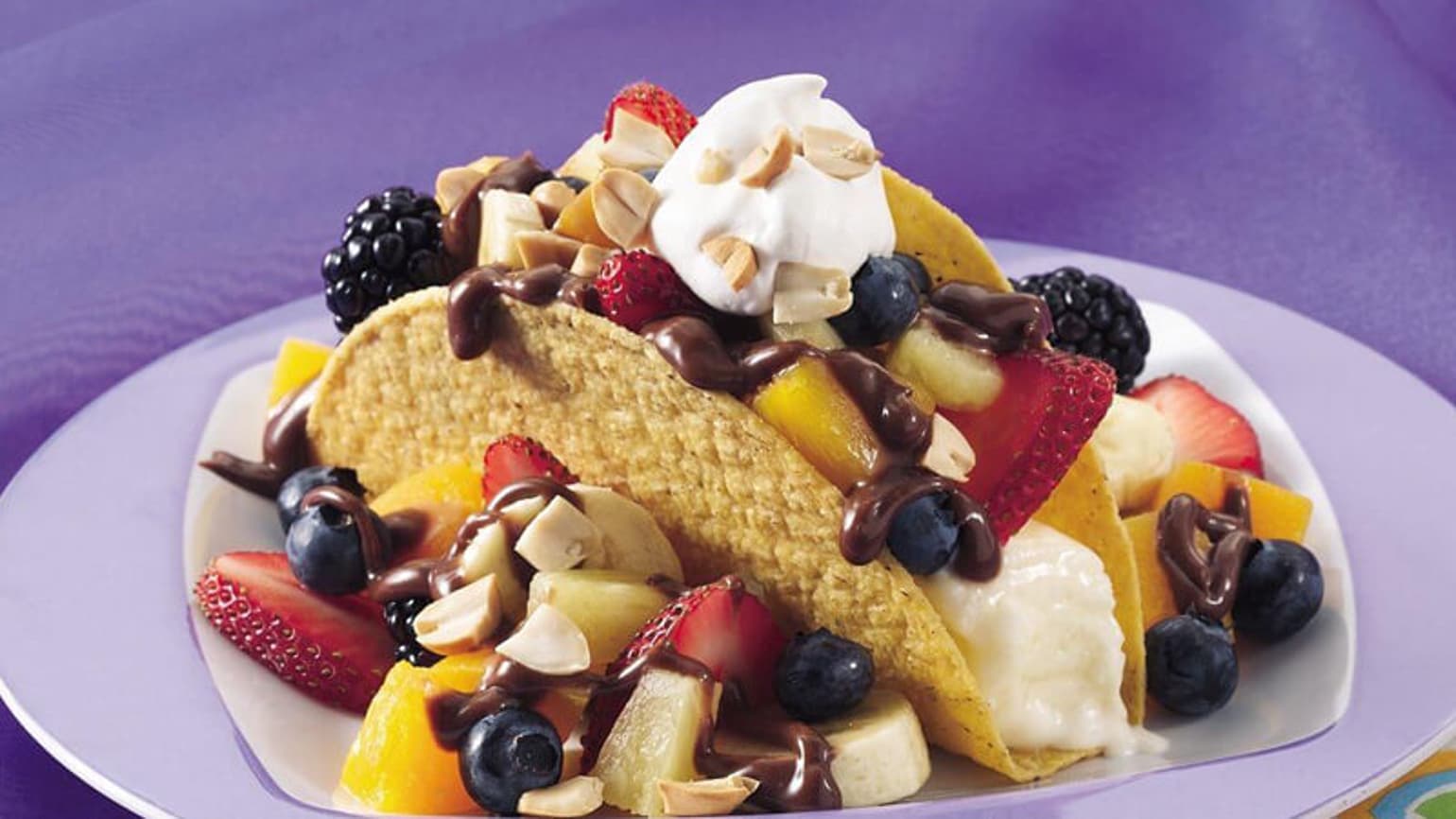 Dessert Tacos
Munch a fun fruit-filled stand-up treat that will become a family favourite. Yum!
Ingredient List
6 Old El Paso™ Stand 'N Stuff™ taco shells
1 cup (250 mL) chopped peaches
1 cup (250 mL) chopped pineapple
3/4 cup (175 mL) fresh blackberries
2/3 cup (150 mL) fresh blueberries
12 medium fresh strawberries, sliced
2 medium bananas, sliced
6 rectangles (4x1x1 inch each) vanilla ice cream, cut from 2 L brick
1/2 cup (125 mL) chocolate or caramel ice cream topping
1/2 cup (125 mL) whipping cream, whipped
1/2 cup (125 mL) chopped nuts (any variety)
Preparation
Heat oven to 325ºF. Heat taco shells as directed on box. Meanwhile, in large bowl, gently mix fruit.
Carefully remove cardboard from ice cream (do not damage cardboard). With serrated knife, cut ice cream into 6 (4x1x1-inch) rectangles. (Reassemble box around remaining ice cream for freezer storage; if necessary, wrap carton in plastic wrap to secure.)
Place 1 rectangle of ice cream in bottom of each taco shell. Divide fruit mixture evenly over ice cream. Drizzle chocolate topping evenly over fruit. Top with whipped cream and nuts. Serve immediately.
Expert Tips
Canned peaches and pineapples can be substituted for fresh fruit.
The ice cream rectangles (or log shapes) are easy to cut. Slice two 1-inch-wide slabs crosswise from one end of ice cream brick, then cut the slabs lengthwise into thirds.