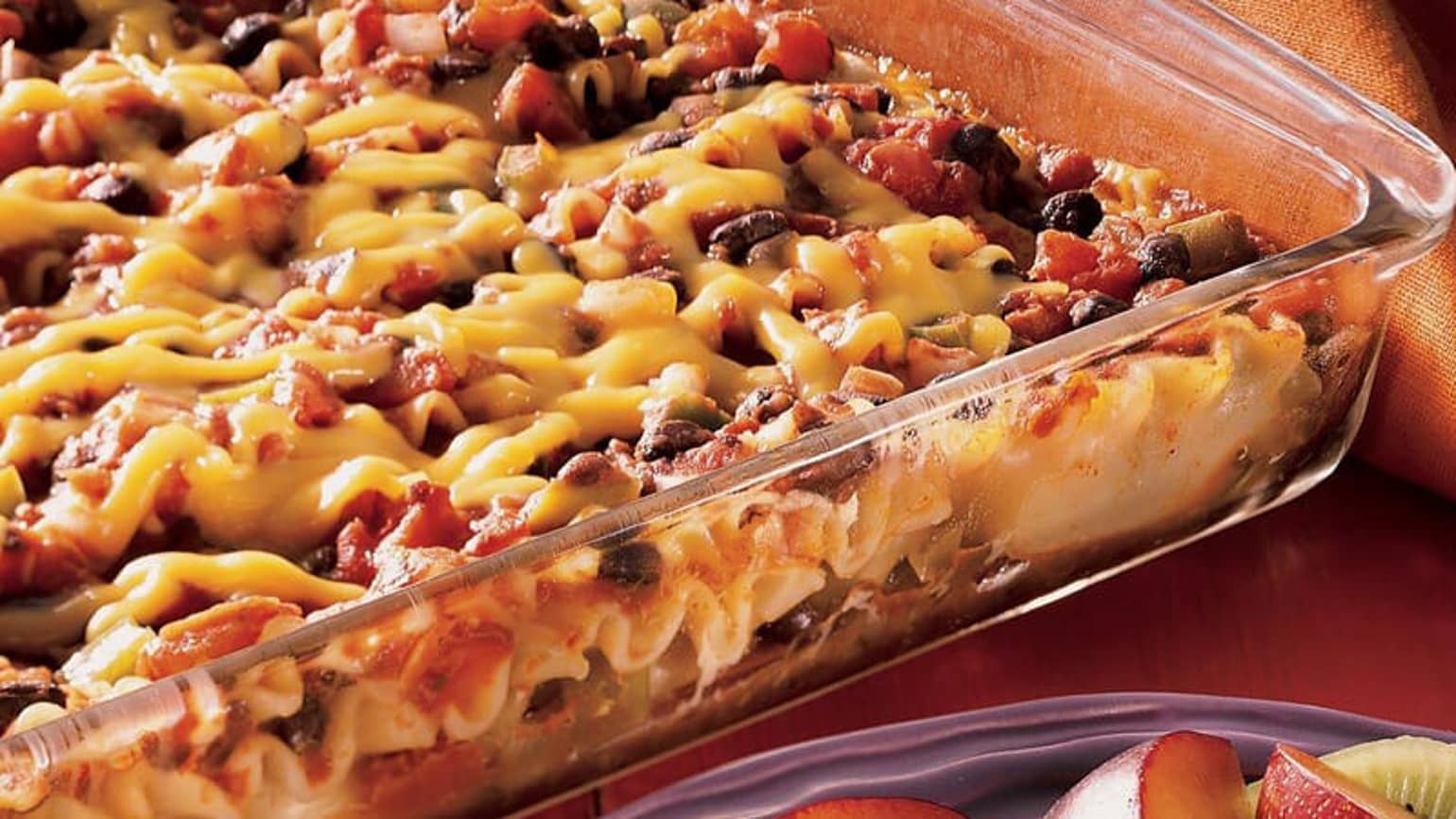 Easy Black Bean Lasagna
Italy meets the Southwest in a cheese-rich concoction of salsa-laced tomato sauce, black beans and flat noodles.
Total Time
1 Hours
20 Minutes
Ingredient List
1 can (19 FL oz/540 mL) black beans, drained, rinsed
1 can (796 mL/28 FL oz) diced tomatoes, undrained
3/4 cup (175 mL) chopped onions
1/2 cup (125 mL) green bell pepper
1/2 cup (125 mL) Old El Paso* Thick N' Chunky Salsa
1 tsp (5 mL) chili powder
1/2 tsp (2 mL) cumin
1 cup (250 mL) light ricotta or cottage cheese
1/8 tsp (.5 mL) garlic powder
1 egg
10 uncooked oven ready lasagna noodles
1 1/2 cups (375 mL) shredded Cheddar or mozzarella cheese
Preparation
Heat oven to 350ºF. Spray 13x9-inch (3-quart) glass baking dish with cooking spray. In large bowl, mash beans slightly. Stir in tomatoes, onions, bell pepper, salsa, chili powder and cumin; mix well.
In small bowl, mix ricotta cheese, garlic powder and egg.
Spread 1 cup of the tomato mixture over bottom of baking dish. Top with half of noodles, overlapping slightly. Top with half of remaining tomato mixture. Spoon ricotta mixture over top; spread carefully. Top with half of cheese, then with remaining noodles, tomato mixture and cheese. Spray sheet of foil with cooking spray; cover baking dish with foil, sprayed side down.
Bake 40 to 45 minutes or until noodles are tender. Uncover; let stand 15 minutes before serving.