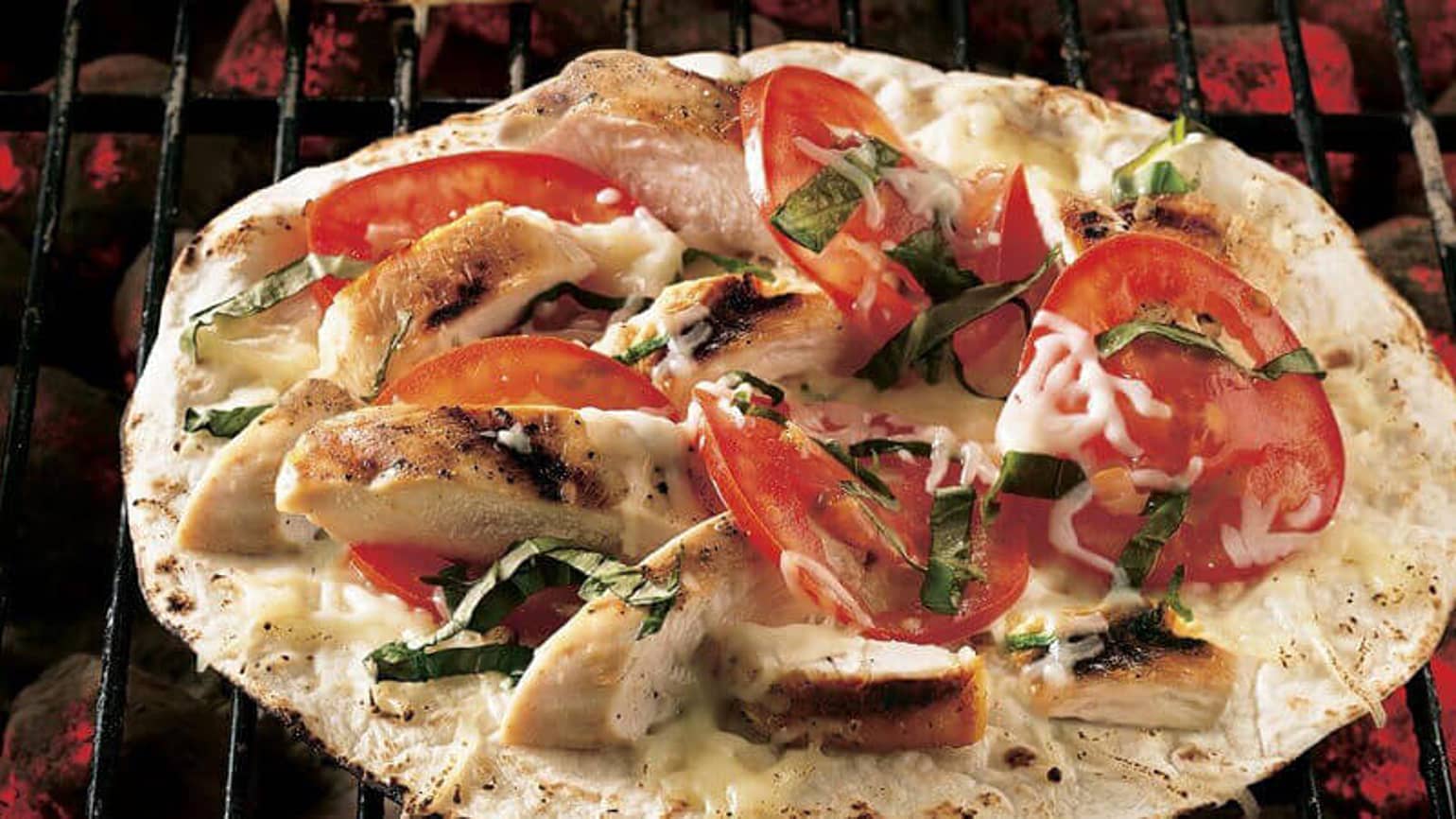 Grilled Chicken Margherita Pizzas
Move the party outdoors! Using tortilla crusts and a few toppings, you can make individual pizzas for four or 40.
Ingredient List
1 tbsp (15 mL) olive oil
1 clove garlic, finely chopped
2 boneless skinless chicken breasts
1/2 tsp (2 mL) salt
4 Old El Paso* Large Flour Tortillas (from 8 count package)
Preparation
Heat gas or charcoal grill. In small bowl, mix oil and garlic. Brush chicken breasts with 1 teaspoon of the oil mixture; sprinkle with seasoned salt. Place on grill over medium-high heat. Cover grill; cook 12 to 18 minutes, turning once, until juice of chicken is clear when centre of thickest part is cut (170°F). Reduce heat to medium-low.
On ungreased cookie sheets, place tortillas. Brush with remaining oil mixture. Cut chicken into strips. Arrange chicken strips over tortillas. Sprinkle each with 1/4 cup of the cheese. Top evenly with tomato slices; sprinkle with remaining cheese and basil.
With wide spatula, carefully slide pizzas onto grill over medium-low heat. Cover grill; cook 3 to 5 minutes, rotating pizzas to avoid hot spots, until cheese is melted and crusts are crisp. Slide pizzas back onto cookie sheets.
Expert Tips
If you assemble these pizzas on rimless cookie sheets, the pizzas will slide easily on and off the grill. If all your cookie sheets have rims, just turn them upside down and assemble the pizzas on the underside.