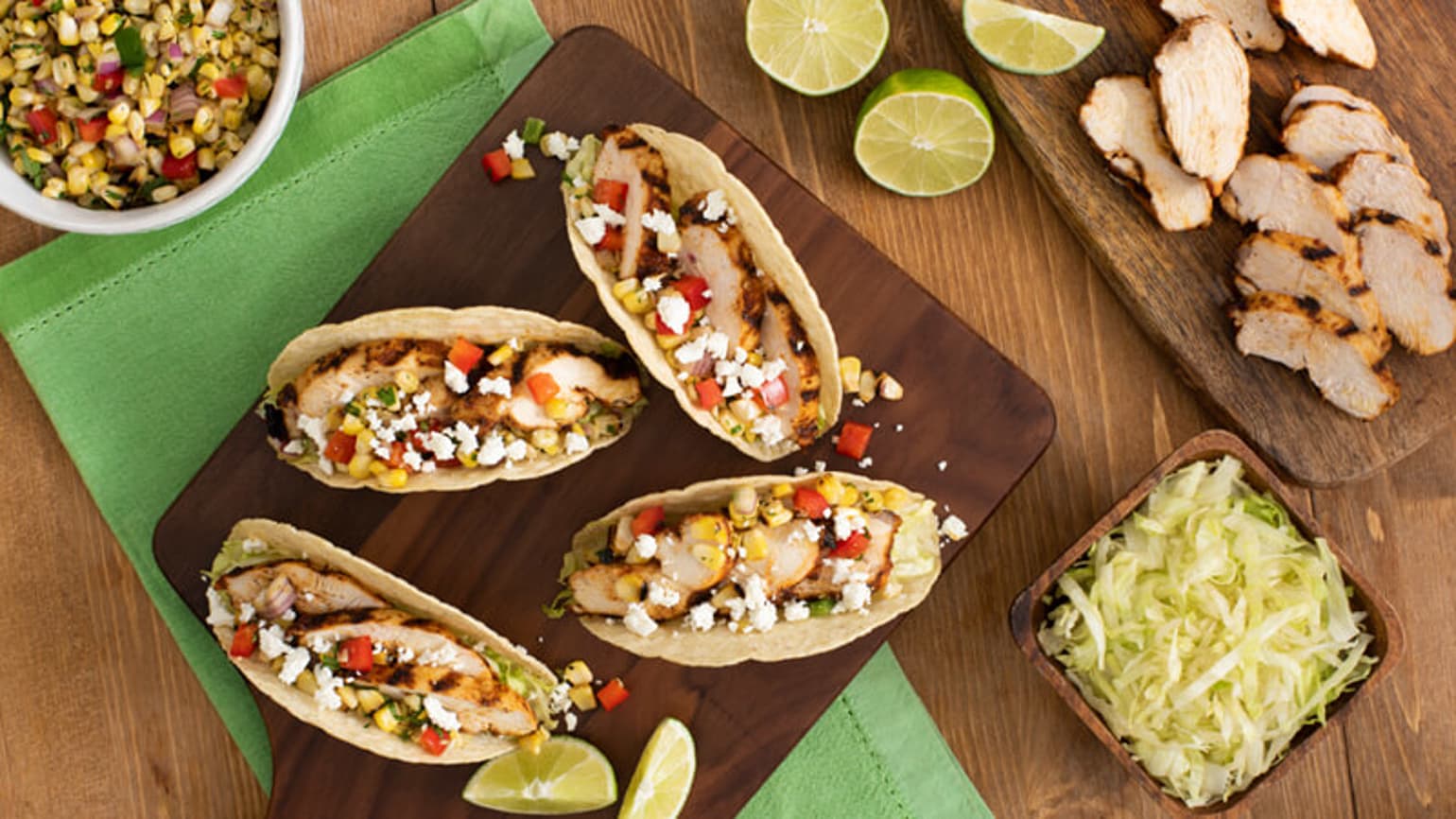 Grilled Chicken Tacos with Mexican Style Street Corn Salsa
Perfect for barbecue season, this summer-inspired taco is fresh, fast and flavourful.
Ingredient List
1 pkg (153 g) Old El Pasoᵀᴹ Hint of Lime Stand and Stuff Taco Shells
1 pkg (24 g) Old El Pasoᵀᴹ Chili Seasoning Mix
1 lb (500 g) boneless skinless chicken breasts
2 tbsp (30 mL) olive oil, divided
2 ears of corn, husks and silk removed
1/3 cup (75 mL) diced red onion
1/4 cup (60 mL) diced red pepper
1 jalapeño pepper, seeded and diced
1 tsp (5 mL) lime zest
3 tbsp (45 mL) lime juice
2 tbsp (30 mL) finely chopped fresh cilantro
1/2 tsp (2 mL) ground cumin
1/4 tsp (1 mL) each salt and pepper
1 1/4 cups (300 mL) shredded lettuce
1/2 cup (125 mL) finely crumbled feta cheese
Preparation
Preheat grill to medium-high heat; grease grates well. Toss together seasoning mix, chicken and oil. Grill chicken for 6 to 8 minutes per side or until grill-marked and cooked through. Let stand for 5 minutes; slice thinly.
Meanwhile, grill corn for 10 to 12 minutes or until grill-marked all over and tender. Let cool slightly and slice kernels from cobs.
Toss together corn kernels, onion, red pepper, jalapeño, lime zest, lime juice, cilantro, cumin, salt and pepper. Fill tacos with lettuce, chicken and corn salsa. Sprinkle with feta.