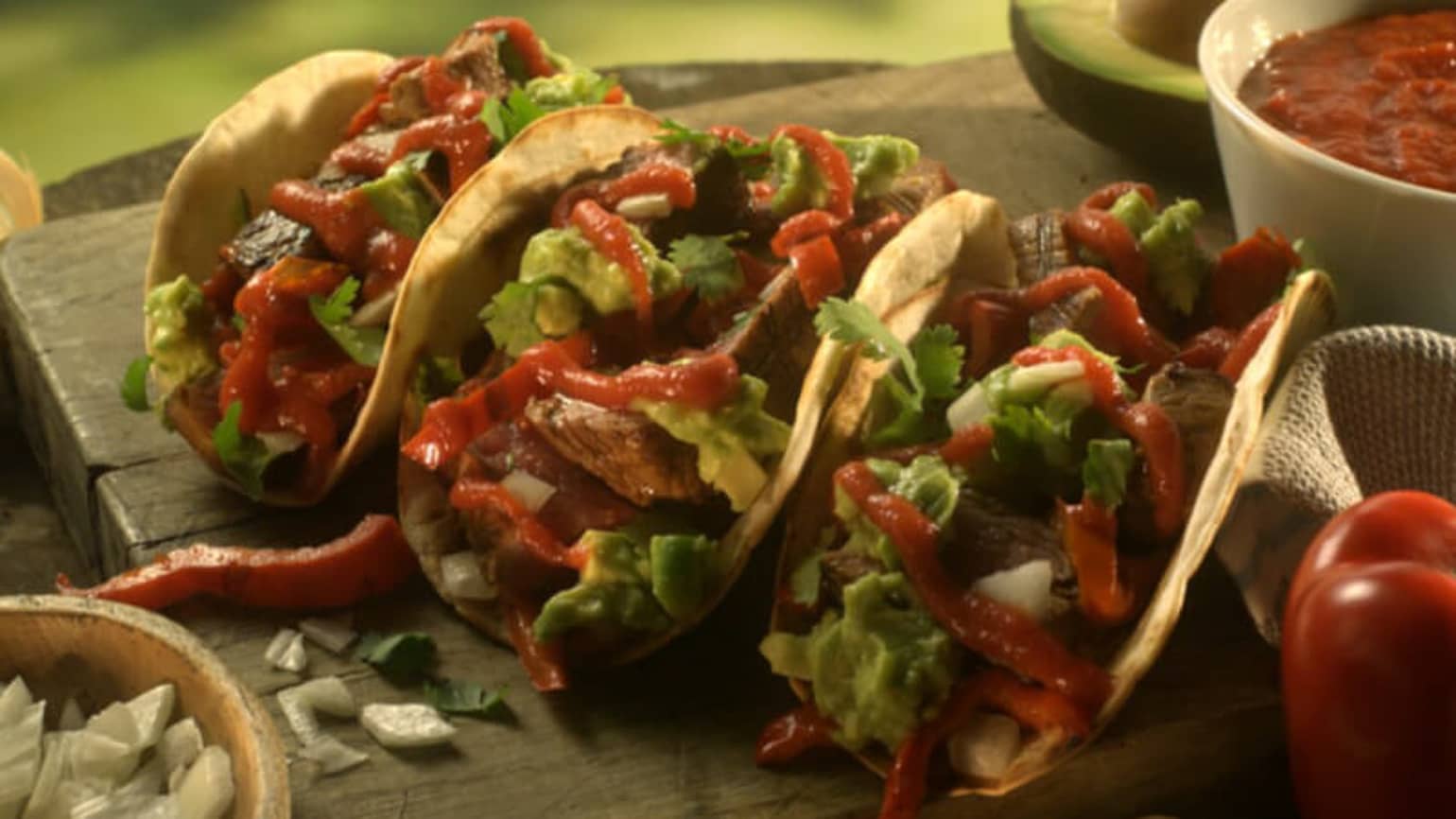 Grilled Steak Tacos
"Carne Asada" literally means "grilled beef" so let's make steak tacos the authentic way…. on the grill!
Ingredient List
1 ripe avocado
1 Old El Paso™ Restaurante Steak Carne Asada Soft Taco Dinner Kit
2 tbsp (30 mL) water
1 tbsp (15 mL) vegetable oil
1 tbsp (15 mL) white vinegar or lime juice
3/4 to 1 lb (375 to 500 g) whole sirloin steak (about 3/4 to 1-inch/2 to 2.5 cm thick)
1 large red bell pepper, cut into chunks
Suggested Toppings: chopped white onion, fresh cilantro, squeeze of fresh lime, drizzle of taco sauce or salsa
Preparation
Scoop avocado from peel and mash with a fork in a small bowl. Add Guacamole Seasoning (from kit) and stir until well blended. Press plastic wrap onto surface of guacamole and refrigerate. Stir again before serving.
In medium bowl, combine 2 tbsp (30 mL) water, 1 tbsp (15 mL) each vegetable oil and white vinegar with contents of Steak Seasoning pouch (from kit).
Place entire steak (unsliced) in bowl, flipping and moving around until well coated on both sides.
Heat gas or charcoal grill. Before cooking steak and peppers and while the grill is clean, toast the soft flour tortillas (from kit) directly on the grill for 15 to 20 seconds per side (or until lightly golden and toasted); wrap tortillas in foil to keep warm until ready to assemble.
Cook steak over medium-high direct heat for 6 to 8 minutes, turning once. The length of grilling time will vary depending on your desired doneness and the thickness of your steak (we prefer medium-rare/145°F). While cooking steak, place chunks of red pepper directly on the grill around the steak. Turn occasionally until slightly charred and softened.
Remove both steak and peppers from the grill and allow steak to rest for 5 minutes. Slice steak across the grain into strips and slice pepper into strips.
Place steak and pepper strips onto each warmed and toasted tortilla. Top with guacamole, chopped onions and cilantro and a squeeze of fresh lime or a drizzle of taco sauce or salsa.