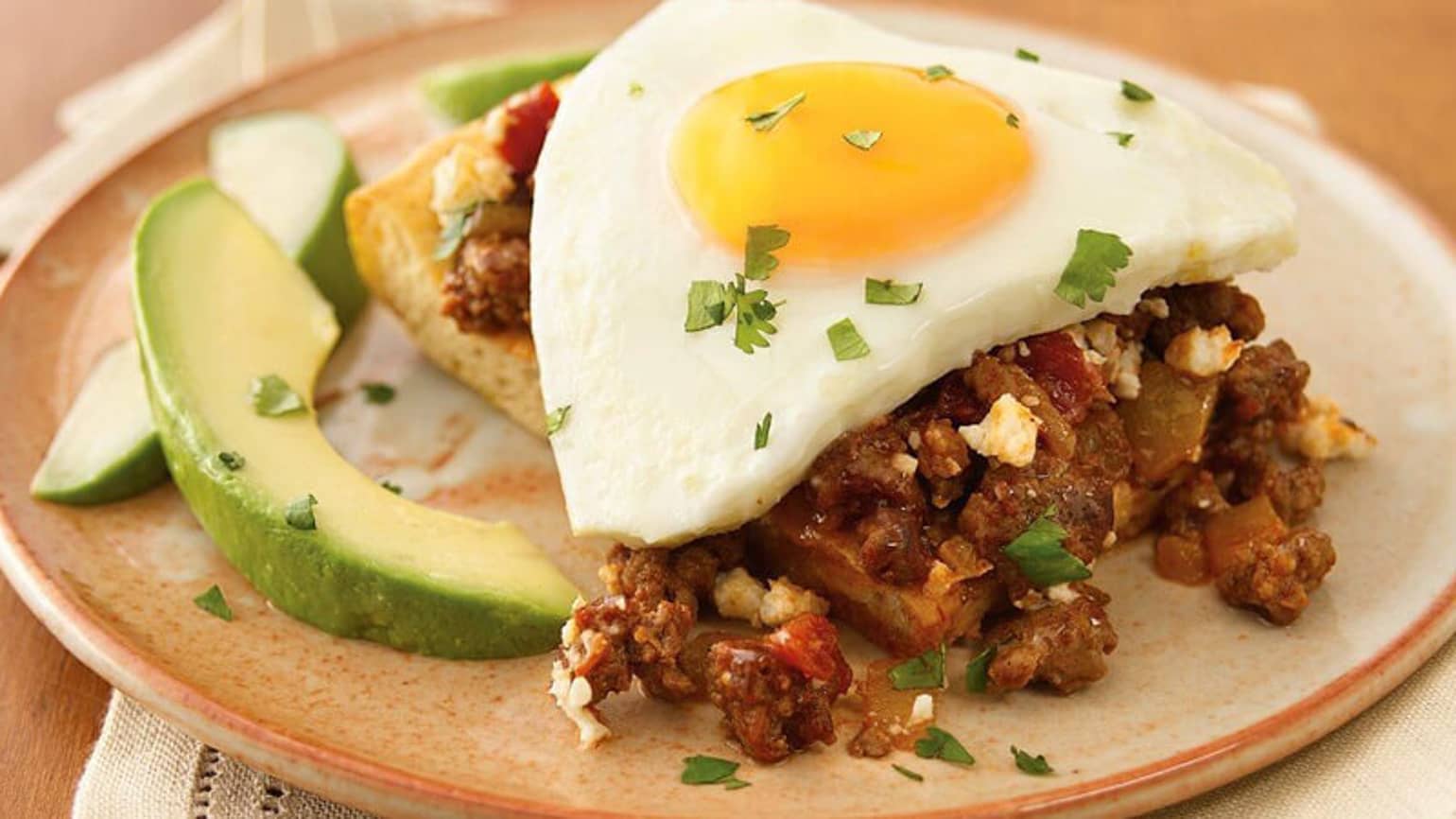 Huevos Rancheros Pizza
Bring the traditional Mexican breakfast to the table in a delightful new way.
Ingredient List
1 lb (500 g) uncooked chorizo sausage links (casings removed)
1 can Old El PasoⓇ Chopped Green Chiles
1/2 cup (125 mL) Old El PasoⓇ Thick N' Chunky Salsa
1 chipotle chile, chopped, plus 2 tbsp (25 mL) adobo sauce (from small can chipotle chiles in adobo sauce)
1 can PillsburyⓇ Refrigerated Pizza Crust
3/4 cup (175 mL) shredded mozzarella cheese
1 to 2 tbsp (15 to 25 mL) butter
8 eggs
2 to 3 tbsp chopped fresh cilantro
2 ripe medium avocados, pitted, peeled and sliced
Preparation
Heat oven to 425ºF.
In large nonstick skillet, cook chorizo over medium heat 8 to 10 minutes, stirring occasionally, until no longer pink. Remove chorizo with slotted spoon; drain on paper towels. Drain all but 1 tablespoon drippings from skillet. Place chorizo in medium bowl; add green chiles, salsa, chipotle chile and adobo sauce; stir until well mixed. Set aside.
Spray 13x9-inch pan with nonstick cooking spray. Unroll pizza crust dough in pan; press dough to edges of pan. Prick pizza crust thoroughly with fork. Brush reserved 1 tablespoon chorizo drippings evenly over crust. Bake 8 to 9 minutes or until edges are light golden brown.
Spread chorizo mixture over partially baked crust. Sprinkle with cheese. Bake 8 to 10 minutes longer or until crust is deep golden brown.
Meanwhile, wipe out skillet. In skillet, melt 1 to 2 tablespoons butter over medium-high heat until hot. Break eggs and slip into skillet. Immediately reduce heat to low. Cover; cook 7 to 10 minutes or until whites and yolks are firm, not runny (eggs will cook together in skillet).
Cut pizza into 8 pieces. Separate eggs. Top each serving with 1 fried egg; sprinkle with cilantro. Serve with avocado slices.
Expert Tips
1/2 to 1 tsp chipotle hot red pepper sauce can be substituted for chipotle chile.