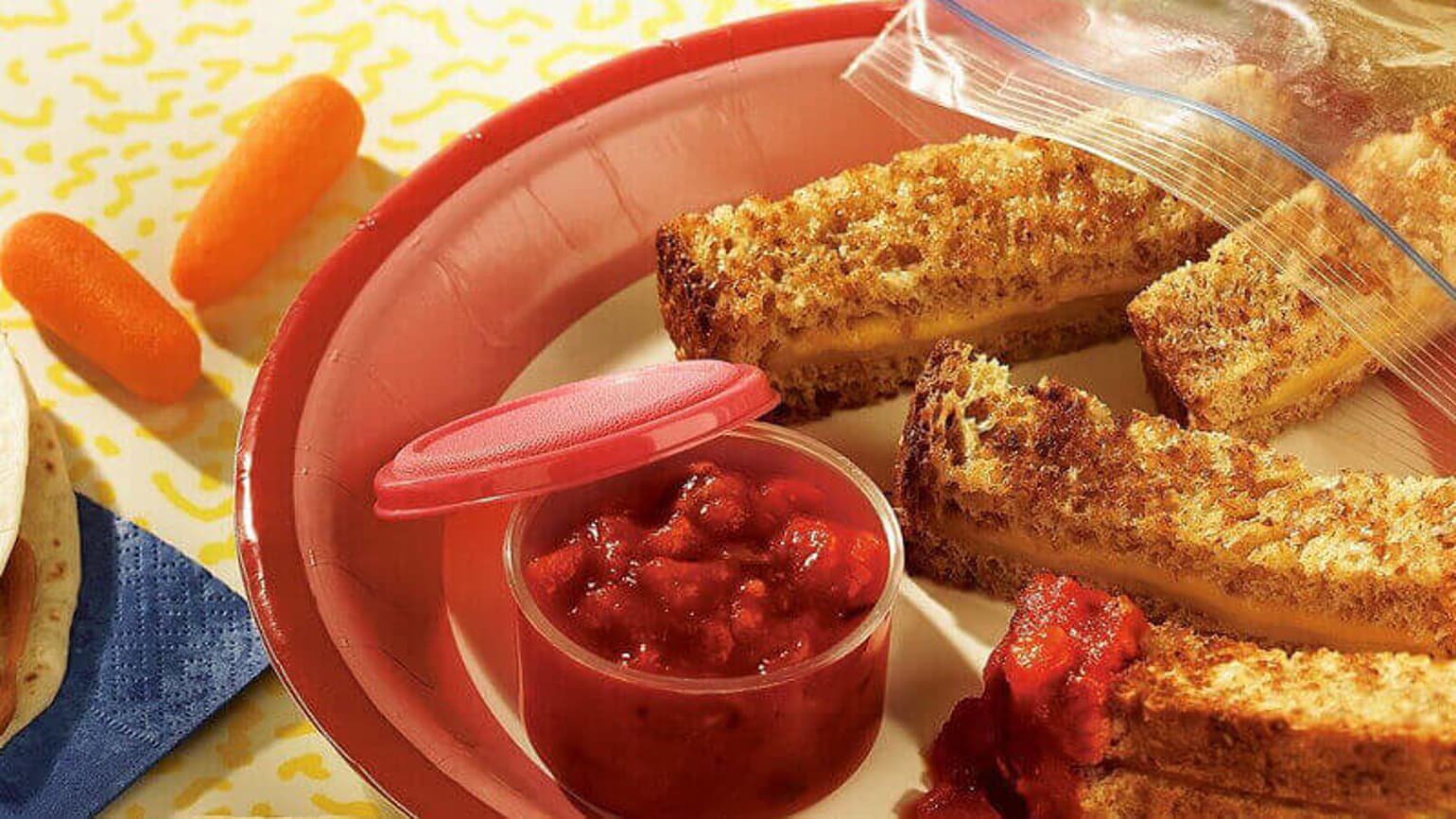 Make-Ahead Grilled Cheese and Salsa
Looking for a packed lunch idea? Two types of cheese, margarine and bread are all you need to make these sandwiches that are served with Old El Paso* Salsa - ready in 20 minutes.
Ingredient List
4 slices whole wheat bread
2 slices American cheese
2 slices Muenster cheese
4 tsp (20 mL) margarine or butter, softened
1/3 cup (75 mL) Old El Paso* Thick N' Chunky Salsa
Preparation
Top 2 slices of the bread with cheese. Place remaining slices of bread over cheese. Spread top of bread slices with half of the margarine.
Place sandwiches, margarine side down, in large skillet. Cook over medium heat for 2 to 4 minutes or until golden brown. Spread top of sandwiches with remaining margarine. Turn sandwiches; cook 2 to 4 minutes or until golden brown. Remove sandwiches from skillet; place on cutting board. Cool 5 minutes.
Cut sandwiches into strips or triangles. Wrap in plastic wrap or place in food storage plastic bags. Store in refrigerator.
Pack cold wrapped sandwiches in 2 lunch bags with ice packs. Divide salsa into 2 small plastic containers with lids. Place in lunch bags.
At lunch time, dip sandwiches in salsa.
From time to time, reformulations of products may alter nutrient value, ingredients and/or allergens. Maintaining on-line information accuracy at all times can be difficult. In the event of a conflict between the data that is shown on this site and that which is on the package, the data on the package should be the primary resource for accurate and up to date data for the product in the package.