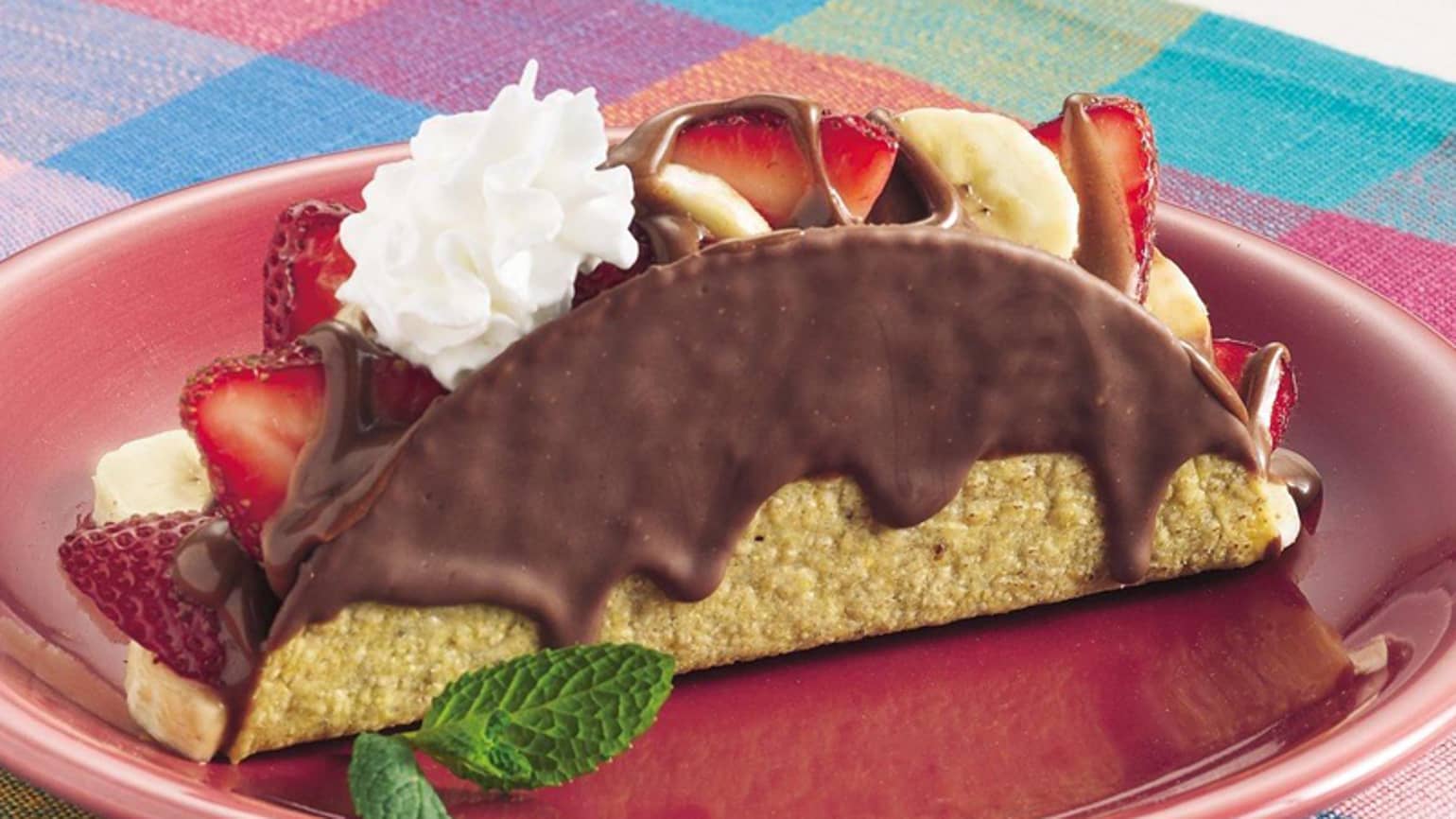 Mucho Choco Tacos
We bet you've never had tacos like these! Chocolate-dipped taco shells get stuffed with fruit and topped with fudge. Fun and delicious!
Ingredient List
1 pkg (125 g) Old El Pasoᵀᴹ 12 Taco Shells
2 cups (500 mL) semi-sweet chocolate chips or milk chocolate chips
2 cups (500 mL) sliced fresh strawberries
2 cups (500 mL) sliced bananas
3/4 cup (175 mL) hot fudge ice cream topping
1/2 tsp (2 mL) cinnamon
1/2 tsp (2 mL) vanilla
2 cups (500 mL) whipped cream topping from aerosol can
8 mint leaves (optional)
Preparation
Heat oven to 350°F (180°C). Heat taco shells for crispness as directed on package. Line baking sheet with waxed paper.
In a wide 4 cup (1 L) measure or microwaveable bowl, microwave chocolate chips on high 1 minute. Stir vigorously every 15 seconds. Microwave 15 seconds longer or until chips can be stirred smooth.
Carefully dip each taco shell into melted chocolate, using spoon or brush to get chocolate on inside of shell; hold shells above bowl to let excess chocolate drip off. Stand shells upside down on waxed paper-lined baking sheet; let stand for 10 to 15 minutes or until chocolate hardens. Refrigerate until ready to use.
In medium bowl, mix strawberries and bananas. Divide fruit evenly among taco shells.
In small microwaveable bowl, microwave fudge topping on high for 30 to 45 seconds or until soft. Stir in cinnamon and vanilla. Drizzle topping over fruit in shells. Top with whipped cream; garnish with mint leaves if desired.
Serve immediately.
Expert Tips
Kitchen Tip: The chocolate-covered taco shells need to be refrigerated until serving or they will soften and be less crunchy.