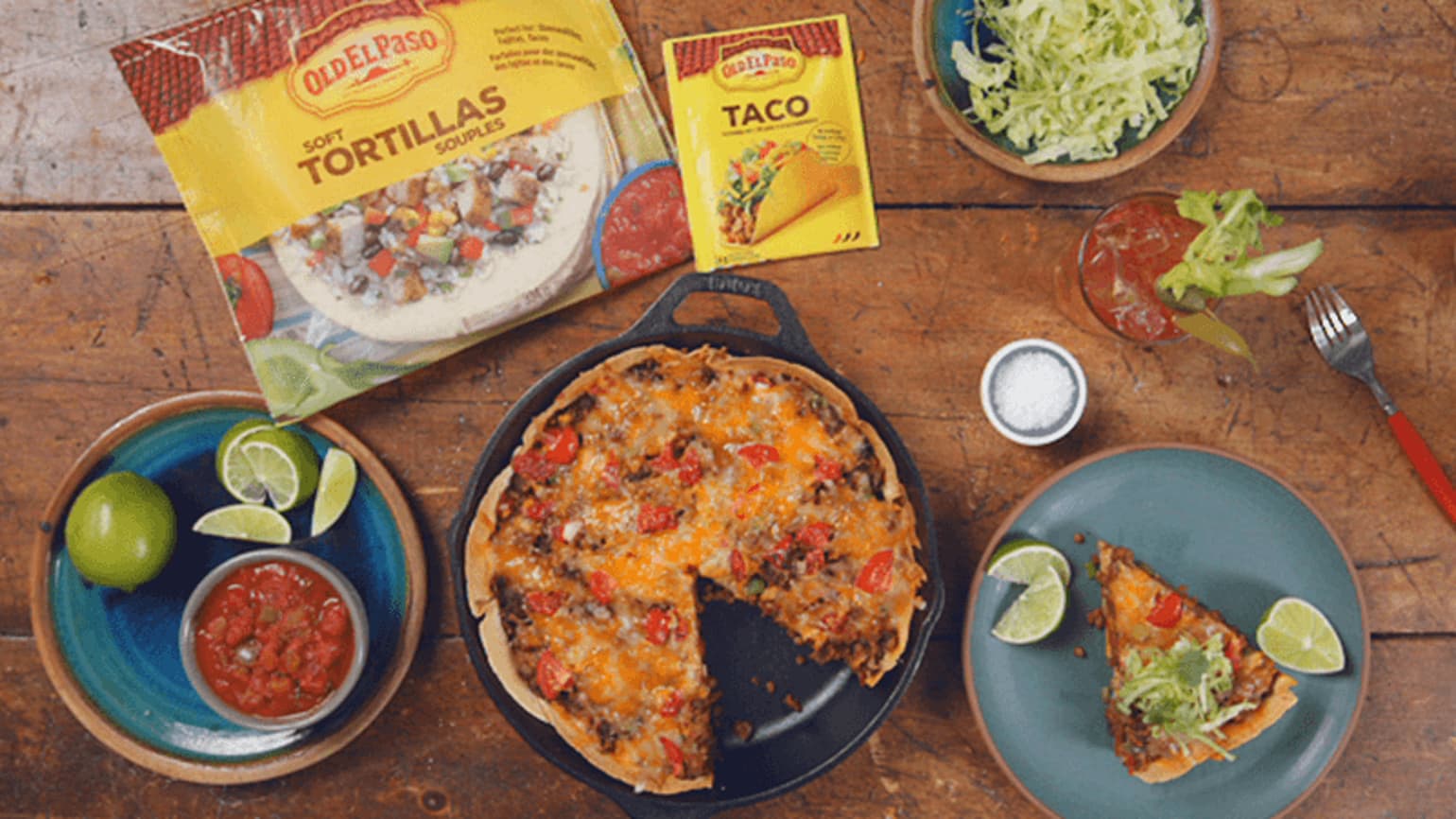 Ingredient List
2 tbsp vegetable oil
1 onion, chopped
1 green bell pepper, chopped
3 cups crumbled vegetable simulated ground beef (340 g veggie ground round)
24g pkg Old El Paso Taco Seasoning Mix
1/3 cup water
1 cup drained and rinsed canned lentils
2 vine ripe tomatoes, chopped
4 Old El Paso Large Soft Tortillas
1 ¾ cups shredded cheddar and Monterey Jack cheese
Preparation
Preheat oven to 375°F.
Heat oil in a large oven-safe skillet over medium heat. Add onion and green pepper and cook, stirring until slightly softened, 3-4 minutes. Crumble in vegetable ground mix, Old El Paso Taco Seasoning and water; cook, stirring until hot, 1-2 minutes. Stir in lentils and all but ¼ cup of the tomatoes. Transfer into a bowl.
Clean the skillet, then spray with oil. Line bottom with Old El Paso Large Soft Tortillas, overlapping with the edge of tortillas touching the rim of pan. Scrape taco pie mixture over tortillas, smoothing the top. Sprinkle with reserved tomatoes and top with the cheese.
Bake until cheese is melted and tortillas are browned about 20 minutes.
Cut into wedges and serve with shredded lettuce, fresh salsa, lime wedges and cilantro if desired.
Expert Tips
For ease of preparation, look for pre-crumbled vegetable simulated ground beef often found near refrigerated soy products, over vegetable patties.