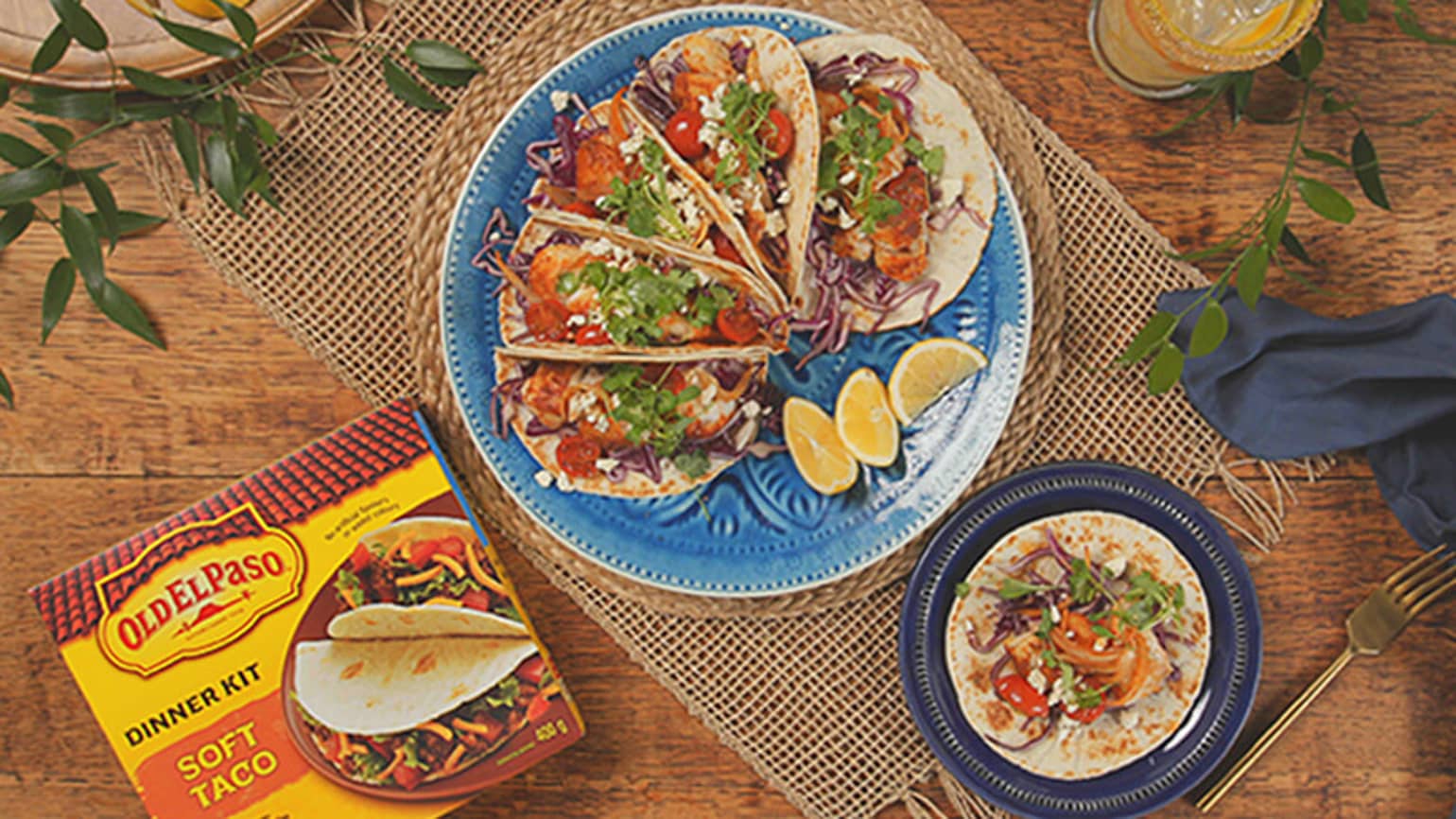 Ingredient List
1 lemon, cut into rounds
2, 8 oz cod fillets or halibut fillets
3 tbsp (45 mL) extra-virgin olive oil, divided
1 pkg Old El Paso Dinner Kit
½ tsp (2 mL) each ground cumin, paprika and kosher salt
Half onion, thinly sliced
6 cherry tomatoes halved
2 cup (500 mL) shredded red cabbage
½ cup (125 mL) crumbled feta cheese
Cilantro sprigs
Preparation
Preheat oven to 400°F. Place a 15 x 17" sheet of parchment paper on a work surface with the longest side facing you, then fold in half to resemble a book. Open parchment and arrange 3 lemon slices in the center of one side. Place a fillet over lemon, then drizzle both sides with half of the oil.
In a small bowl, stir 2 tbsp of the Taco Seasoning Mix with cumin, paprika and salt. Sprinkle half the mixture all over the fish, then top with half the onions and tomatoes.
Fold parchment over to make tightly crimped edges forming an airtight packet in the shape of a semi-circle. Repeat with parchment, fish, oil, seasoning, onions and tomatoes.
Place both packets on a baking sheet and bake for 15-17 minutes, (until a toothpick poked through the paper slides through fish without resistance).
Carefully open packets using a paring knife to let steam escape. Heat tortillas according to package instructions; top each with cabbage, fish and vegetables and juices, feta and cilantro.
Expert Tips
You can use paper clips on the packet's ends to ensure an airtight seal to steam and cook the contents properly. The packet will inflate like a balloon and quickly deflate once out of the oven.