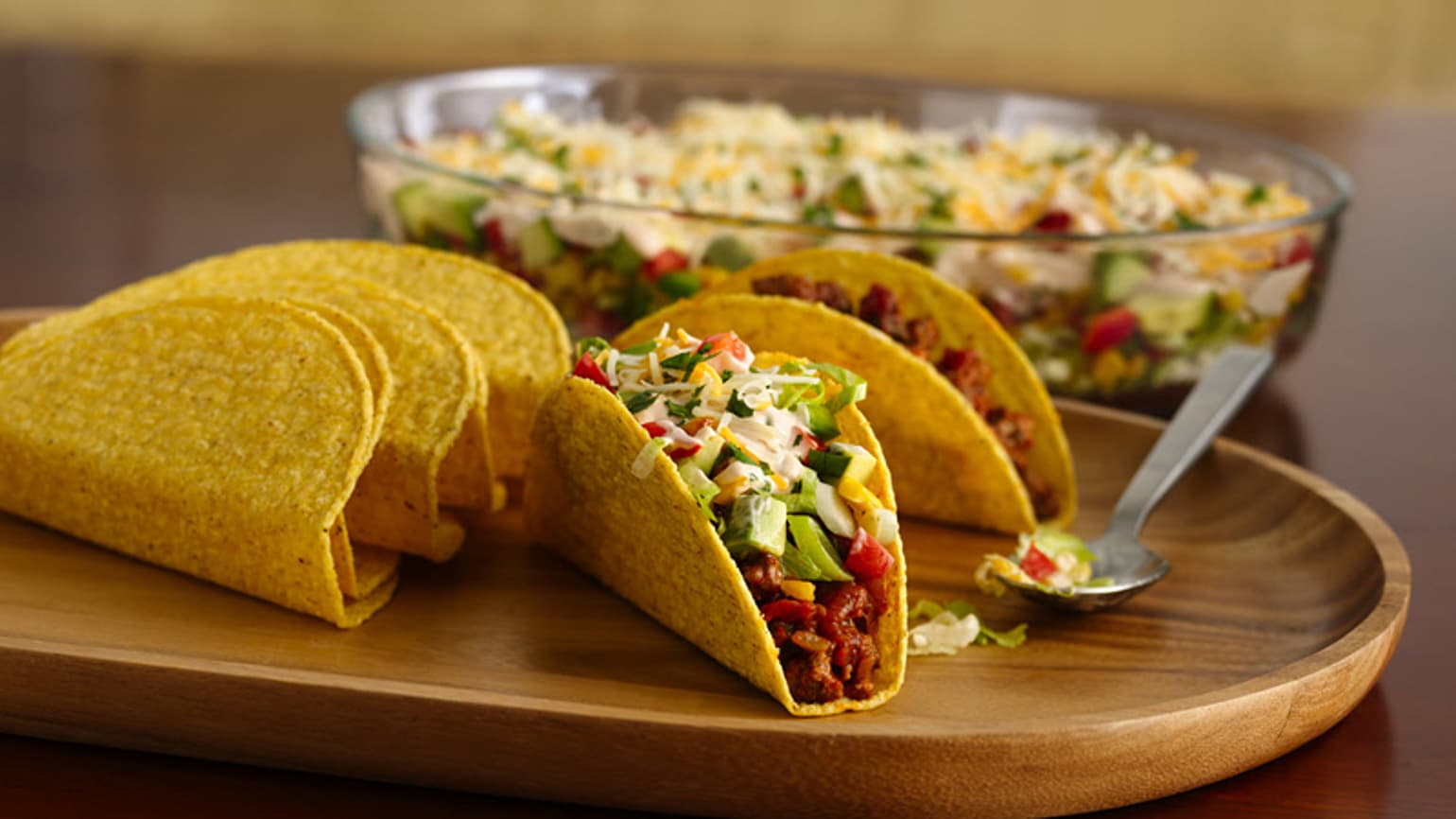 Party Tacos
No need to worry with this Mexican favourite; pre-mixed seasoning and packaged shells makes it ultra-easy.
Ingredient List
3 lb (1.5 kg) lean ground beef
2 large onions, chopped
2 pouches Old El PasoTM Taco Seasoning Mix
1 1/2 cups (375 mL) Old El PasoTM Thick N' Chunky Salsa
1 cup (250 mL) water
3 pkgs Old El PasoTM Stand N' Stuff Taco Shells
Preparation
Cook ground beef in 2 batches. For first batch, spray large skillet with nonstick cooking spray. Add half of the ground beef and 1 chopped onion. Cook over medium heat 8 to 10 minutes or until beef is thoroughly cooked, stirring frequently. Drain.
Stir in 1 pouch taco seasoning mix, 3/4 cup salsa and 1/2 cup water. Reduce heat to low; simmer 8 to 10 minutes or until most of liquid is absorbed.
Cool first batch of beef mixture 15 minutes. Spoon into refrigerator or freezer container; cover tightly. Repeat to make second batch. Serve immediately, or refrigerate up to 24 hours or freeze up to 1 week.
To serve immediately, place beef mixture in slow cooker; keep warm on Low setting. If beef mixture is frozen, thaw before heating. Place beef mixture in slow cooker; cover and cook on High setting for 1 hour or until hot. Reduce heat to Low to keep warm. To serve, spoon beef mixture into taco shells. Top with Layered Taco Toppings (left).
Expert Tips
It's easy to double or triple this recipe for larger groups. Cook the meat mixture in batches, cool and refrigerate it or freeze it as directed in the recipe.
From time to time, reformulations of products may alter nutrient value, ingredients and/or allergens. Maintaining on-line information accuracy at all times can be difficult. In the event of a conflict between the data that is shown on this site and that which is on the package, the data on the package should be the primary resource for accurate and up to date data for the product in the package.