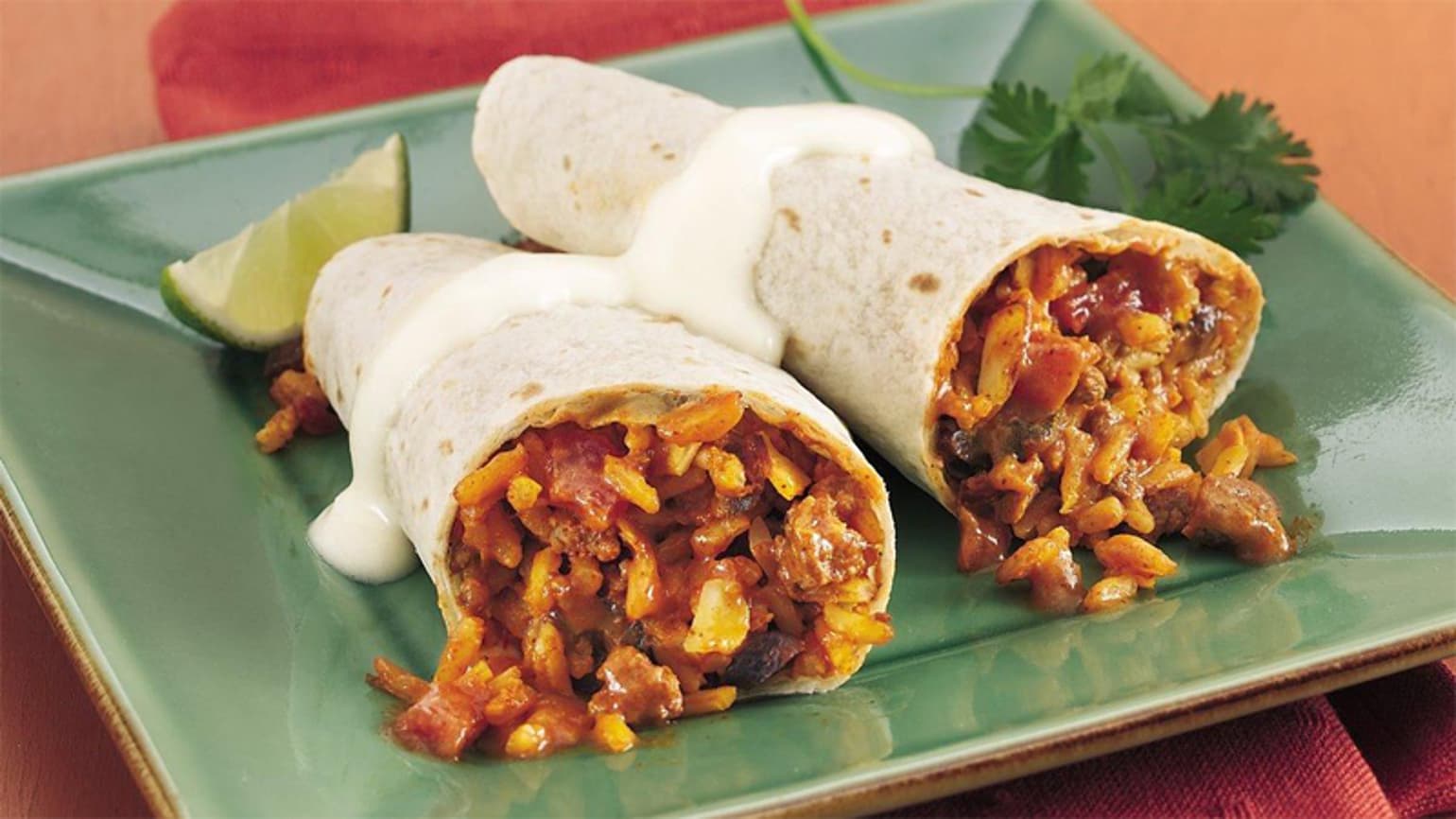 Picadillo Wraps
Each Spanish speaking country has their own version of picadillo, pronounced pee-kah-DEE-yoh. These wraps feature raisins, almonds and ripe olives.
Ingredient List
1 lb (500 g) lean ground beef
1 box Hamburger Helperᵀᴹ Cheesy Enchilada
2 cups (500 mL) water
1 tbsp (15 mL) red or white wine vinegar
1/2 to 1 tsp (2 to 5 mL) ground cinnamon
1 jar (440 mL) Old El Pasoᵀᴹ Thick N' Chunky Salsa (about 2 cups)
3 tbsp (45 mL) milk
1/2 cup (125 mL) raisins
1/2 cup (125 mL) slivered almonds
1/2 cup (125 mL) drained sliced ripe olives
1 pkg (8 large) Old El Pasoᵀᴹ Flour Tortillas, heated
Lime wedges, if desired
Fresh cilantro sprigs, if desired
Preparation
In large skillet, cook ground beef over medium-high heat, stirring frequently, until thoroughly cooked; drain and return to skillet. Stir in uncooked rice and seasoning mix, water, vinegar, cinnamon and salsa. Heat to boiling. Reduce heat to medium-low; cover and simmer 10 to 12 minutes, stirring occasionally, until rice is tender.
Meanwhile, in small bowl, stir milk and topping Mix 30 seconds until blended; set aside.
Stir raisins, almonds and olives into beef mixture. Spoon about 3/4 cup mixture down centre of each warm tortilla; roll up. Serve wraps drizzled with topping; garnish plates with lime wedges and cilantro sprigs.