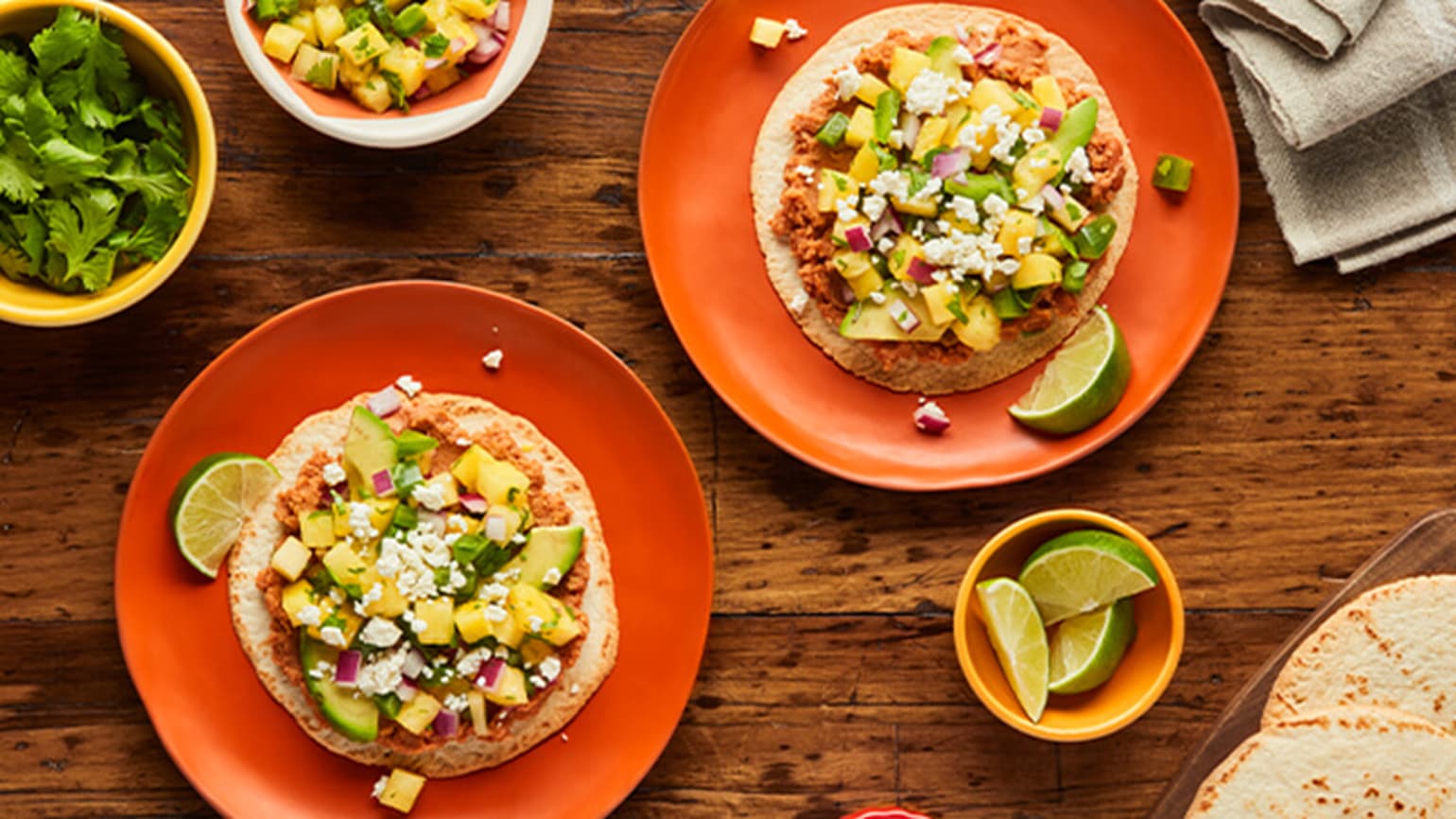 Pineapple & Black Bean Tostadas for Two
Tostadas are so fun to make and to eat. This meatless version is fresh, flavorful and fast!
Ingredient List
1 cup (250 mL) diced fresh pineapple
¼ cup (50 mL) loosely-packed fresh cilantro, chopped
¼ cup (50 mL) diced red onion
¼ cup (50 mL) diced green pepper
1 tbsp (15 mL) fresh lime juice
1/8 tsp (1 mL) salt
Pinch ground black pepper
1 Old El Paso™ Tacos For Two Soft Taco Kit
1 can (14 oz/398 mL) Old El Paso™ Refried Beans
1 ripe avocado, peeled, pitted and sliced
2/3 cup (150 mL) crumbled queso fresco or feta cheese
Preparation
Heat oven to 400°F (200°C). While the oven is heating, make the Pineapple Salsa by mixing the first 7 ingredients listed; set aside.
Place tortillas in a single layer on a large baking sheet and bake for 5 minutes. Allow tortillas to cool for 2 to 3 minutes on the baking sheet and then transfer to a cooling rack to cool completely. (You will need to do this in 2 batches as only 3 or 4 will fit on the baking sheet at a time).
Empty refried beans into a medium bowl and add the taco seasoning mix from the kit. Stir well until completely blended.
Divide and spread the seasoned bean mixture on the 6 baked and cooled tortillas (about 1/3 cup/75 mL on each).
Top each with a few slices of avocado and a large spoonful of pineapple salsa. Sprinkle with crumbled queso fresco or feta cheese. Serve immediately.