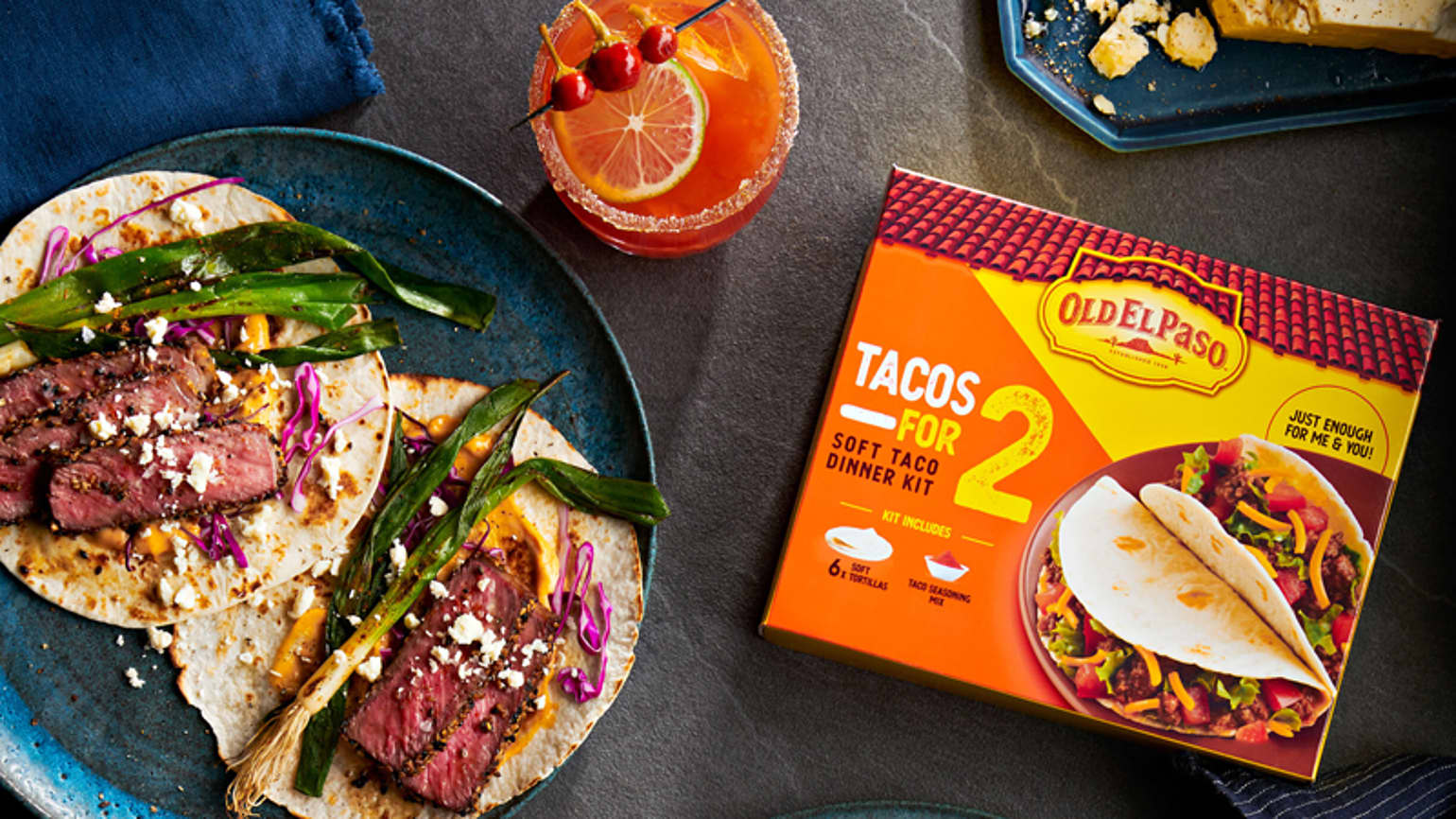 Sesame Steak & Charred Green Onion Tacos
Ingredient List
⅔ lb (300 g) beef striploin grilling steak (11/2-inch thick)
2 1/2 tbsp (37 mL) mixed sesame seeds
1 box (6 count) Old El Paso Soft Taco for 2 Kit
¼ tsp(1 mL) kosher salt
1 tbsp (15 mL) vegetable oil
6 green onions, halved crosswise
1/2 cup (125 mL) mayonnaise or sour cream
2 1/2 tsp (12 mL) Sriracha
11/2 cups (375 mL) shredded red cabbage
Cotija cheese (optional)
Preparation
Heat oven to 350°F. Mix sesame seeds with 1 tbsp of the taco spice and salt on a large plate; add steak, pressing to adhere on both sides.
Heat oil in a large skillet over medium-high heat; cook steak, flipping a few times until steak and seeds are browned, about 5 minutes. Transfer to oven and cook for 5-8 minutes or until medium-rare (instant-read thermometer inserted reads 130°-135°F). Transfer to cutting board; rest for 5 minutes before slicing across the grain.
Meanwhile, heat a large cast-iron skillet or a large clean skillet over high heat. Add onions and cook without any oil until slightly charred all over, about 3 minutes. Sprinkle with a pinch of taco spice then remove to cutting board.
Stir mayonnaise, Sriracha and remaining taco spice in a small bowl to make spicy mayo.
Warm tortillas on a skillet over medium-high heat until browned; transfer to plates. Top with cabbage, steak and its juices and charred onions. Serve with spicy mayo and Cotija cheese (if desired).
Expert Tips
Cotija cheese is crumbly and salty Mexican cheese famously enjoyed on classic Mexican street corn.
A thin steak will cook quickly in a skillet while a thick steak may require finishing in the oven. Monitor the stovetop heat and the temperature of your steak before transferring to the oven to avoid overcooked sesame seeds and undercooked steak.