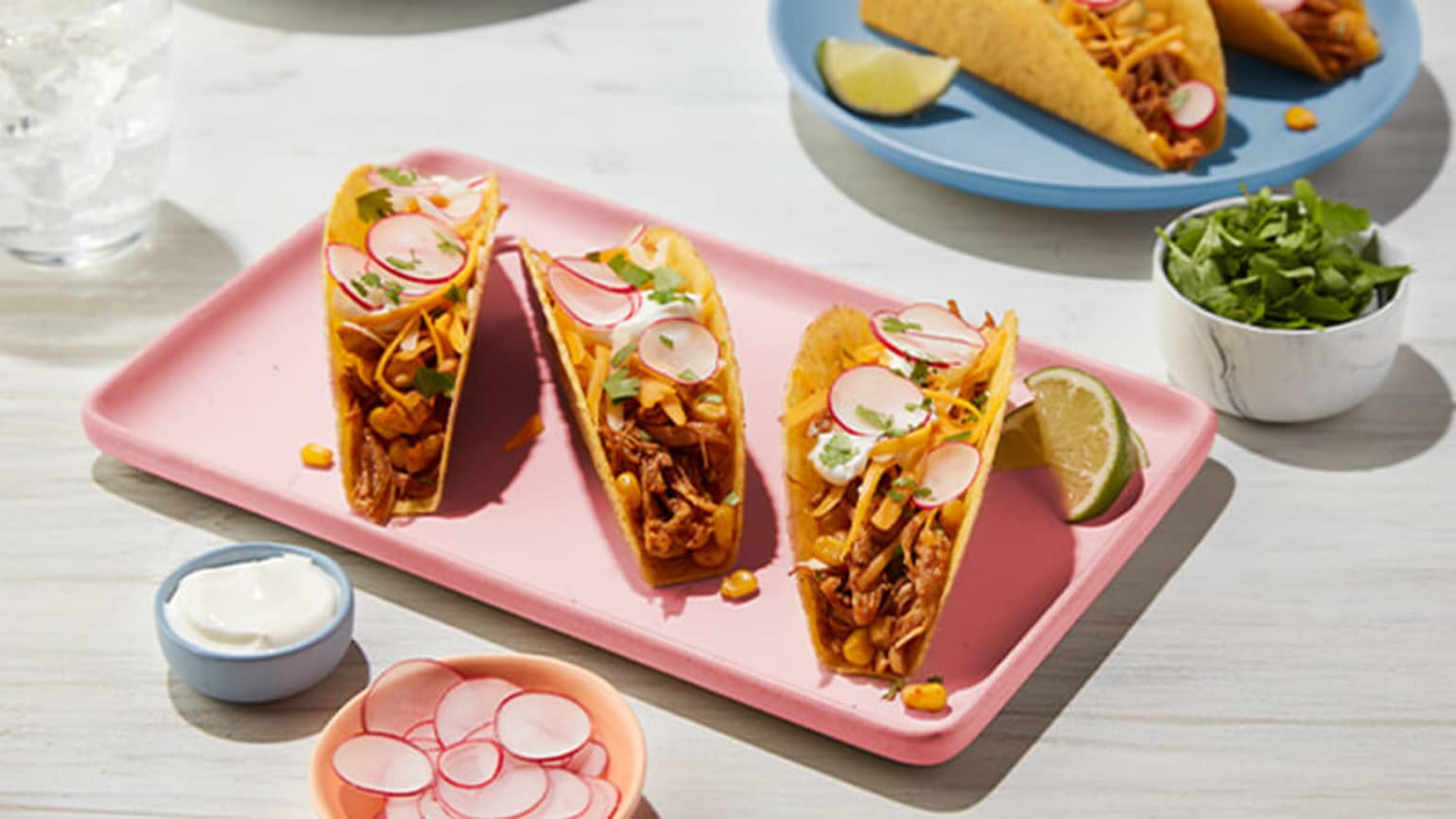 Shredded Chicken Tacos For Two
Here's a quick way to make shredded chicken. This stovetop method is easy and creates the perfect base for delicious tacos.
Ingredient List
1 Old El Paso™ Tacos For Two Hard Taco Kit
1 tbsp (15 mL) vegetable oil
½ lb (250 g) boneless skinless chicken breasts (about 1 large or 2 small breasts)
½ cup (125 mL) water
½ cup (125 mL) frozen whole kernel corn
¾ cup (175 mL) shredded Cheddar cheese or any shredded cheese blend
2 to 3 radishes, thinly sliced
Sour cream or plain Greek yogurt
Chopped fresh cilantro (optional)
Preparation
Heat oven to 325°F (160°C). Heat taco shells from the kit according to package directions. In 10-inch nonstick skillet, heal oil over medium-high heat until hot. Add chicken; cook 3 minutes on each side to brown.
Add enough water to skillet to come two-thirds of the way up sides of the chicken; cover skillet tightly. Reduce heat to medium-low; cook 13 to 15 minutes or until chicken is cooked through, tender and easy to shred. Cool 5 minutes.
Transfer chicken to plate or cutting board and shred with two forks. Discard the cooking liquid. Return shredded chicken to the skillet. Add frozen corn, ½ cup water and the taco seasoning mix from the kit. Cook over medium heat 5 to 7 minutes until heated through and sauce is thickened.
Divide chicken mixture among the taco shells. Top with cheese, radishes and cilantro or any of your favorite taco toppings.