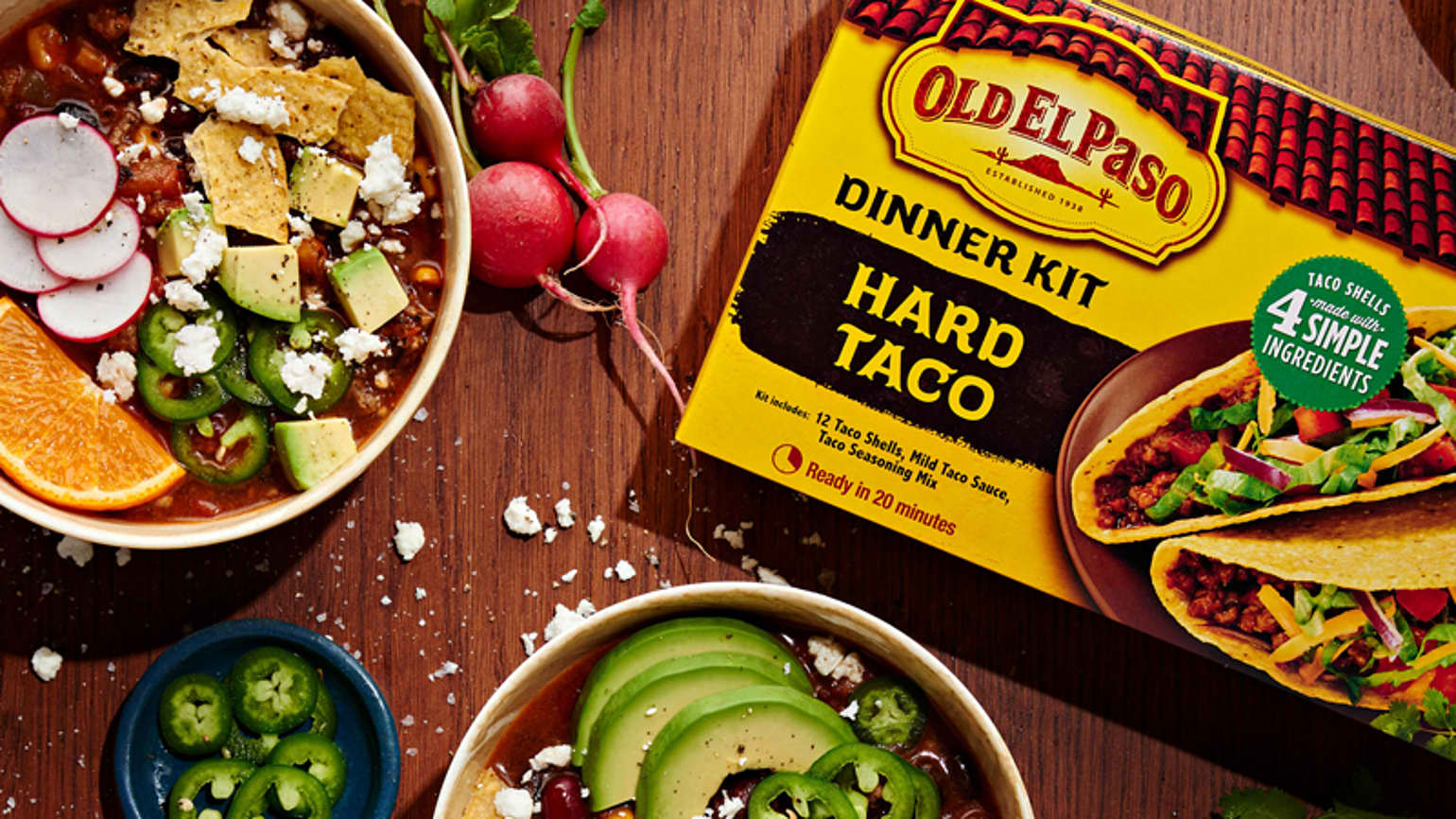 Slow Cooker Taco Chili Soup
Ingredient List
2 tsp (10 mL) vegetable oil
1 lb (500 g) lean ground beef or turkey
1 pkg (12 count) Old El Paso Hard Taco Dinner Kit
1 tsp (5 mL) ground cumin
¾ tsp (4 mL) chili powder
½ tsp (2 mL) salt
1 onion, chopped
3 cloves garlic, minced
2 1/2 cups (625 mL) sodium-reduced chicken broth
2 cans (398 mL) fire roasted diced tomatoes
1 can (540 mL/19 oz) black beans, drained and rinsed
1 can (540 mL/19 oz) red kidney beans, drained and rinsed
1 can (127 mL) Old El Paso Chopped Green Chiles, divided
1 cup (250 mL) frozen sweet corn
Garnish Options: Sliced jalapeño, sliced radish, sour cream, queso or feta cheese, cilantro, tomatoes, lime wedges, shredded cheddar
Preparation
Heat oil in an extra-large skillet over medium-high heat. Add beef and half of the taco spice, cumin, chili powder, and salt and cook, breaking up with a wooden spoon until no pink remains. Push to one side of the pan and add onion and garlic; cook, stirring until softened 4 to 5 minutes. Stir in the beef and cook for 2 minutes. Stir in chicken broth, and taco sauce then scrape into a slow cooker insert.
Stir in tomatoes, black beans, and half of the green chilies. Cover and cook on high for 3 to 4 hours or low for 6 to 8 hours. Stir in corn the 10 minutes before serving.
Ladle into bowls and top with broken taco shells, remaining green chilies, and a few garnish options: jalapeño, radish, sour cream, Queso fresco, cilantro, tomatoes, limes, shredded cheddar.
Expert Tips
Cooking the beef and onion mixture in a skillet creates browning and depth of flavour, stirring in the broth ensures all the flavour is transferred to the slow cooker.
While we love traditional black beans in our chili soup, feel free to swap for lentils, chickpeas or navy beans.
Queso fresco is a mild and crumbly Mexican fresh cheese traditionally made of cow's milk or a mix of cow and goat milk that balances Mexican recipes.
From time to time, reformulations of products may alter nutrient value, ingredients and/or allergens. Maintaining on-line information accuracy at all times can be difficult. In the event of a conflict between the data that is shown on this site and that which is on the package, the data on the package should be the primary resource for accurate and up to date data for the product in the package.