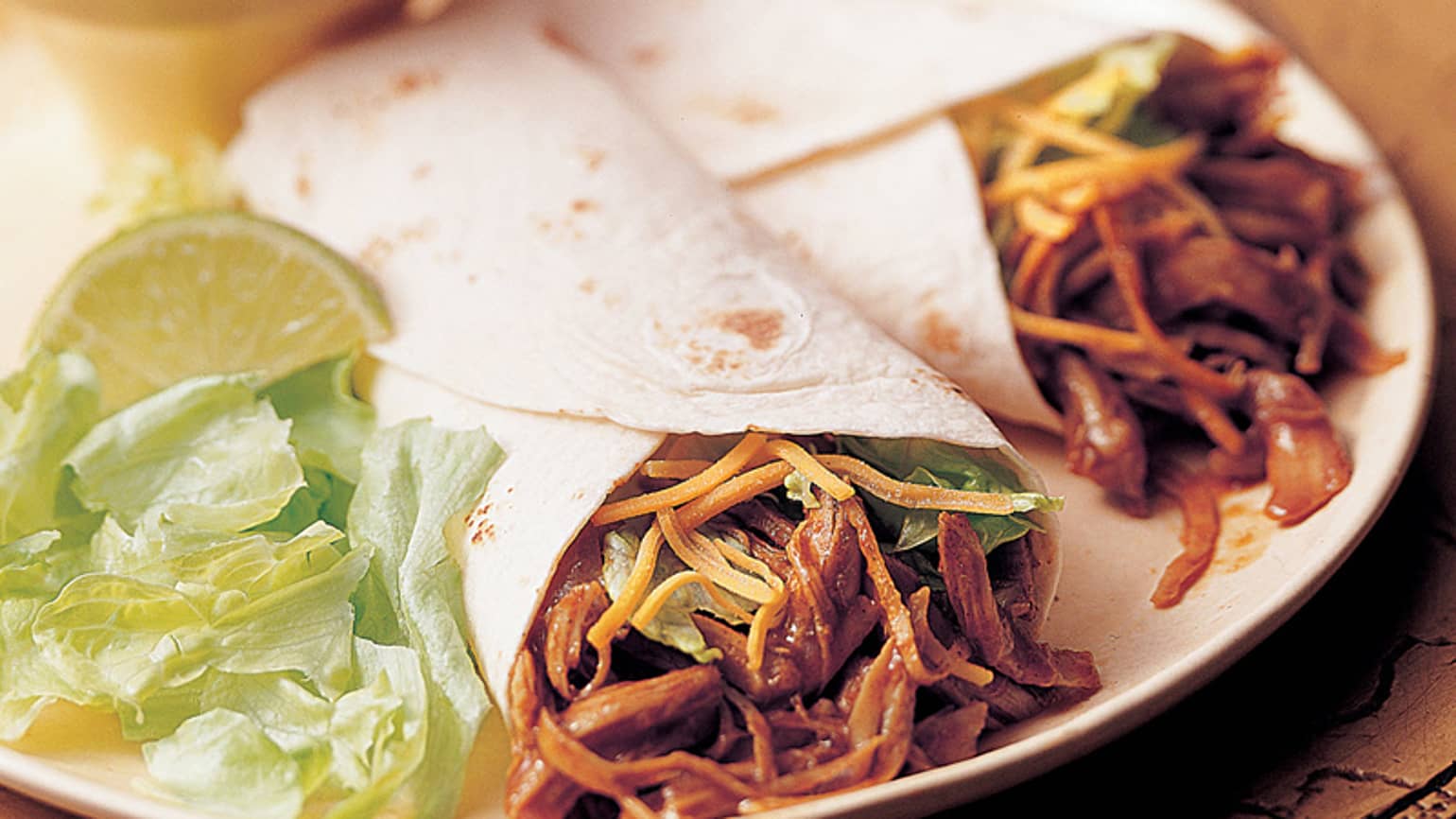 Slow Cooker Tex Mex Turkey Wraps for a Crowd
Wondering what to serve the gang? Put the slow cooker on the buffet and let them wrap their own.
Ingredient List
1 kg turkey breast
1/4 tsp (1 mL) seasoned salt
1/4 tsp (1 mL) pepper
1/2 cup (125 mL) chopped onion
1/3 cup (75 mL) water
2 pouches Old El Pasoᵀᴹ Taco Seasoning Mix
2 pkgs Old El Pasoᵀᴹ Large Soft Tortillas (8 per pkg)
2 cups (500 mL) bite-size pieces lettuce
2 cups (500 mL) shredded Cheddar cheese
Preparation
Place turkey in 3 1/2- to 4-quart slow cooker. Sprinkle with seasoned salt and pepper. Add onion and water.
Cover and cook on low heat setting 6 to 7 hours or until juice of turkey is no longer pink when centres of thickest pieces are cut.
Remove turkey from slow cooker. Shred turkey, using 2 forks. Measure liquid from slow cooker; add enough water to liquid to measure 2 cups. Mix seasoning mixes (dry) and liquid mixture in slow cooker. Stir in shredded turkey.
Cover and cook on low heat setting 1 hour.
Spoon about 1/4 cup turkey onto centre of each tortilla; top with lettuce and cheese. Roll up tortillas.
Expert Tips
Keep cleanup to a minimum by lightly spraying the inside of the slow cooker with nonstick cooking spray before using.
Offer salsa, sour cream and guacamole to jazz up wraps.