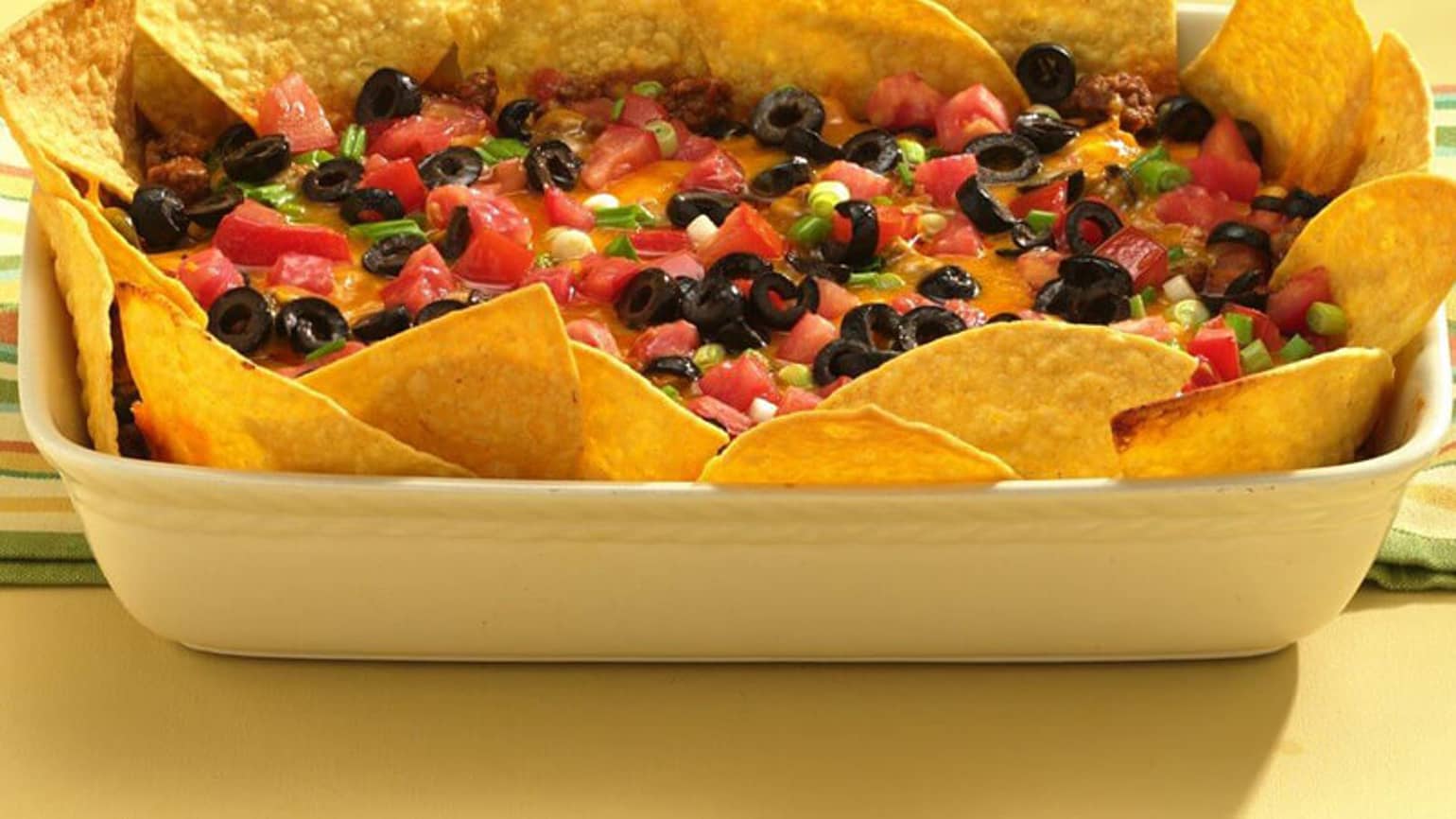 Southwest Nacho Casserole
Everyone will love this casserole with favourite Mexican flavours and crunchy tortilla chips for dipping.
Ingredient List
2 lb (1 kg) lean ground beef
1 cup (250 mL) water
2 pouches Old El Pasoᵀᴹ Smart Fiestaᵀᴹ Reduced Sodium Taco Seasoning Mix
1 can (127 mL) Old El Pasoᵀᴹ Chopped Green Chilies
2 cans (14 oz/398 mL each) Old El Pasoᵀᴹ Refried Beans
2 cups (500 mL) shredded reduced-fat Cheddar cheese
1 cup (250 mL) chopped tomato (1 large)
1/2 cup (125 mL) chopped green onions (about 8 medium)
1/4 cup (50 mL) sliced ripe olives
1 bag (300 g) yellow corn tortilla chips extra thick if possible)
Sour cream, if desired
Preparation
Heat oven to 350ºF. Spray 13x9-inch (3-quart) glass baking dish with cooking spray. In 12-inch nonstick skillet, cook ground beef over medium-high heat, stirring frequently, until thoroughly cooked; drain.
Stir in water and taco seasoning mix. Bring to a boil; cook 2 to 4 minutes, stirring occasionally, until thickened. Stir in chiles.
Spread refried beans in baking dish. Top with ground beef mixture. Cover tightly with foil.
Bake 30 to 40 minutes or until bubbly around edges.
Remove from oven. Uncover; sprinkle with cheese, tomato, onions and olives. Arrange 18 to 20 tortilla chips around outside edges of baking dish. Return to oven; bake uncovered about 10 minutes longer or until cheese is melted. If desired, top with sour cream. Serve with remaining tortilla chips for scooping.