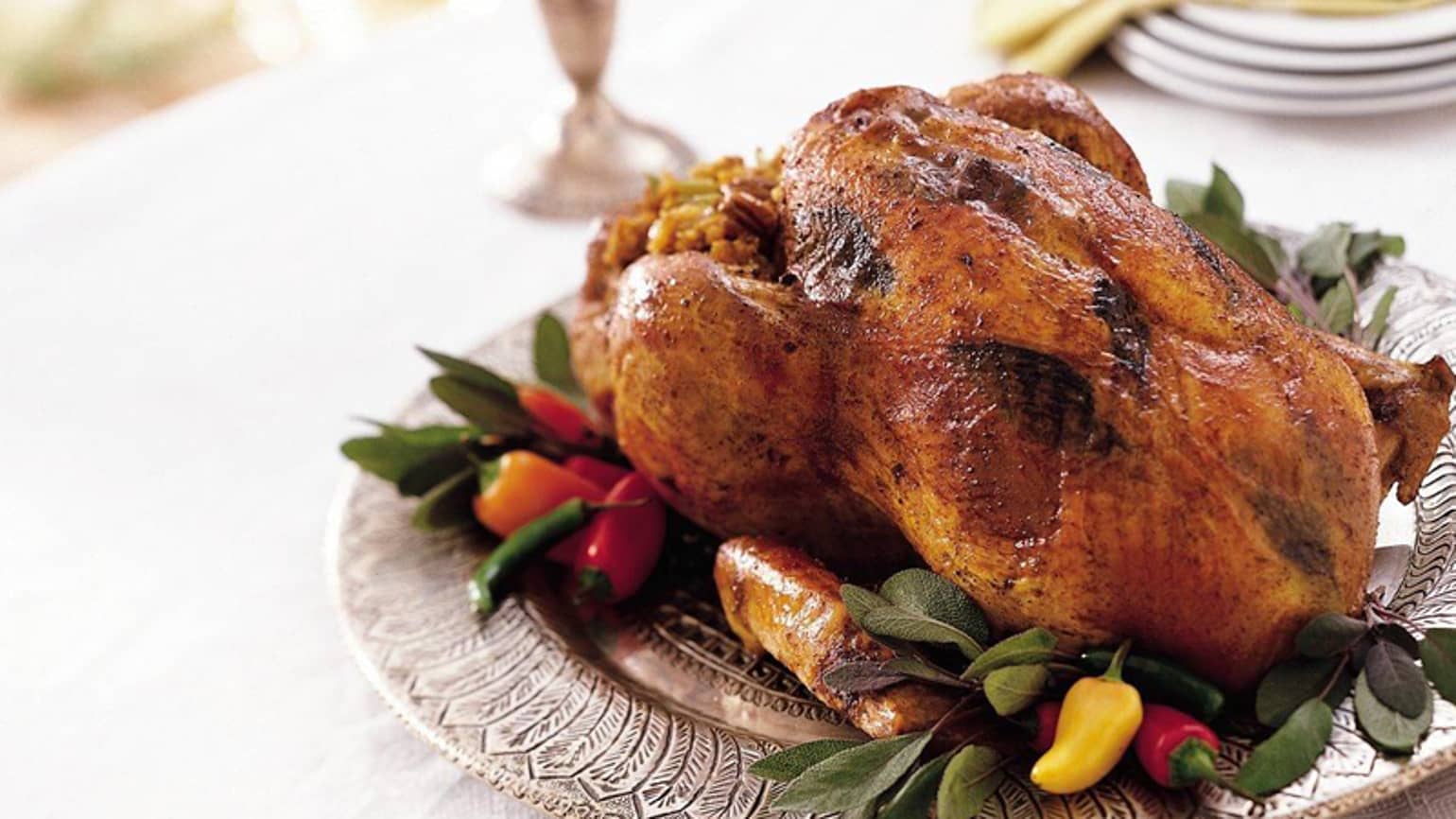 Southwestern Turkey
Look to sassy southwestern flavours when you want to make your turkey a little bolder.
Total Time
4 Hours
20 Minutes
Ingredient List
1 whole turkey (12 to 14 pounds/6 to 7 kg), thawed if frozen
8 to 10 fresh sage leaves
1/3 cup (75 mL) butter or margarine
2 tsp (10 mL) Old El Paso* Chili Seasoning Mix
1 to 2 chipotle chili in adobo sauce, (from 7-ounce can), finely chopped
Preparation
Heat oven to 325ºF.
Starting at the back opening of the turkey, gently separate skin from turkey breast, using fingers. Place sage leaves under the skin.
Make a stuffing, if desired, but do not cook. Stuff turkey just before roasting, not ahead of time. Fill neck cavity lightly with stuffing. Fasten neck skin to back of turkey with skewer. Fold wings across back of turkey so tips are touching. Fill body cavity lightly with stuffing. (Do not pack stuffing because it will expand during roasting.) Tuck drumsticks under band of skin at tail, or tie together with heavy string, then tie to tail.
Place turkey, breast side up, on rack in shallow roasting pan. Heat butter, chili powder, cumin and chilies until butter is melted. Brush turkey with 2 tablespoons of the butter mixture. Insert ovenproof meat thermometer so tip is in the thickest part of inside thigh and does not touch bone. (Do not add water or cover turkey.)
Roast uncovered 3 hours to 3 hours 45 minutes, brushing occasionally with remaining butter mixture. After roasting about 2 hours, place a tent of aluminum foil loosely over turkey when it begins to turn golden, and cut band of skin or remove tie holding drumsticks to allow inside of thighs to cook through.
Turkey is done when thermometer reads 165ºF and drumsticks move easily when lifted or twisted. Thermometer placed in centre of stuffing will read 165ºF. If a meat thermometer is not used, begin testing for doneness after about 2 hours 30 minutes. When turkey is done, place on warm platter and cover with aluminum foil to keep warm. Let stand about 15 minutes for easiest carving. Garnish with whole chilies and additional sage leaves if desired.
While turkey is standing, skim fat from drippings. Pour just the drippings into 1-quart saucepan; heat to boiling. Serve with turkey. Cover and refrigerate any remaining turkey and stuffing separately.