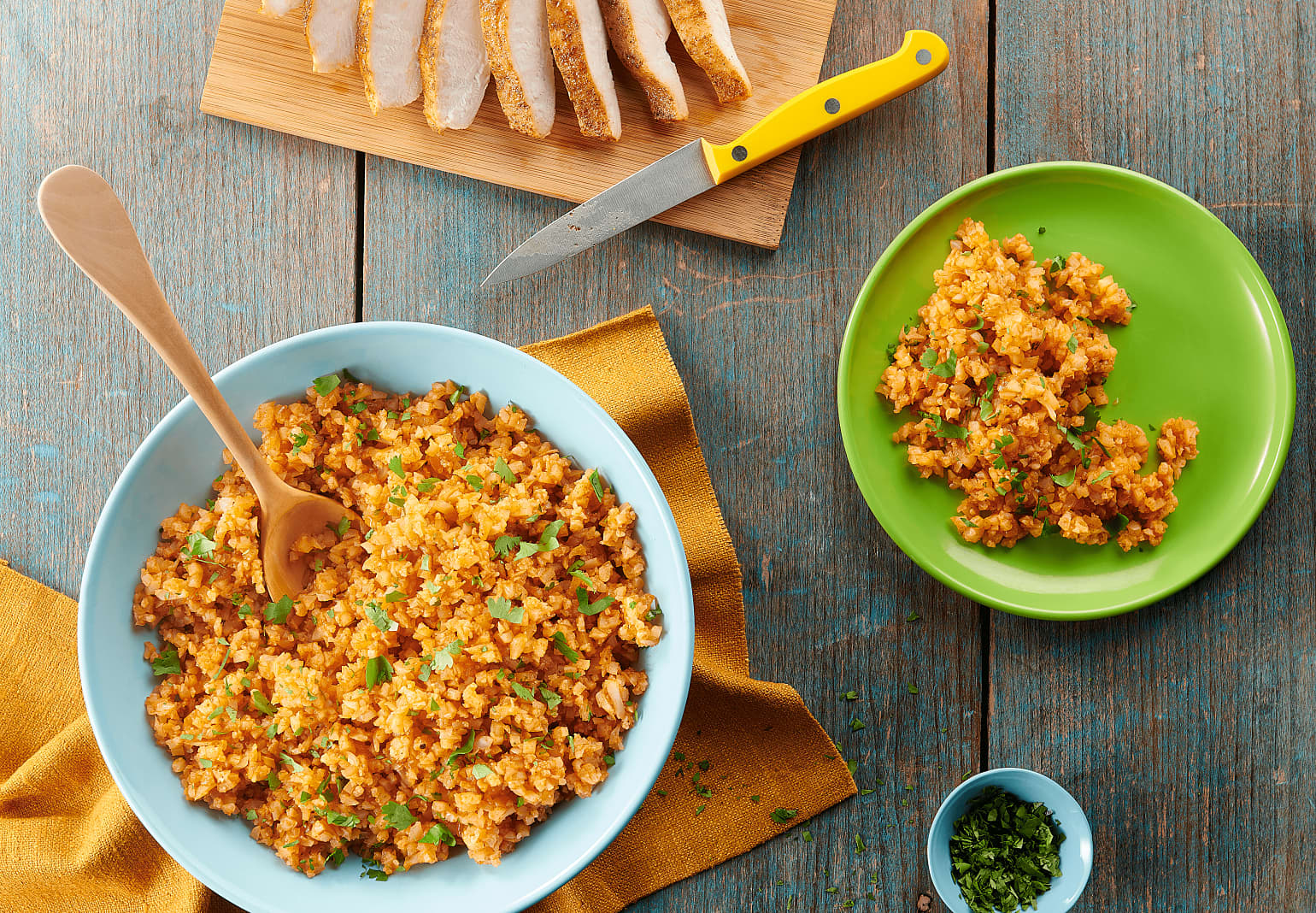 Spanish Cauliflower Rice
This is such a fresh and healthy idea and what a great way to load up on more veggies in your diet!
Ingredient List
1 tablespoon (15 mL) olive oil
1/2 cup (125 mL) finely chopped onion
3 cloves garlic, finely chopped
2 tablespoons (30 mL) tomato paste
1 tablespoon (15 mL) from 1 package (24 g) Old El Paso™ Taco Seasoning Mix
1/2 teaspoon (2 mL) salt
1/2 cup (125 mL) water
567 g from 2 packages (340 g) frozen riced cauliflower (about 6 cups/1.5 L) 
2 tablespoons (30 mL) chopped fresh cilantro
Preparation
In 12-inch (30 cm) skillet, heat oil over medium heat. Add onion; cook and stir 3 to 4 minutes or until softened. Add garlic; cook 30 seconds to 1 minute or until fragrant. Add tomato paste; cook and stir 1 minute. Add taco seasoning mix, salt and water; stir to combine.
Add frozen riced cauliflower; cook 8 to 10 minutes, stirring frequently, until riced cauliflower is cooked through and all liquid evaporates.
Transfer to serving dish; garnish with cilantro.
Expert Tips
You can use a fresh head of cauliflower and make your own riced cauliflower instead of buying the frozen product. Cut the head into bite-sized florets, and then either pulse it in a food processor, or grate it on a cheese grater until it breaks down and looks like the texture of rice. For this recipe you will need 3 ½ to 4 cups (875 mL to 1 L) of riced cauliflower.
If you prefer, fresh chopped parsley can be used to replace the cilantro.
Turn this into a cheesy side dish by sprinkling with your favourite shredded cheese after it is in the serving dish.