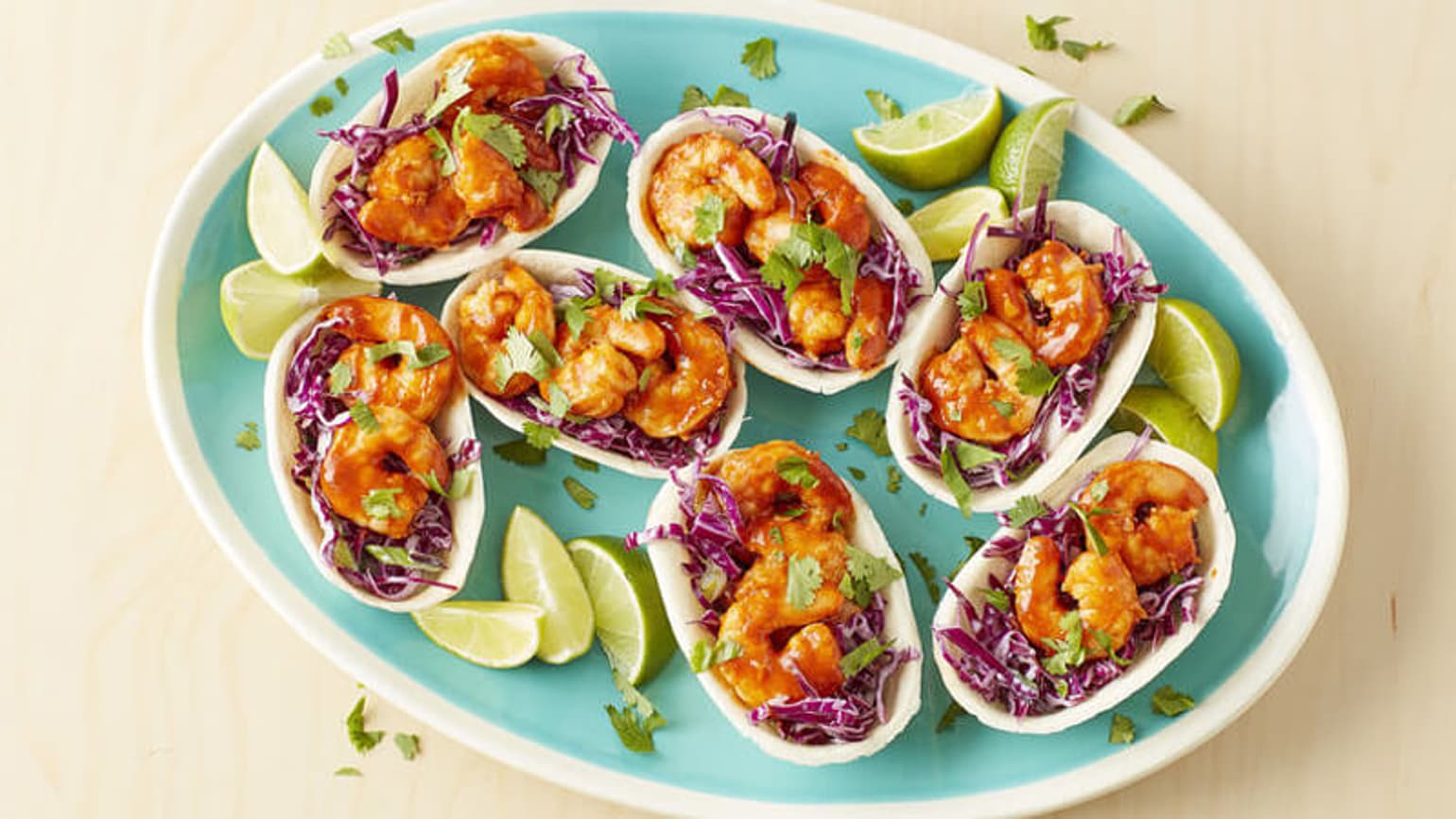 Spicy Mexican Shrimp Taco Bowls
Fresh, bright, sweet and hot – this meal packs everything you love about summer into one taco bowl
Ingredient List
1/3 cup mayonnaise
1 tablespoon honey
1 teaspoon lime juice
1/4 teaspoon salt
3 cups coarsely shredded purple cabbage
1/2 cup thinly sliced green onions, cut on the bias
1 tablespoon butter
1 lb (500 g) uncooked deveined peeled large shrimp, tail shells removed
2 cloves garlic, very finely chopped
1 tablespoon hot sauce
1 package Old El Paso™ taco seasoning mix
1 package (12 count) Old El Paso™ Mini Tortilla Bowls
1/4 cup chopped fresh cilantro leaves
Lime wedges, if desired
Preparation
In medium bowl, mix mayonnaise, honey, lime juice and salt. Stir in cabbage and green onions; set aside.
In 12-inch skillet, melt butter over medium-high heat. Add shrimp; cook 2 to 3 minutes, turning once, until pink. Stir in garlic, hot sauce and taco seasoning mix. Heat to simmering. Reduce heat; simmer uncovered 1 to 2 minutes, stirring frequently, until thickened.
Heat bowls as directed on package. Divide cabbage mixture among bowls; divide shrimp mixture among bowls; top with cilantro, and serve with lime wedges.
Expert Tips
A nonstick skillet is great for many things, but it's not great for searing shrimp. In fact, it tends to make them water out a bit. If possible, use a regular skillet for this recipe.