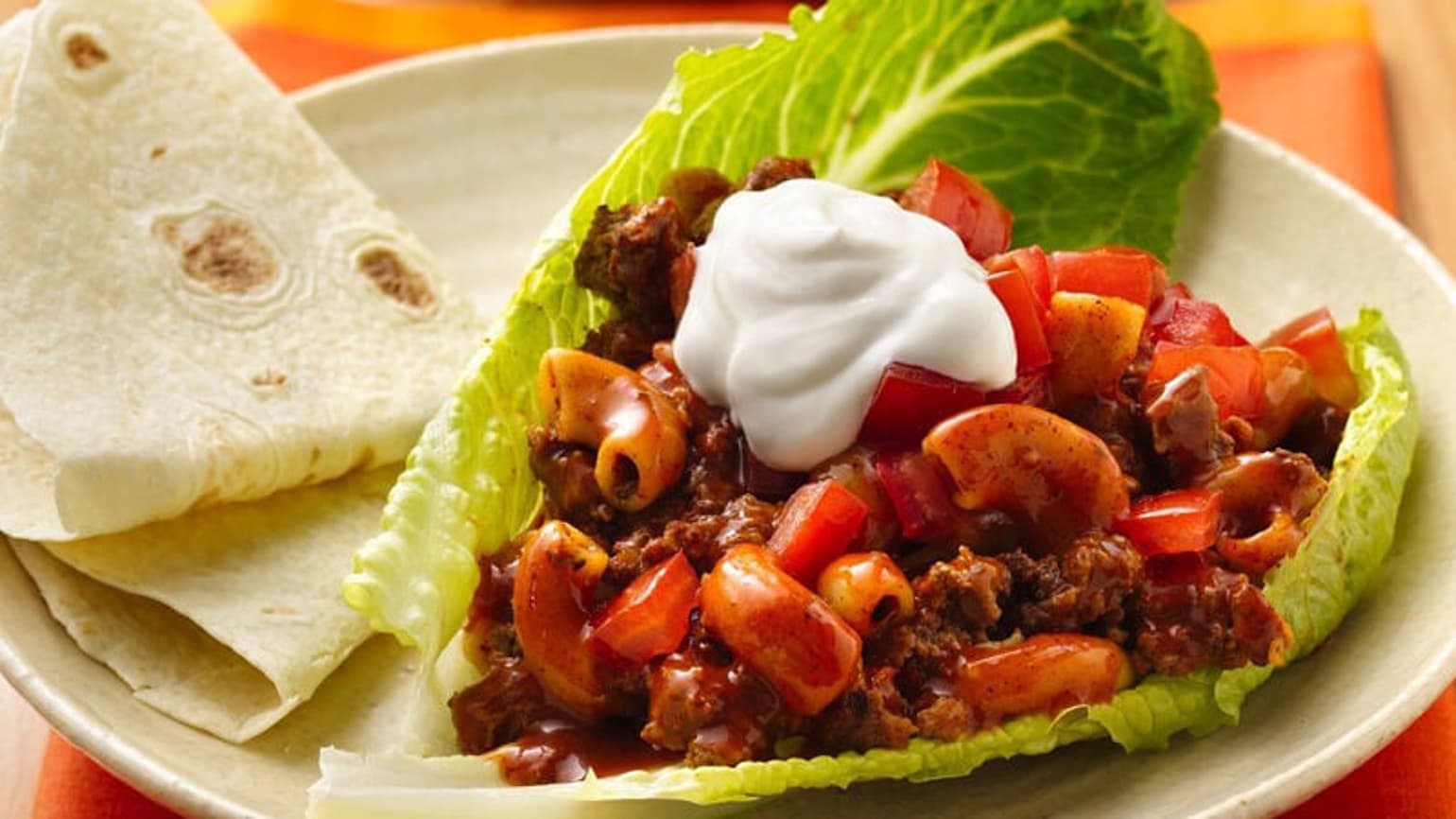 Spicy Taco Salad
Hum-drum salads got ya down? Spice up your sleepy tastebuds with this zippy Mexican inspired salad.
Ingredient List
1 lb (500 g) lean ground beef
3 2/3 cups (900 mL) hot water
1 pkg (210 g) Hamburger Helper* Chili Macaroni
1 tbsp (15 mL) chili powder
1/2 tsp (2 mL) dried oregano leaves
1/4 tsp (1 mL) red pepper sauce
1 large garlic clove, crushed
1/2 tsp (2 mL) ground cumin, if desired
1/8 tsp (0.5 mL) ground red pepper (cayenne), if desired
6 cups (1.5 L) shredded lettuce
2 medium tomatoes, chopped 1 medium green pepper, chopped
1/3 cup (75 mL) sliced green onion
1/4 cup (50 mL) sliced ripe olives
1 can (114 mL) Old El Paso* Chopped Mild Green Chiles
Preparation
Cook beef in large skillet over medium-high heat, stirring occasionally, until brown; drain.
Stir in hot water, uncooked Pasta, Sauce Mix, chili powder, oregano, pepper sauce, garlic, cumin and cayenne pepper. Heat to boiling, stirring occasionally.
Reduce heat; cover and simmer 15 minutes, stirring occasionally.
Uncover and cook 5 minutes longer. Cool 5 minutes.
Mix remaining ingredients in large bowl. Add beef mixture; toss.
Serve immediately or, if desired, cover and refrigerate at least 4 hours until chilled.
Expert Tips
Crumbled tortilla chips, freshly chopped cilantro and a wedge of lime would be perfect garnishes for this brilliantly colourful lip-smacking salad.