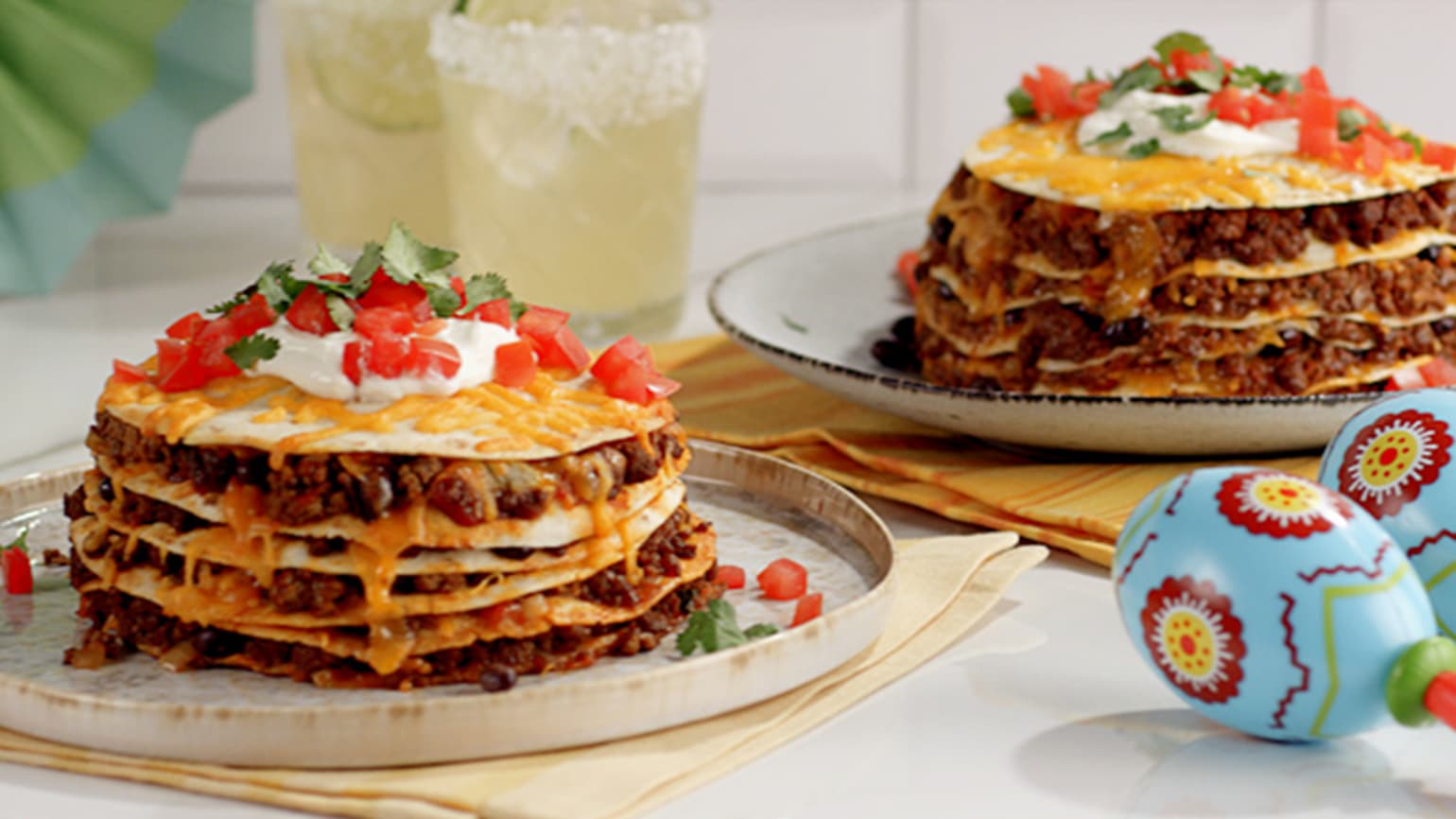 Stacked Enchiladas
These stacked enchiladas are a guaranteed showstopper and crowd pleaser for this week's fiesta!
Ingredient List
6 medium Old El Paso Tortillas
1 can Old El Paso chopped green chilis, drained
1 package Old El Paso Taco seasoning
2 cups Old El Paso chunky salsa
1 1/2 cups black beans, drained and rinsed
1 small brown onion, diced
1 1bs lean ground beef
2 cups shredded cheddar cheese
2/3 cup water
2 Tomatoes, diced
Cilantro to garnish
Sour cream to garnish
Preparation
Brown the beef in a 10" skillet over medium-high heat, stirring often to separate meat.
Drain the fat. Add the onions, taco seasoning, water and stir until combined and the mixture is boiling.
Reduce heat; simmer uncovered 3 minutes, until thickened.
Stir 1/2 cup Old El Paso salsa in the skillet.
Spray a parchment lined baking sheet with cooking spray.
Place 1 tortilla onto the baking sheet. Top with 1/2 cup of the beef mixture, 1/4 cup cheese, 1 Tbsp black beans, 1 Tbsp salsa and 1 tsp of green chilies.
Top with another tortilla and repeat the layers.
Top with the remaining tortilla. Cover the stack with aluminum foil.
Bake at 350°F. for 20 minutes or until the filling is hot. Uncover the stack. Top with the remaining cheese and Bake for 5 minutes or until the cheese is melted.
Top chopped cilantro and diced tomatoes. Cut the stack into 8 wedges and serve with sour cream and salsa.