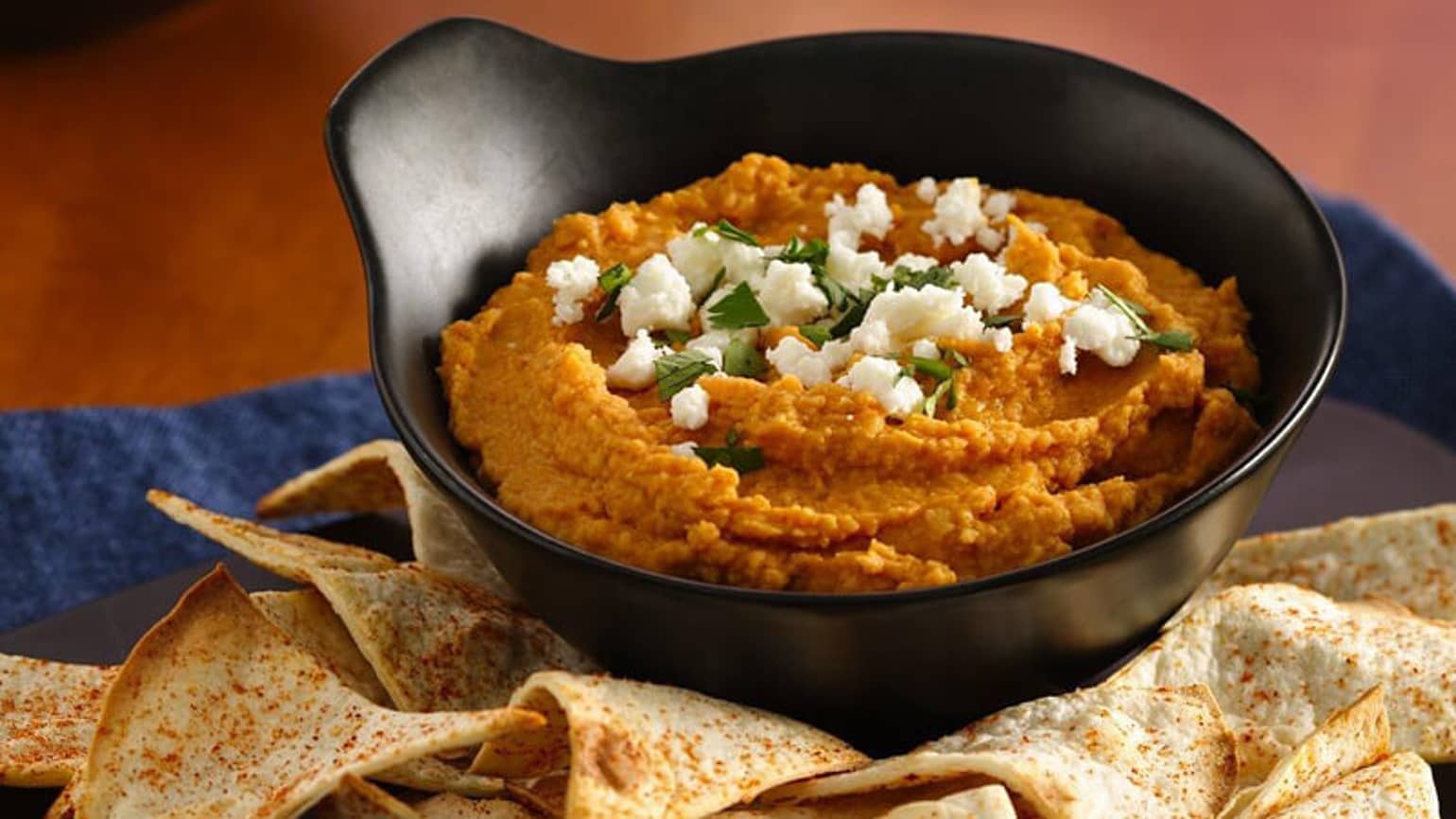 Taco Hummus and Tortilla Chips
An easy flavourful hummus dip with homemade tortilla chips.
Ingredient List
4 (6 inch) Old El Pasoᵀᴹ Flour Tortillas
1 tbsp (15 mL) water
1 tbsp plus 1/2 tsp (15 mL plus 2 mL) Old El Pasoᵀᴹ Smart Fiestaᵀᴹ Reduced Sodium Taco Seasoning Mix, divided
1 can (540 mL/19 oz) chick peas (garbanzo beans), drained
1/4 cup (50 mL) water
5 tsp (25 mL) lemon juice
2 tsp (10 mL) olive oil
1 clove garlic, chopped
1/4 cup (50 mL) Old El Pasoᵀᴹ Thick N' Chunky Salsa
1/4 cup (50 mL) crumbled feta cheese (optional)
Chopped fresh cilantro (optional)
Preparation
Heat oven to 400ºF. Spray baking sheet with non-stick cooking spray.
To make tortilla chips, lightly brush both sides of each tortilla with water. Lightly sprinkle taco seasoning mix over both sides of each tortilla, using the 1/2 tsp amount of the seasoning mix. Cut each tortilla into 8 wedges; place on cookie sheet. Bake 4 to 5 minutes or until light golden brown. Remove from baking sheet to cooling rack. Cool completely, about 10 minutes.
Meanwhile, to make hummus, drain and rinse chick peas. In blender or food processor, place chick peas, water, lemon juice, oil, garlic and remaining 1 tablespoon taco seasoning mix. Cover; blend until smooth. Stir in salsa. Garnish hummus with crumbled feta cheese and chopped cilantro, if desired. Serve with tortilla chips.
Expert Tips
You can also serve this tasty dip with fresh cut up veggies.
What to do with the leftovers? Top a sandwich or burger with a dollop of hummus for an easy way to get lots of flavour.
From time to time, reformulations of products may alter nutrient value, ingredients and/or allergens. Maintaining on-line information accuracy at all times can be difficult. In the event of a conflict between the data that is shown on this site and that which is on the package, the data on the package should be the primary resource for accurate and up to date data for the product in the package.