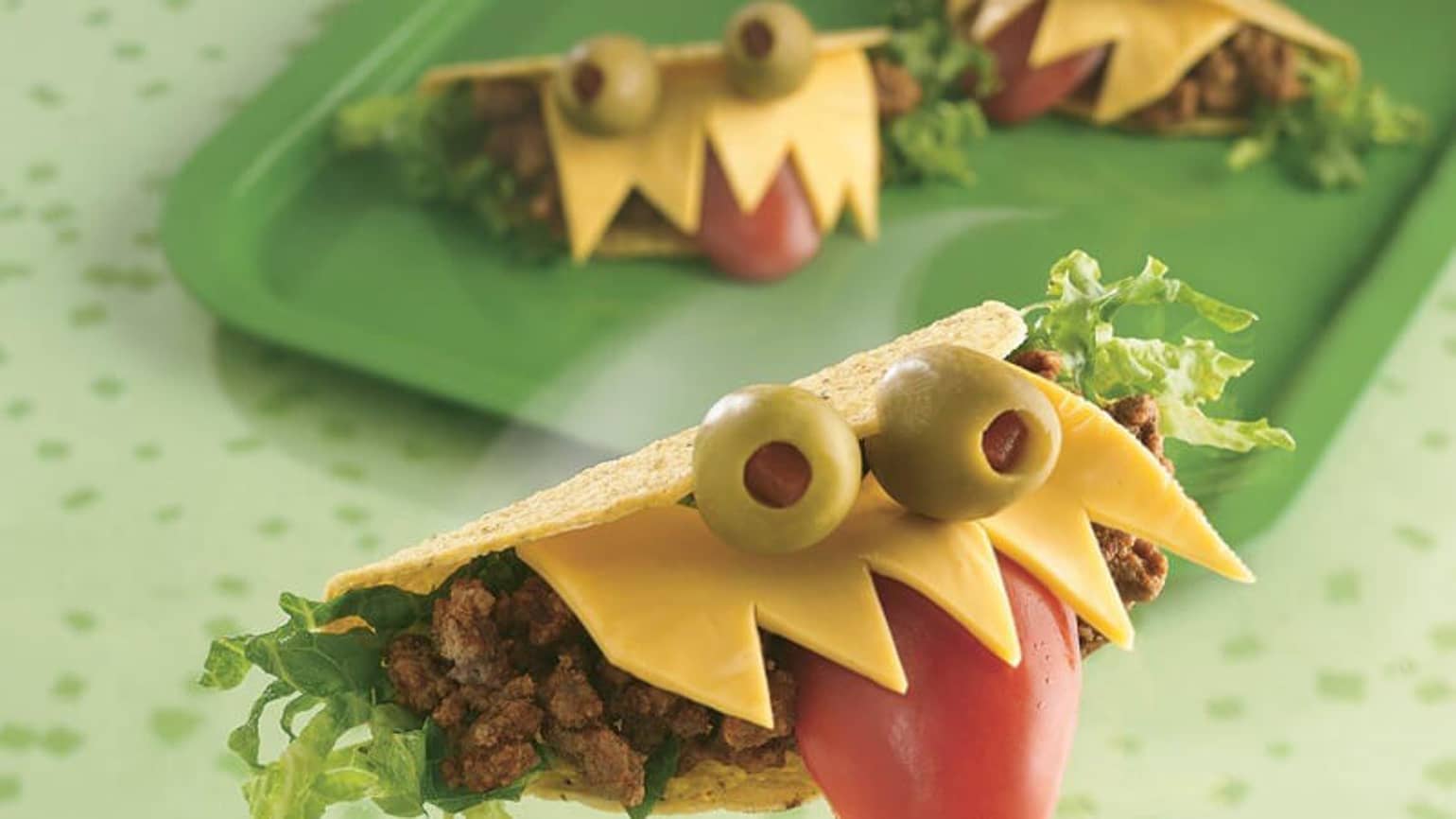 Taco Monster Mouths
Turn cheese slices, olives, and tomatoes into snaggle-toothed grins for these Halloween tacos.
Ingredient List
2 plum (Roma) tomatoes, cut length-wise into 3 pieces
12 large pimiento-stuffed green olives
3 slices processed cheese
6 Old El Pasoᵀᴹ Stand 'N Stuffᵀᴹ Taco Shells
1/2 lb (250 g) lean ground beef
2 tbsp (30 mL) Old El Pasoᵀᴹ Taco Seasoning Mix
1/3 cup (75 mL) water
Shredded lettuce, if desired
Preparation
Cut each tomato lengthwise into 3 pieces. Remaining inside of tomato may be chopped for additional taco filling, if desired.
Cut slit into 1 side of each olive to make a flat side. Cut each of the slices of cheese in half vertically in a zigzag line to look like teeth.
Heat oven to 350°F. Arrange taco shells on ungreased cookie sheet. Bake 5 to 7 minutes or until hot. Meanwhile, in 10-inch skillet, cook ground beef over medium-high heat 5 to 7 minutes, stirring frequently, until thoroughly cooked; drain. Stir in taco seasoning mix and water. Reduce heat to medium; cook about 5 minutes, stirring frequently until water has evaporated.
To assemble, fill tacos with desired fillings so that hamburger is on the top. Placing each taco on its side on serving plate, insert 1 tomato slice into meat filling to look like tongue. Place 1 cheese slice with zigzag edge toward meat along top side of taco between the shell and the filling. Place 2 olives, flat sides down, to look like eyes on top of shell.
Expert Tips
Ground turkey can be used in place of the ground beef.