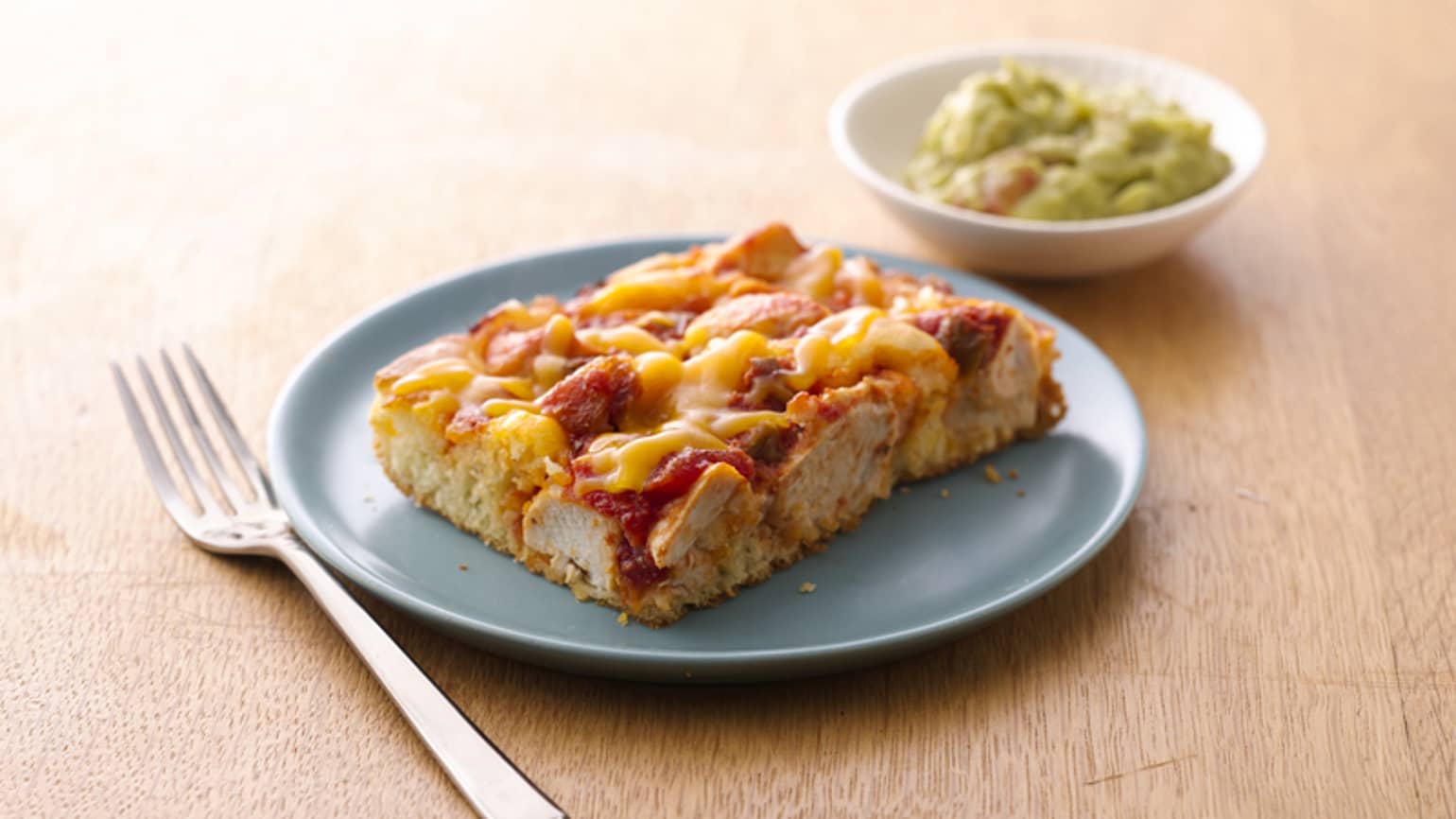 Big-Batch Salsa Chicken Fiesta
Serve a crowd-size fiesta of flavours with this quick and easy chicken bake.
Ingredient List
2 1/3 cups (575 mL) BISQUICK* mix
1/2 cup (125 mL) water
3 eggs
3 cups (750 mL) shredded Cheddar cheese
1 tbsp (15 mL) vegetable oil
6 boneless, skinless chicken breasts (10 boneless, skinless chicken thighs) cut into 1/2-inch (2 cm ) pieces
2 1/2 cups (625 mL) Old El Paso* Thick N' Chunky Salsa
Preparation
Heat oven to 400°F (200°C). Spray 3 (8 or 9-inch/20 or 23 cm) square baking pans with non-stick cooking spray. In large bowl, stir together Bisquick* mix, water and eggs. Spread evenly among pans. Sprinkle 1/2 cup (125 mL) of the cheese over batter in each pan.
In large skillet, heat oil over medium-high heat. Cook chicken in oil, stirring frequently, until outsides turn white; drain. Stir in salsa; heat until hot. Spoon evenly over batter in pans to within 1/2-inch (1 cm) of edges.
Bake 20 to 24 minutes or until edges are dark golden brown. Sprinkle 1/2 cup (125 mL) of the remaining cheese over each pan. Bake 1 to 3 minutes or until cheese is melted. Loosen from sides of pan; cut into squares.
Expert Tips
Turn up or down the heat intensity by choosing mild, medium or hot Old El Paso* Thick N' Chunky Salsa. Serve with bowls of shredded lettuce, chopped tomatoes, guacamole and sour cream.