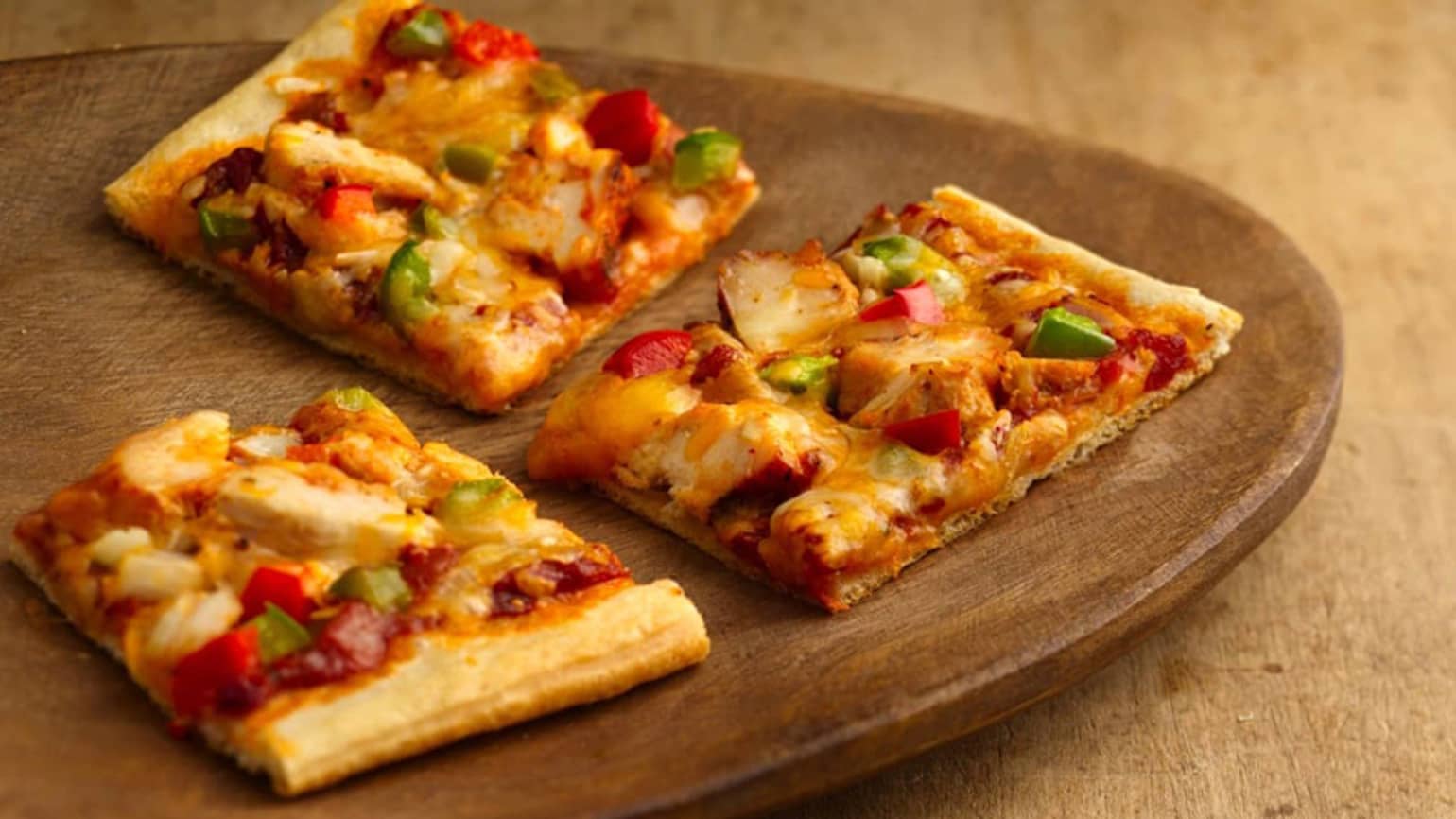 Chipotle Chicken Pizza - On The Grill!
Add some sizzle to your pizza with chilies and salsa, but don't worry--the veggies and cheese balance the hot flavours deliciously.
Ingredient List
1 can Pillsbury* Refrigerated Pizza Crust
1 cup (250 mL) Old El PasoTM Thick N' Chunky Salsa
1/2 to 1 chipotle chili in adobo sauce, finely chopped (from a 7 oz can)
1 pkg (150 g) refrigerated cooked seasoned chicken breast strips
1/4 cup (50 mL) chopped onion
1/2 cup (125 mL) chopped red bell pepper
1/2 cup (125 mL) chopped green bell pepper
1 1/2 cups (375 mL) shredded Mexican cheese blend
Preparation
In small bowl, mix salsa and chipotle chili; spread to within 1/2 inch of edges of dough.
Top with chicken strips, onion and peppers; sprinkle with cheese.
Heat gas or charcoal grill. Cut 18x12-inch sheet of heavy-duty foil; place on large cookie sheet. Spray foil with cooking spray. Unroll dough onto sprayed foil. Starting at centre, press out dough into 13x9-inch rectangle. Spray dough with cooking spray.
Invert dough rectangle directly onto grill rack; peel off foil and return foil to cookie sheet, sprayed side up. Cook uncovered on gas grill over medium-low heat or on charcoal grill 4 to 6 inches from medium-low coals 3 to 5 minutes or until bottom is golden brown. (Watch carefully to prevent burning.) With wide metal pancake turner, turn crust over. Cook 1 to 2 minutes longer or until bottom is set but not brown. Carefully remove from grill; place browned side up on foil. Close grill.
Slide pizza from foil onto grill. Cover grill; cook 3 to 6 minutes longer or until crust is golden brown and cheese is melted.
Expert Tips
Success: Have all toppings ready to go because the crust cooks quickly. If the crust is cooking too fast, move the pizza to a cooler part of the grill or reduce the heat.
From time to time, reformulations of products may alter nutrient value, ingredients and/or allergens. Maintaining on-line information accuracy at all times can be difficult. In the event of a conflict between the data that is shown on this site and that which is on the package, the data on the package should be the primary resource for accurate and up to date data for the product in the package.