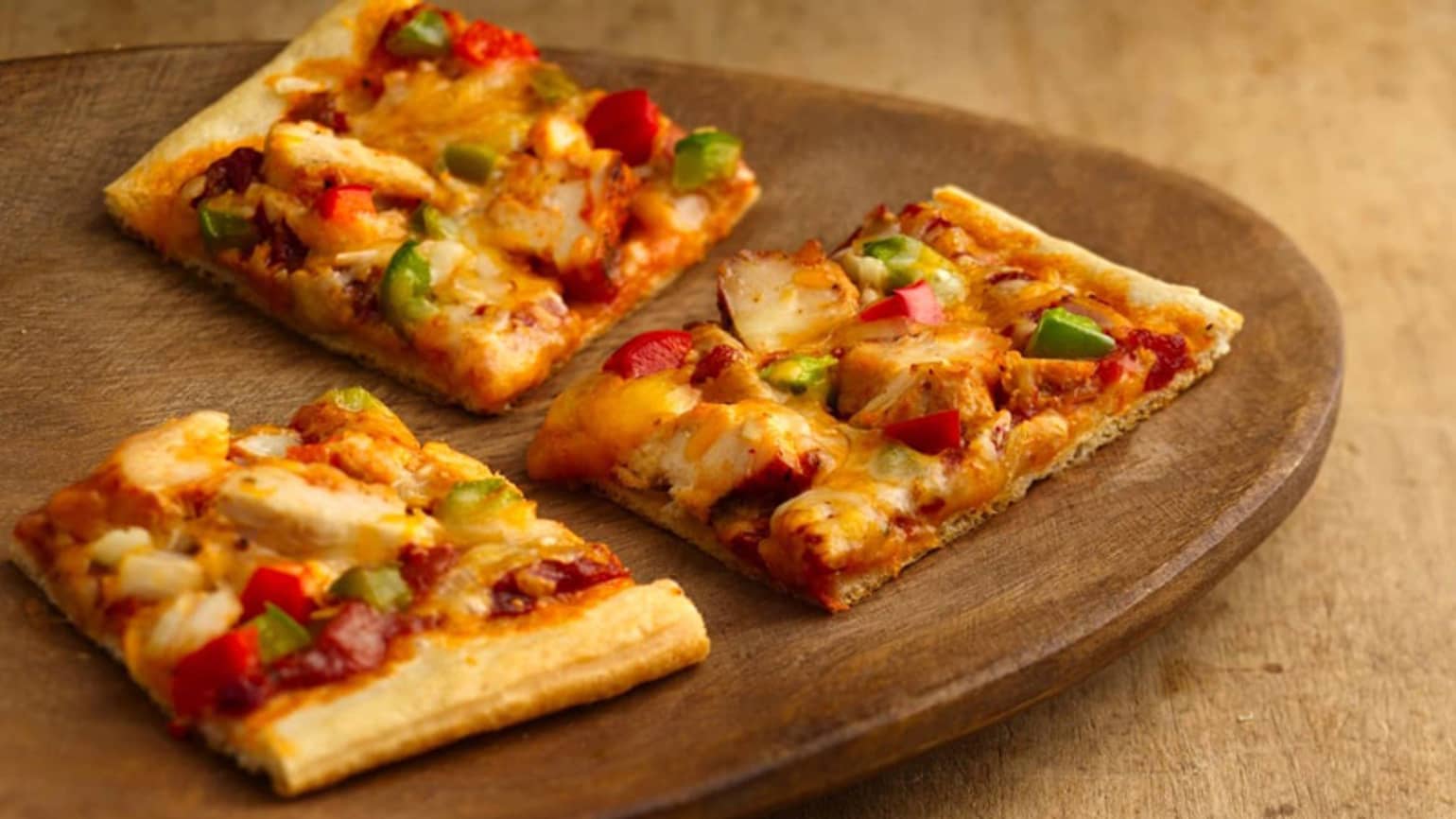 Chipotle Chicken Pizza - On The Grill!
Add some sizzle to your pizza with chilies and salsa, but don't worry--the veggies and cheese balance the hot flavours deliciously.
Ingredient List
1 can Pillsbury* Refrigerated Pizza Crust
1 cup (250 mL) Old El PasoTM Thick N' Chunky Salsa
1/2 to 1 chipotle chili in adobo sauce, finely chopped (from a 7 oz can)
1 pkg (150 g) refrigerated cooked seasoned chicken breast strips
1/4 cup (50 mL) chopped onion
1/2 cup (125 mL) chopped red bell pepper
1/2 cup (125 mL) chopped green bell pepper
1 1/2 cups (375 mL) shredded Mexican cheese blend
Preparation
In small bowl, mix salsa and chipotle chili; spread to within 1/2 inch of edges of dough.
Top with chicken strips, onion and peppers; sprinkle with cheese.
Heat gas or charcoal grill. Cut 18x12-inch sheet of heavy-duty foil; place on large cookie sheet. Spray foil with cooking spray. Unroll dough onto sprayed foil. Starting at centre, press out dough into 13x9-inch rectangle. Spray dough with cooking spray.
Invert dough rectangle directly onto grill rack; peel off foil and return foil to cookie sheet, sprayed side up. Cook uncovered on gas grill over medium-low heat or on charcoal grill 4 to 6 inches from medium-low coals 3 to 5 minutes or until bottom is golden brown. (Watch carefully to prevent burning.) With wide metal pancake turner, turn crust over. Cook 1 to 2 minutes longer or until bottom is set but not brown. Carefully remove from grill; place browned side up on foil. Close grill.
Slide pizza from foil onto grill. Cover grill; cook 3 to 6 minutes longer or until crust is golden brown and cheese is melted.
Expert Tips
Success: Have all toppings ready to go because the crust cooks quickly. If the crust is cooking too fast, move the pizza to a cooler part of the grill or reduce the heat.