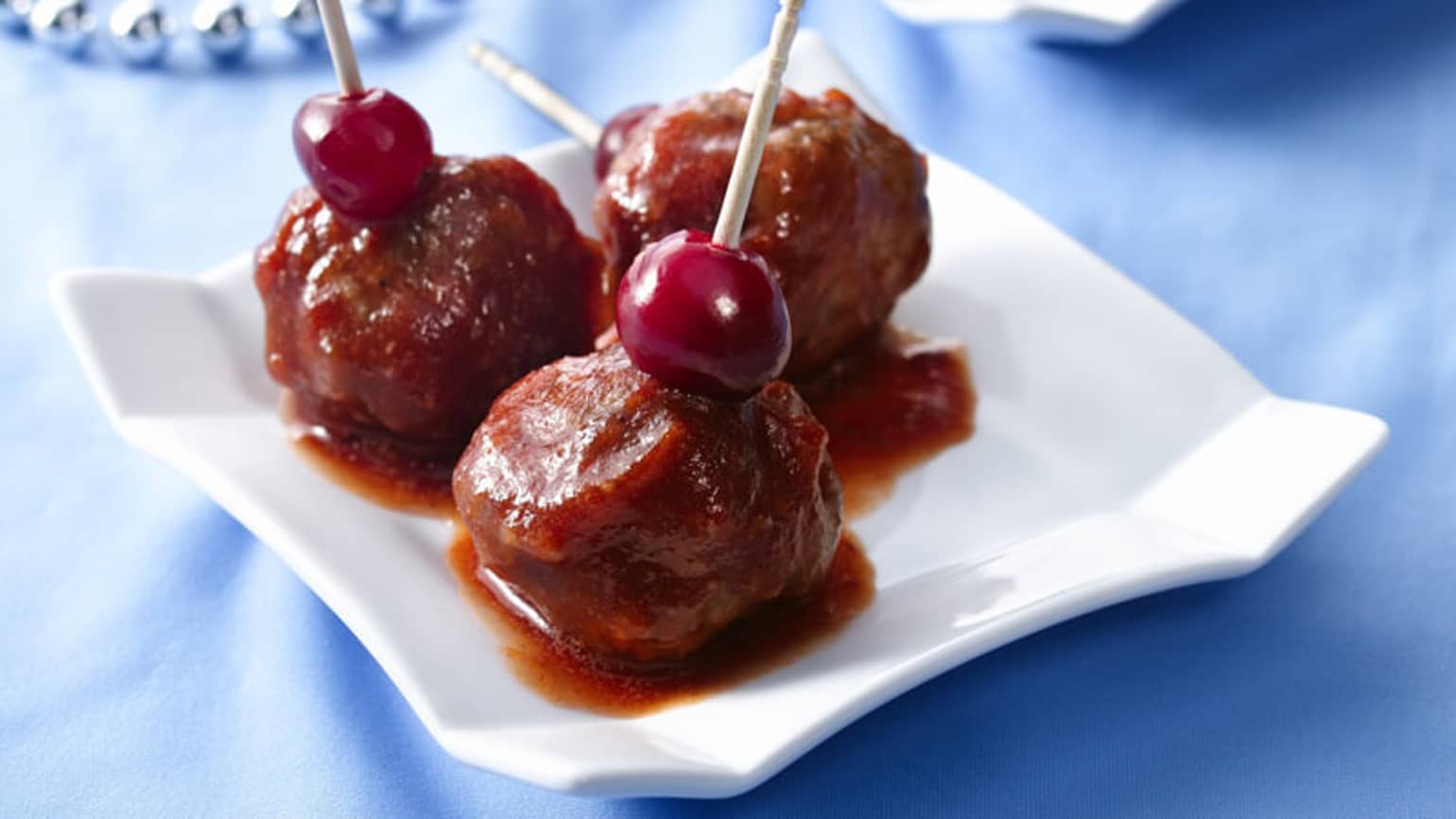 Cranberry-Glazed Appetizer Meatballs
Cranberries balance the spicy flavour of Old El Paso* Thick N' Chunky Salsa in a fabulous holiday appetizer.
Total Time
1 Hours
10 Minutes
Ingredient List
1 1/2 lbs (750 g) lean ground beef
1/2 cup (125 mL) finely chopped onion
1/2 cup (125 mL) bread crumbs
1/2 tsp (1 mL) salt
1/8 tsp (.5 mL) pepper
2 eggs, slightly beaten
1 1/2 cups (375 mL) Old El Paso* Thick N' Chunky Salsa
1 cup (250 mL) canned jellied cranberry sauce
Garnish, if desired
60 fresh cranberries, if desired
Preparation
Heat oven to 375ºF. In large bowl, stir meatball ingredients until well mixed. Shape into 1-inch balls; place in ungreased 15x10x1-inch pan.
Bake 25 to 30 minutes or until meatballs are thoroughly cooked and no longer pink in centre.
Meanwhile, in 3-quart saucepan, stir sauce ingredients until well blended. Heat to boiling over medium heat. Reduce heat to low; simmer 5 minutes, stirring occasionally.
Add meatballs to sauce; stir to coat. Cook over medium heat about 5 minutes, stirring occasionally, until thoroughly heated. Thread cranberries on toothpicks; stick toothpicks in meatballs to serve.
Expert Tips
Prepare and bake the meatballs up to 24 hours before your party. Cover and refrigerate them. Just before serving, prepare the sauce and heat the meatballs in it.
Keep the meatballs warm by serving them in a chafing dish or fondue pot. Provide small forks or cocktail toothpicks for easy eating.