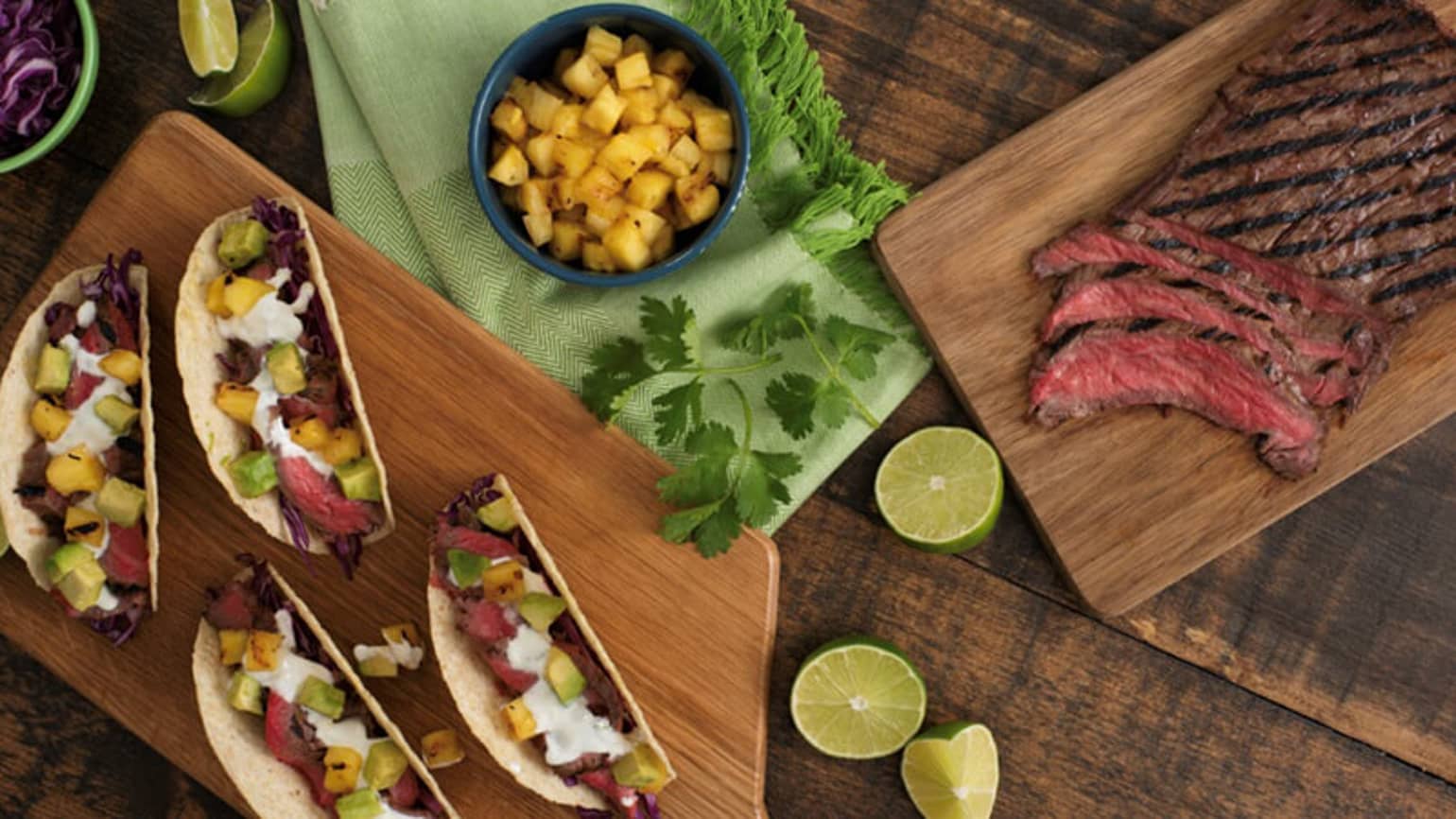 Grilled Steak and Pineapple Tacos
Marinated flank steak is ideal for grilling on the barbecue; it's lean, full of flavour and inexpensive.
Ingredient List
1 pkg (153 g) Old El Paso Hint of Lime Stand and Stuff Taco Shells
3/4 cup (175 mL) pineapple juice
4 tsp (20 mL) lime zest, divided
1/2 cup (125 mL) lime juice, divided
1/4 cup (60 mL) canola oil
2 tbsp (30 mL) Worcestershire sauce
1 tbsp (15 mL) brown sugar
4 cloves garlic, minced
1 1/4 tsp (6 mL) each salt and pepper, divided
1 1/2 lb (750 g) flank steak
1/2 pineapple, peeled, cored and cut into 1-inch (2.5 cm) spears
1/2 cup (125 mL) sour cream
1 1/4 cups (300 mL) thinly sliced red cabbage
1 ripe large avocado, halved, peeled, pitted and chopped
3 tbsp (45 mL) finely chopped fresh cilantro
1/4 cup (60 mL) thinly sliced red chili pepper
Preparation
In resealable plastic bag, combine pineapple juice, 1 tbsp (15 mL) lime zest, 1/4 cup (60 mL) lime juice, oil, Worcestershire sauce, brown sugar, garlic, and 1 tsp (5 mL) each salt and pepper. Add steak; refrigerate for at least 4 hours or up to overnight.
Preheat grill to medium-high; grease grate well. Grill flank steak for 4 to 5 minutes per side for medium-rare or to desired doneness. Let stand for 10 minutes; slice thinly. Meanwhile, grill pineapple for 5 to 8 minutes or until grill-marked. Let cool slightly and dice.
Stir together sour cream, remaining lime zest, lime juice, salt and pepper. Fill taco shells with steak, cabbage, pineapple and avocado. Drizzle with lime sour cream and sprinkle with cilantro and chili pepper.
Expert Tips
Any leftover steak can be added to quesadillas, nachos or taco salads.
Substitute pork tenderloin for steak.
For extra spice, garnish with thinly sliced fresh red chili pepper.