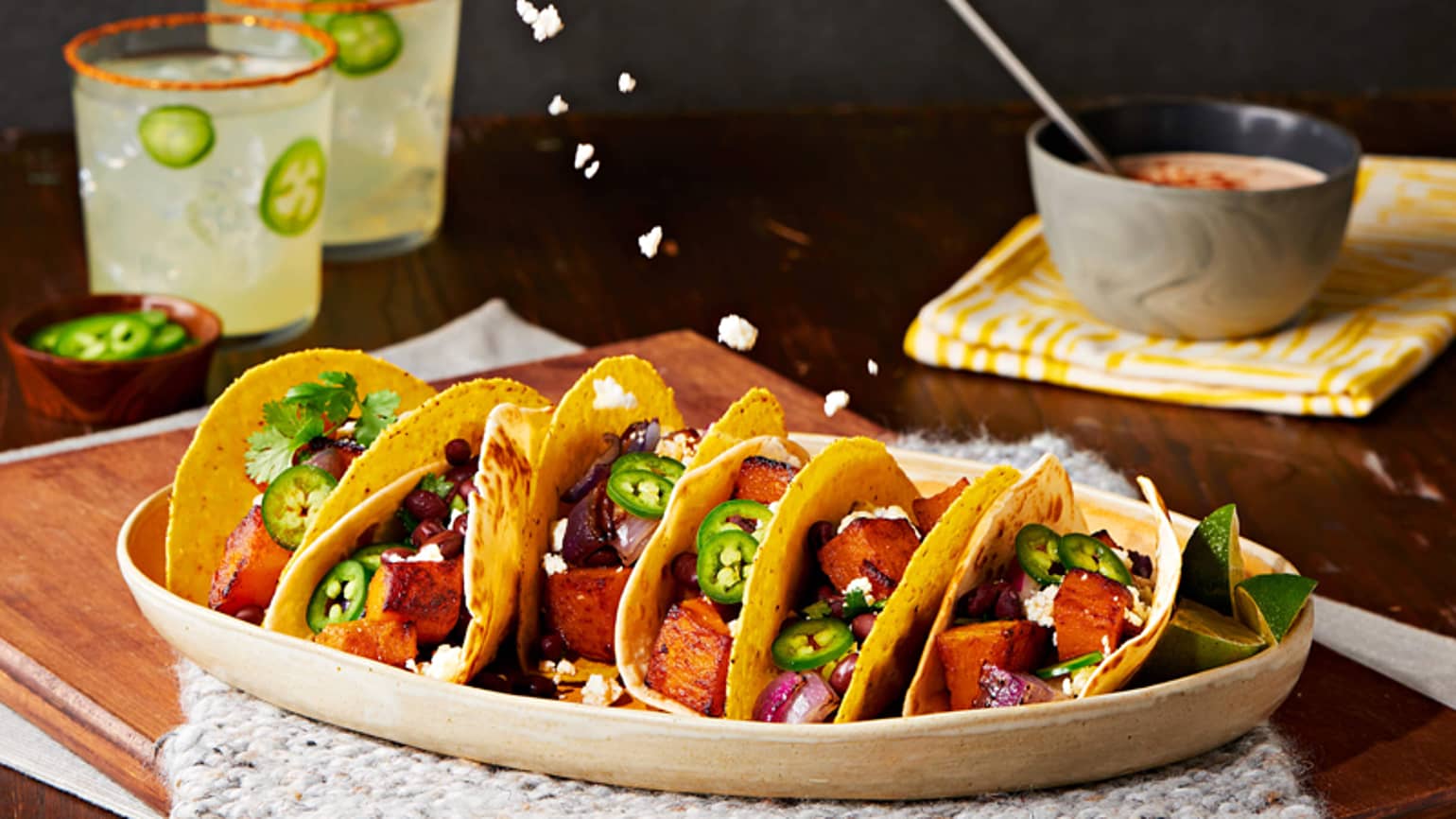 Roasted Butternut Squash Tacos
Ingredient List
1lb (500 g) peeled, ready to cook butternut squash, cut into 1-inch cubes
31/2 tbsp (52 mL) olive oil, divided
1 box (12 count) Old El Paso Hard & Soft Taco Dinner Kit
½ tsp (2 mL) salt, divided
Half red onion, chopped
Jalapeño rounds (optional)
1 can (540 g/19 fl oz) black beans, drained and rinsed
1 cup (250 mL) cilantro leaves and tender stems, chopped
¼ cup (60 mL) thinly sliced red onion
3 tbsp (45 mL) lime juice
2 tbsp (30 mL) olive oil
½ tsp (2 mL) salt
½ cup (125 mL) crumbled Queso fresco or feta cheese
1 avocado, halved and pitted
2 tbsp (30 mL) chopped Old El Paso Pickled Jalapeno
2 tbsp (30 mL) cilantro leaves
⅔ cup (150 mL) sour cream or yogurt
2 tbsp (30 mL) Old El Paso taco sauce
11/2 tsp (7 mL) Old El Paso taco spice
Preparation
Heat oven to 425°F. Toss squash on a rimmed baking sheet with 21/2 tbsp of oil; sprinkle with 21/2 tbsp taco spice and ¼ tsp salt. Spread out to one side of the pan, leaving space. Toss onion, 1 tbsp of the remaining oil, and ¼ tsp of the remaining salt. Roast for 15 min; flip and cook until caramelized, about 10 minutes.
Black Bean Salad: Stir black beans, cilantro, onion, lime juice, oil and salt in a bowl. Stir in cheese; set aside.
Taco Crema: Stir sour cream, taco sauce and taco spice in a small bowl; set aside.
Heat tortillas according to package. Divide black bean salad among tortillas, top with squash, onions and jalapeño (if using). Serve with guacamole and crema or serve on the side with additional cheese if desired.
Expert Tips
Convenient and quick, look for peeled, cubed, ready to cook butternut squash packages in the produce section of your local grocery store.
Crema is Mexican sour cream, you can substitute it with sour cream stirred with enough milk to drizzle over your favourite Mexican recipes.
Swap out canned black beans with chickpeas or lentils and switch up the cilantro with parsley or mint.