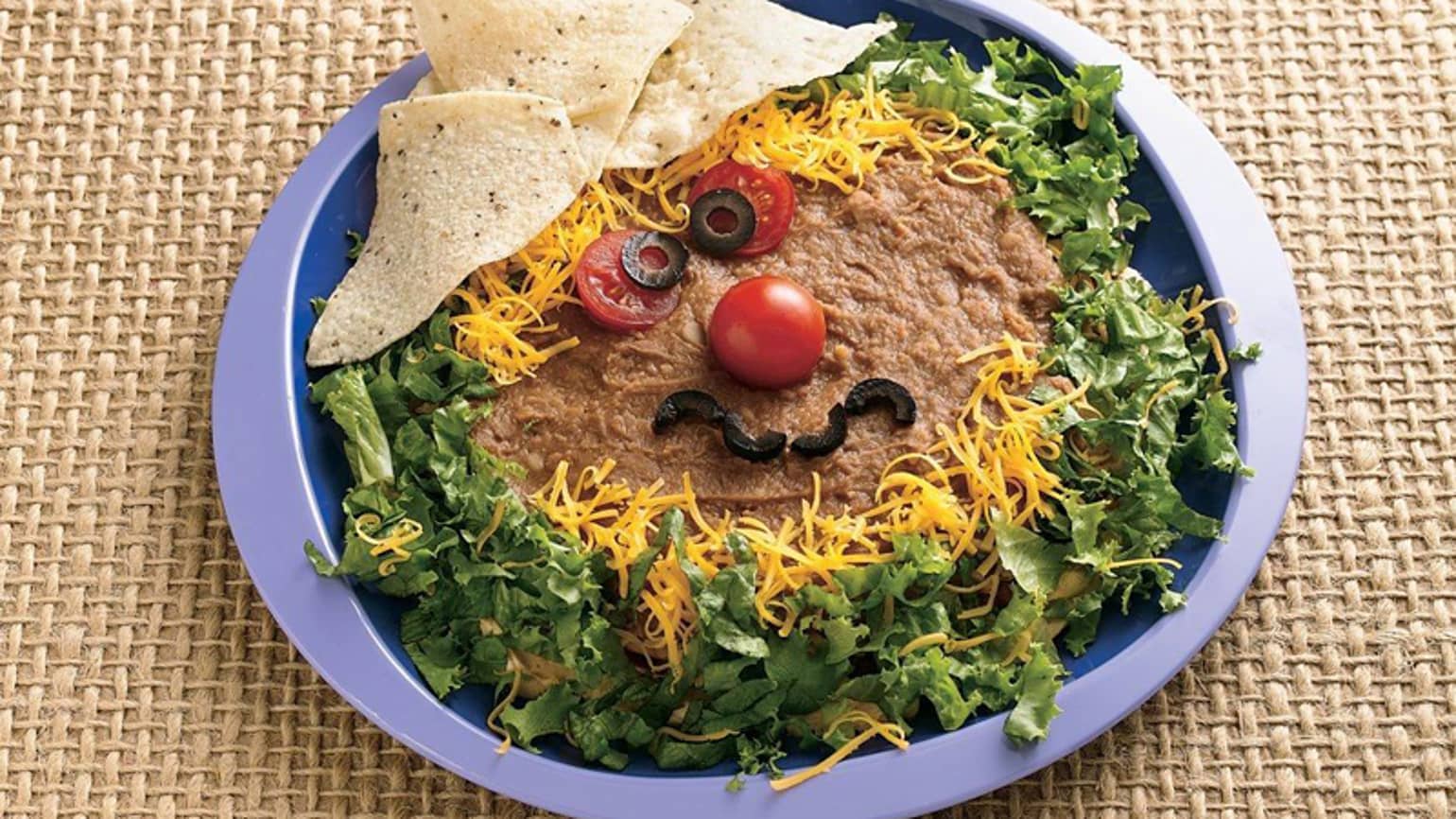 Scarecrow Taco Dip
Always popular at parties, this tasty taco spread has real character and is ready in only 15 minutes.
Ingredient List
1 pkg (250 g) cream cheese, softened
2 tsp (10 mL) Old El Pasoᵀᴹ taco seasoning mix (from 35 g package)
1/2 cup (125 mL) Old El Pasoᵀᴹ Thick N' Chunky Salsa
1/4 cup (50 mL) sliced ripe olives
1 cup (250 mL) shredded Cheddar cheese
1 cup (250 mL) Old El Pasoᵀᴹ Refried Beans
1 cup (250 mL) chopped lettuce
2 cherry tomatoes
Triangular-shaped tortilla chips
Preparation
In small bowl, mix cream cheese and taco seasoning mix until smooth. Spread on 10-inch plate. Spoon salsa evenly over cream cheese mixture. Reserve 4 olive slices; sprinkle remaining olives over salsa. Reserve 1/4 cup cheese; sprinkle remaining cheese over olives. Spoon beans in centre of plate; spread to 6-inch circle to resemble head of scarecrow. Sprinkle lettuce around beans.
Cut 1 tomato in half; place each half on scarecrow, cut side up, to resemble eyes. Add remaining tomato to resemble nose. Place 1 reserved olive slice on each "eye" to resemble pupil. Cut the remaining olive slices in half and arrange the pieces to resemble mouth.
Arrange tortilla chips to resemble a hat on the scarecrow's head. Arrange the reserved cheese to come out from under the hat and at the bottom of the face to resemble straw. Serve dip with tortilla chips. Store dip in refrigerator.
From time to time, reformulations of products may alter nutrient value, ingredients and/or allergens. Maintaining on-line information accuracy at all times can be difficult. In the event of a conflict between the data that is shown on this site and that which is on the package, the data on the package should be the primary resource for accurate and up to date data for the product in the package.