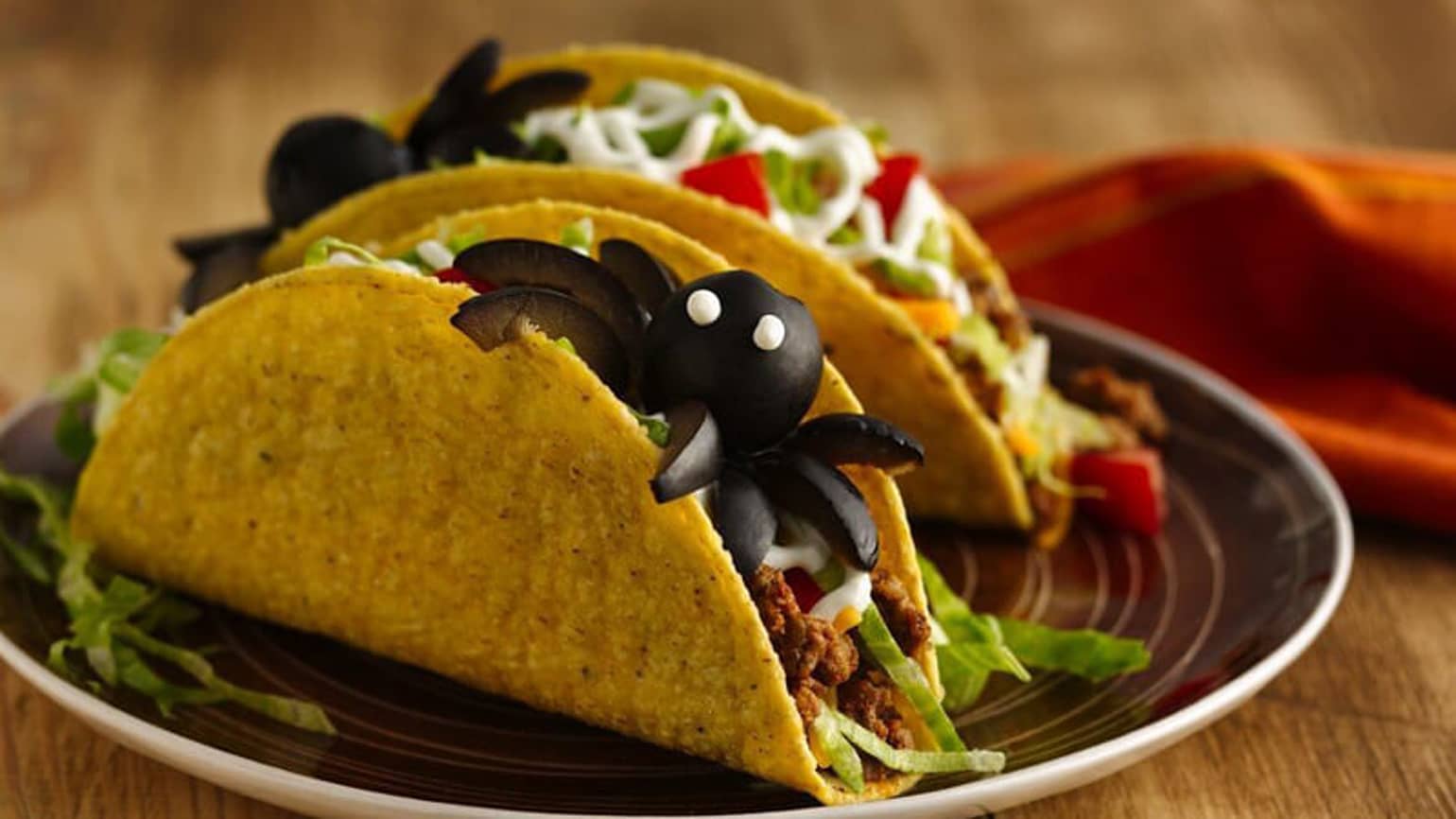 Tarantula Tacos
Turn simple tacos into fun Halloween surprises with these simple olive toppers.
Ingredient List
1 box (10 shells) Old El Pasoᵀᴹ Stand N' Stuffᵀᴹ Taco Shells
1 lb (500 g) lean ground beef
1 pkg Old El Pasoᵀᴹ Taco Seasoning Mix
1 cup (250 mL) water
1 cup (250 mL) shredded Cheddar cheese
1 1/2 cups (375 mL) shredded lettuce
1 medium tomato, chopped (3/4 cup/175 mL)
1/4 cup (50 mL) sour cream
20 extra-large pitted ripe olives
Preparation
Heat oven to 350ºF. Heat taco shells in oven as directed on box.
Meanwhile, in 10-inch skillet, cook ground beef over medium-high heat, stirring frequently, until beef is thoroughly cooked; drain. Stir in taco seasoning mix and water. Reduce heat to medium; cook uncovered about 7 to 8 minutes, stirring frequently, until almost all water has evaporated. Remove from heat.
Spoon beef mixture into heated taco shells. Top with cheese, lettuce and tomato.
Spoon sour cream into small resealable food-storage plastic bag. Seal bag; cut tiny hole in corner of bag. Pipe sour cream over top of each taco to resemble spiderweb.
For each spider, top taco with 1 olive, pitted end down. Cut second olive lengthwise into 8 pieces; place around olive for legs. For eyes, squeeze 2 dots of sour cream onto top of olive.