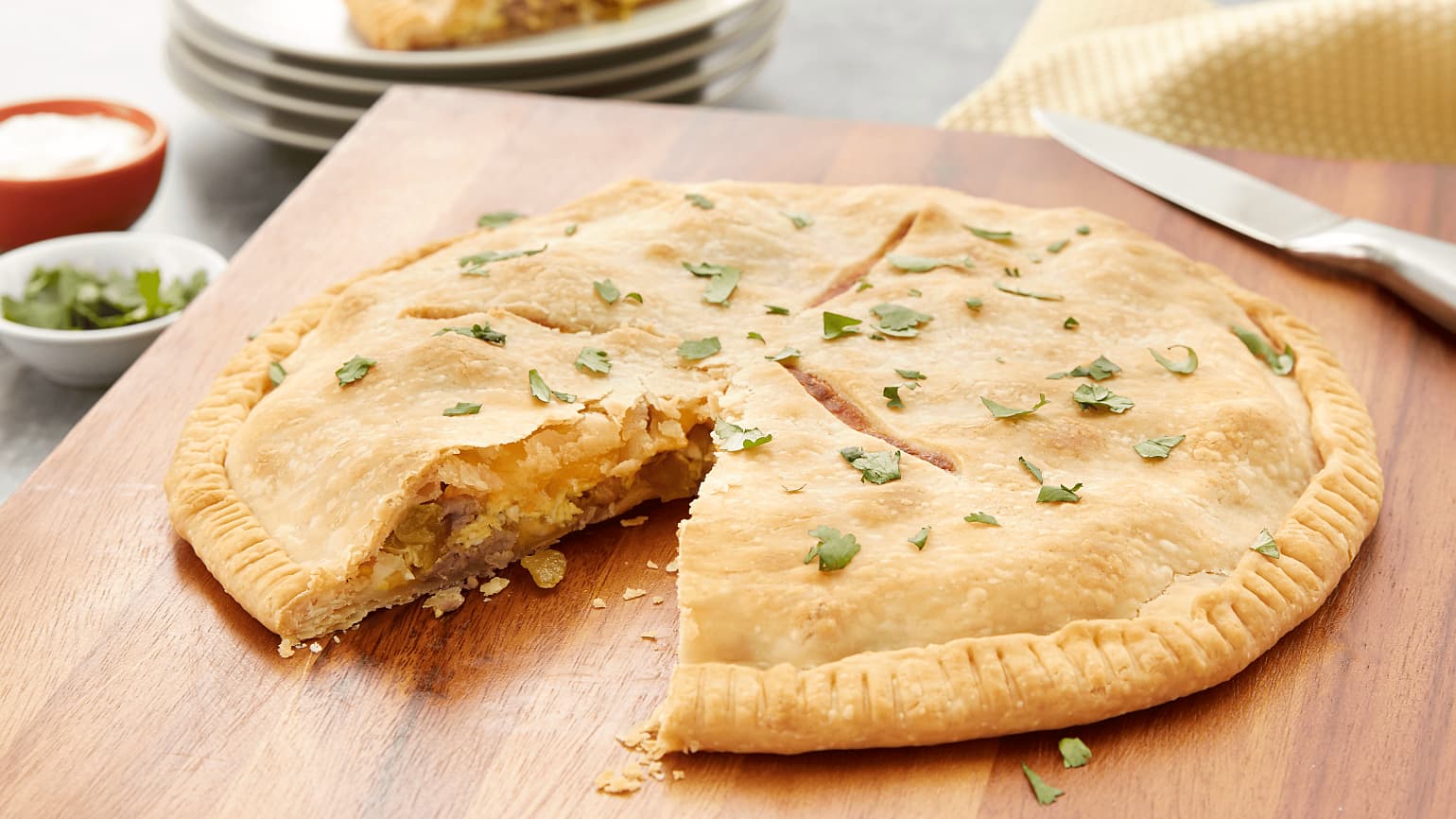 Tex-Mex Breakfast Slab Empanada
Everyone will be so impressed when you place this creation on your table! Olé!
Total Time
1 Hours
5 Minutes
Ingredient List
2 tablespoons (30 mL) vegetable oil
1/2 lb (250 g) bulk breakfast sausage
1/2 cup (125 mL) diced onion
1 can (127 mL) Old El Paso™ Chopped Green Chilies
2 cloves garlic, chopped
4 eggs, slightly beaten
1 1/2 cups (375 mL) shredded Colby-Monterey Jack cheese
1 box (400 g) refrigerated Pillsbury™ Pie Crusts (2 Count), softened as directed on box
1 tablespoon (15 mL) butter, melted
1 tablespoon (15 mL) chopped fresh cilantro leaves
1/2 cup (125 mL) sour cream
Preparation
Heat oven to 450°F (230°C). In 10-inch (25 cm) nonstick skillet, heat 1 tablespoon (15 mL) of the oil over medium-high heat. Add sausage and onion. Cook 4 to 5 minutes, stirring frequently, until browned. Stir in chilies and garlic. Transfer to large bowl. Clean out skillet.
In same skillet, heat remaining 1 tablespoon (15 mL) oil over medium-high heat. Add eggs; cook 30 to 90 seconds, stirring frequently, until eggs are cooked through. Stir eggs and 1/2 cup (125 mL) of the cheese into sausage mixture in bowl. Cool 10 minutes.
On ungreased rimless large cookie sheet, place 1 pie crust. Spoon sausage mixture evenly over crust, leaving 1-inch (2.5 cm) border. Top with remaining 1 cup (250 mL) cheese. Moisten edge of bottom crust with water. Gently drape second pie crust over sausage mixture without stretching dough. Press edge of top crust 1/2 inch (1.3 cm) from edge of bottom crust. Fold bottom crust edge over top crust edge, and press with fork to seal. With paring knife, make several large cuts in top of crust to vent steam. Brush with melted butter.
Bake 18 to 22 minutes or until golden brown. Cool 10 minutes. Sprinkle with cilantro. Cut in wedges; serve with sour cream.
Expert Tips
Bulk sausage is the raw meat that has not been stuffed into the casing. If you cannot find it, you can buy raw sausages, slit the casing with a knife and remove the meat.
It is important to cool the filling as instructed before placing on the bottom crust. It helps prevent too much steam from developing and resulting in a cracked crust.
Don't forget to put the hot sauce on the table for those who like things extra spicy hot!