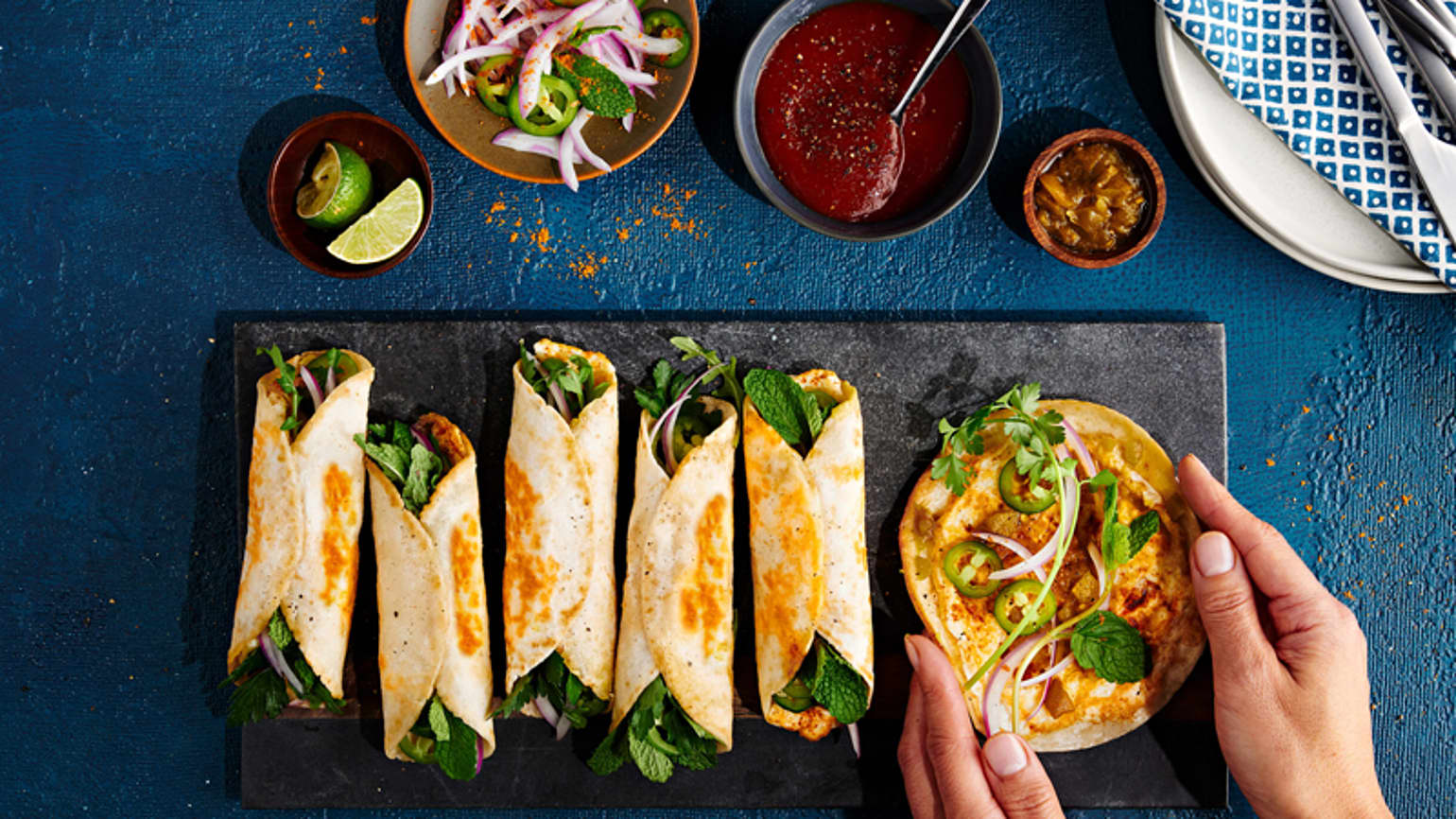 Ingredient List
Half small red onion, thinly sliced
1 small jalapeño, thinly sliced (optional)
1 tbsp (15 mL) lime juice
¼ tsp (1 mL) salt
¼ tsp (1 mL) granulated sugar
1 box Old El Paso Soft Taco Dinner Kit
2 tbsp (30 mL) ketchup
4 tbsp (60 mL) vegetable oil, divided
6 eggs
1 can (127 mL) Old El Paso Chopped Green Chilies
11/2 cups (375 mL) baby arugula or baby spinach or a mix
Handful cilantro with stems or mint or parsley
Preparation
Stir red onion, jalapeño (if using), lime juice, salt and sugar in a small bowl. Let stand to soften for 5 minutes.
Stir taco sauce, ketchup and 1 teaspoon of the taco spice in a small bowl. Set aside.
Heat 2 tsp of oil in a small nonstick skillet over medium heat. Crack 1 egg into pan and cook, breaking up the yolk to create a circle. Sprinkle a pinch of the taco spice over the egg and place tortilla directly on top; cook 30 to 45 seconds. Flip; sprinkle another pinch of taco spice and move the tortilla around the pan to catch the remaining oil and cook until puffed and browned on the bottom. Remove to a baking sheet.
Repeat with remaining oil, eggs, taco spice, and tortillas.
Spoon some of the green chilies over top each egg tortilla; sprinkle with lettuce, red onion mixture, cilantro, and roll up. Serve with taco sauce-ketchup mixture for some fun dipping action.
Double the recipe to make 12 tortilla rolls if desired.
Expert Tips
Kolkata egg rolls are a popular street food commonly called a frankie or a wrap in Kolkata India where tortillas are a paratha, a homemade flaky round flatbread.
The taco-ketchup sauce has a hint of spice, reminiscent of the tomato-chili sauce commonly served with a Kolkata egg roll.
Serve egg tortilla rolls for dinner as a quick and easy dinner with a fresh salad or as a portable snack or lunch.