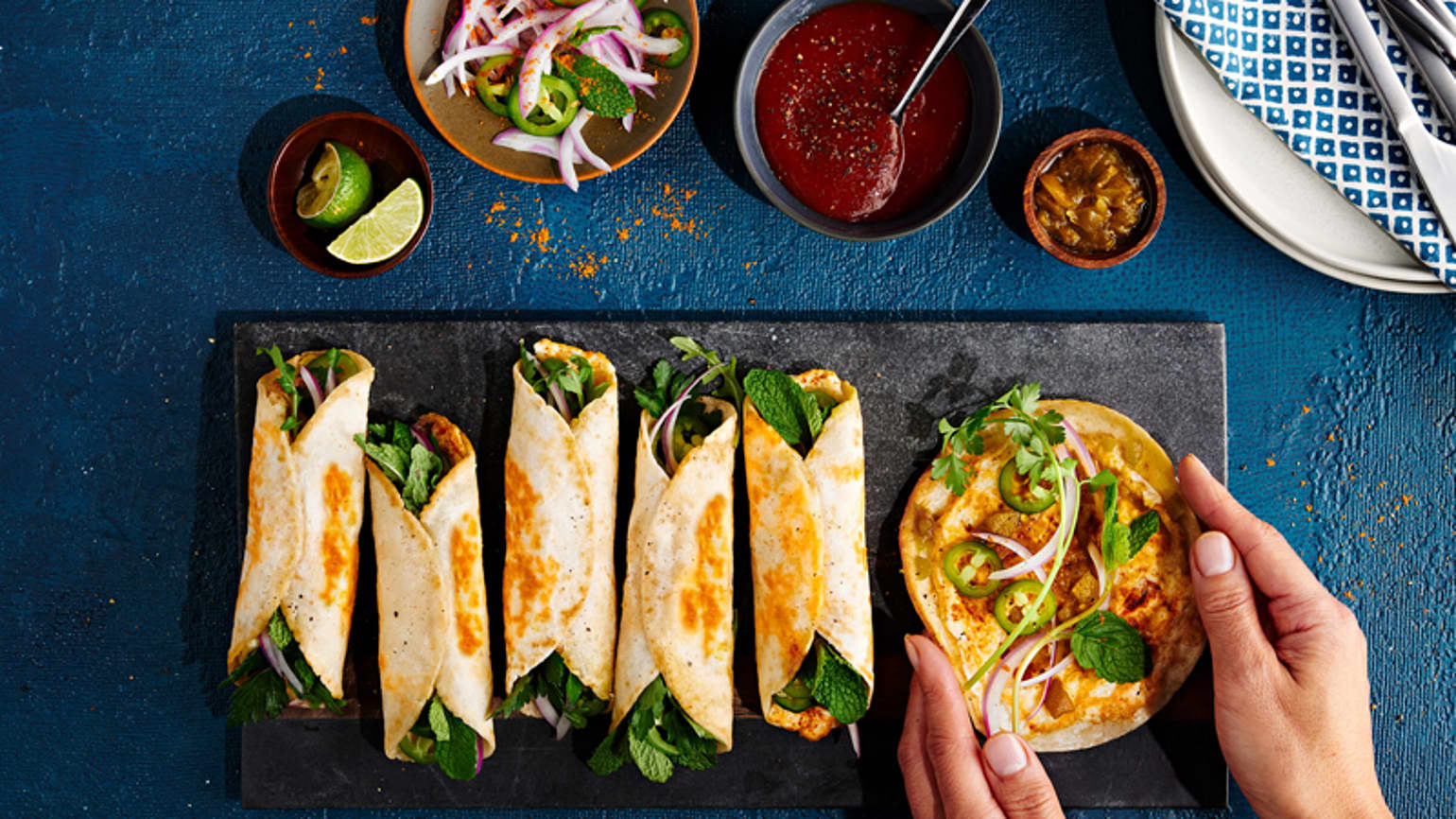 Ingredient List
Half small red onion, thinly sliced
1 small jalapeño, thinly sliced (optional)
1 tbsp (15 mL) lime juice
¼ tsp (1 mL) salt
¼ tsp (1 mL) granulated sugar
1 box Old El Paso Soft Taco Dinner Kit
2 tbsp (30 mL) ketchup
4 tbsp (60 mL) vegetable oil, divided
6 eggs
1 can (127 mL) Old El Paso Chopped Green Chilies
11/2 cups (375 mL) baby arugula or baby spinach or a mix
Handful cilantro with stems or mint or parsley
Preparation
Stir red onion, jalapeño (if using), lime juice, salt and sugar in a small bowl. Let stand to soften for 5 minutes.
Stir taco sauce, ketchup and 1 teaspoon of the taco spice in a small bowl. Set aside.
Heat 2 tsp of oil in a small nonstick skillet over medium heat. Crack 1 egg into pan and cook, breaking up the yolk to create a circle. Sprinkle a pinch of the taco spice over the egg and place tortilla directly on top; cook 30 to 45 seconds. Flip; sprinkle another pinch of taco spice and move the tortilla around the pan to catch the remaining oil and cook until puffed and browned on the bottom. Remove to a baking sheet.
Repeat with remaining oil, eggs, taco spice, and tortillas.
Spoon some of the green chilies over top each egg tortilla; sprinkle with lettuce, red onion mixture, cilantro, and roll up. Serve with taco sauce-ketchup mixture for some fun dipping action.
Double the recipe to make 12 tortilla rolls if desired.
Expert Tips
Kolkata egg rolls are a popular street food commonly called a frankie or a wrap in Kolkata India where tortillas are a paratha, a homemade flaky round flatbread.
The taco-ketchup sauce has a hint of spice, reminiscent of the tomato-chili sauce commonly served with a Kolkata egg roll.
Serve egg tortilla rolls for dinner as a quick and easy dinner with a fresh salad or as a portable snack or lunch.
From time to time, reformulations of products may alter nutrient value, ingredients and/or allergens. Maintaining on-line information accuracy at all times can be difficult. In the event of a conflict between the data that is shown on this site and that which is on the package, the data on the package should be the primary resource for accurate and up to date data for the product in the package.