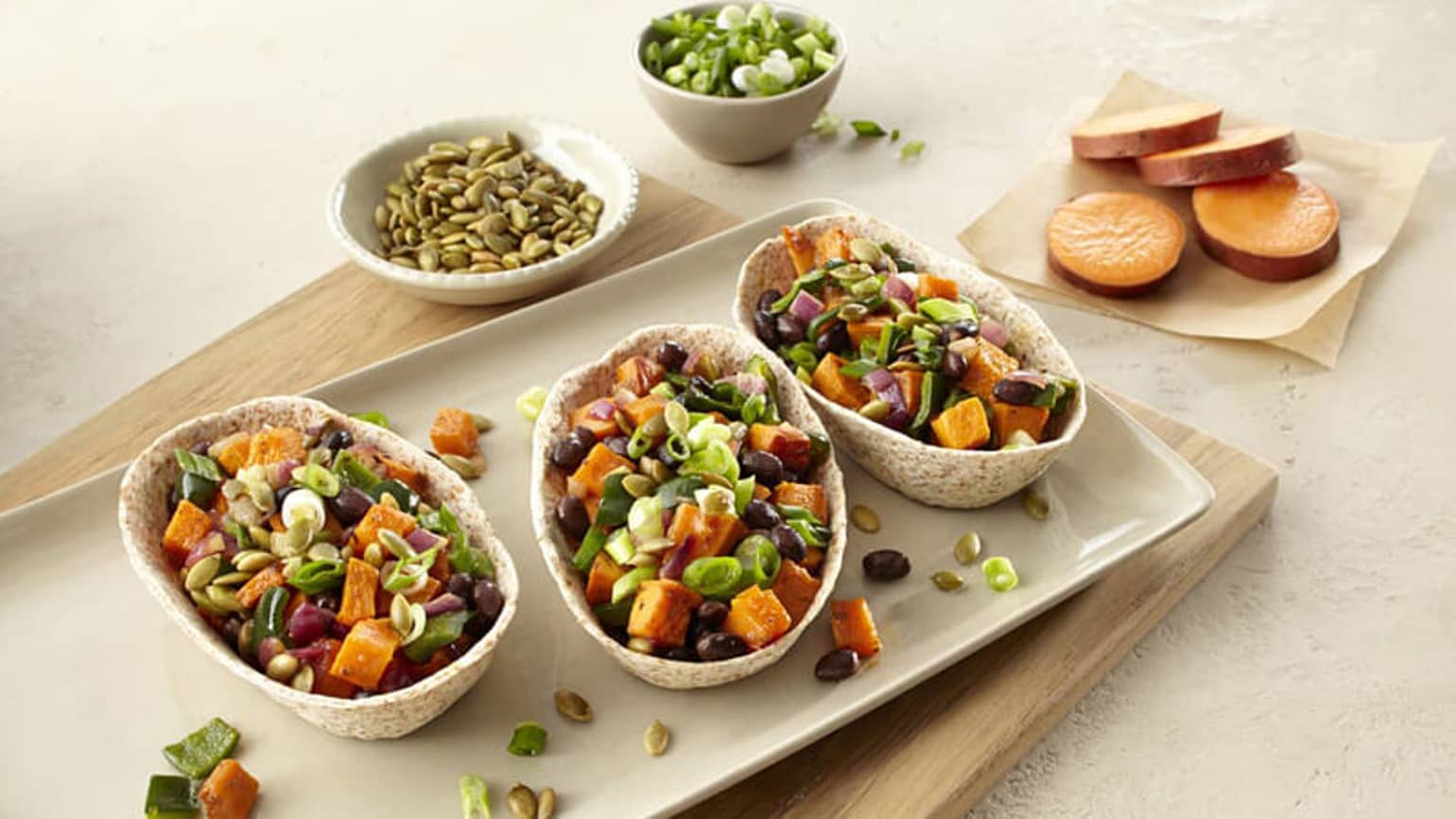 Vegetarian Sweet Potato and Black Bean Whole Wheat Tortilla Bowls
Roasting the sweet potatoes gives them a deeper, more caramelized flavour, which balances nicely with the savoury black beans.
Ingredient List
1 1/4 lb (625 g) sweet potatoes, peeled and cut into 1/2-inch dice (about 4 cups)
2 tablespoons vegetable oil
3/4 teaspoon salt
1/2 teaspoon ground black pepper
2 tablespoons lime juice
1 tablespoon honey
2 poblano chiles, stems and seeds removed, cut into 1/2-inch dice
1 medium red onion, chopped
1/2 teaspoon dried oregano leaves
1/4 teaspoon ground chipotle powder
1/2 cup canned black beans, drained, rinsed
1 package (8 count) Old El Paso™ Whole Grain Tortilla Bowls or Old El Paso™ Tortilla Bowls
2 green onions, thinly sliced
3 tablespoons roasted pepitas (pumpkin seeds)
Preparation
Heat oven to 425°F. Place sweet potatoes on large rimmed baking sheet. Drizzle 1 tablespoon of the oil over potatoes, and season with 1/2 teaspoon of the salt and 1/4 teaspoon of the pepper. Toss to coat.
Bake 20 to 25 minutes or until potatoes are tender and lightly browned.
Meanwhile, in small bowl, beat lime juice and honey. Set aside.
In 12-inch nonstick skillet, heat remaining 1 tablespoon oil over medium-high heat. Stir in poblano chiles, onion, oregano, chipotle powder, remaining 1/4 teaspoon salt and 1/4 teaspoon pepper to combine. Cook 5 to 7 minutes, stirring frequently, until vegetables are just tender. Add roasted sweet potatoes and black beans. Continue cooking 3 to 4 minutes, stirring frequently, until mixture is heated through.
Heat tortilla bowls as directed on package. Divide sweet potato and black bean mixture among bowls. Drizzle a little of the lime and honey sauce over each; garnish with green onion and pepitas.
Expert Tips
Pepita is Spanish for pumpkin seeds. You can find them hulled and raw or roasted. To roast: Spread raw pepitas in a single layer on a cookie sheet. Roast in 325°F oven, stirring occasionally, 10 to 13 minutes or until golden.
For this recipe, look for sweet potatoes with a red skin and orange flesh.
Cooking Vegetarian? Always read labels to make sure each recipe ingredient is vegetarian. Products and ingredient sources can change.