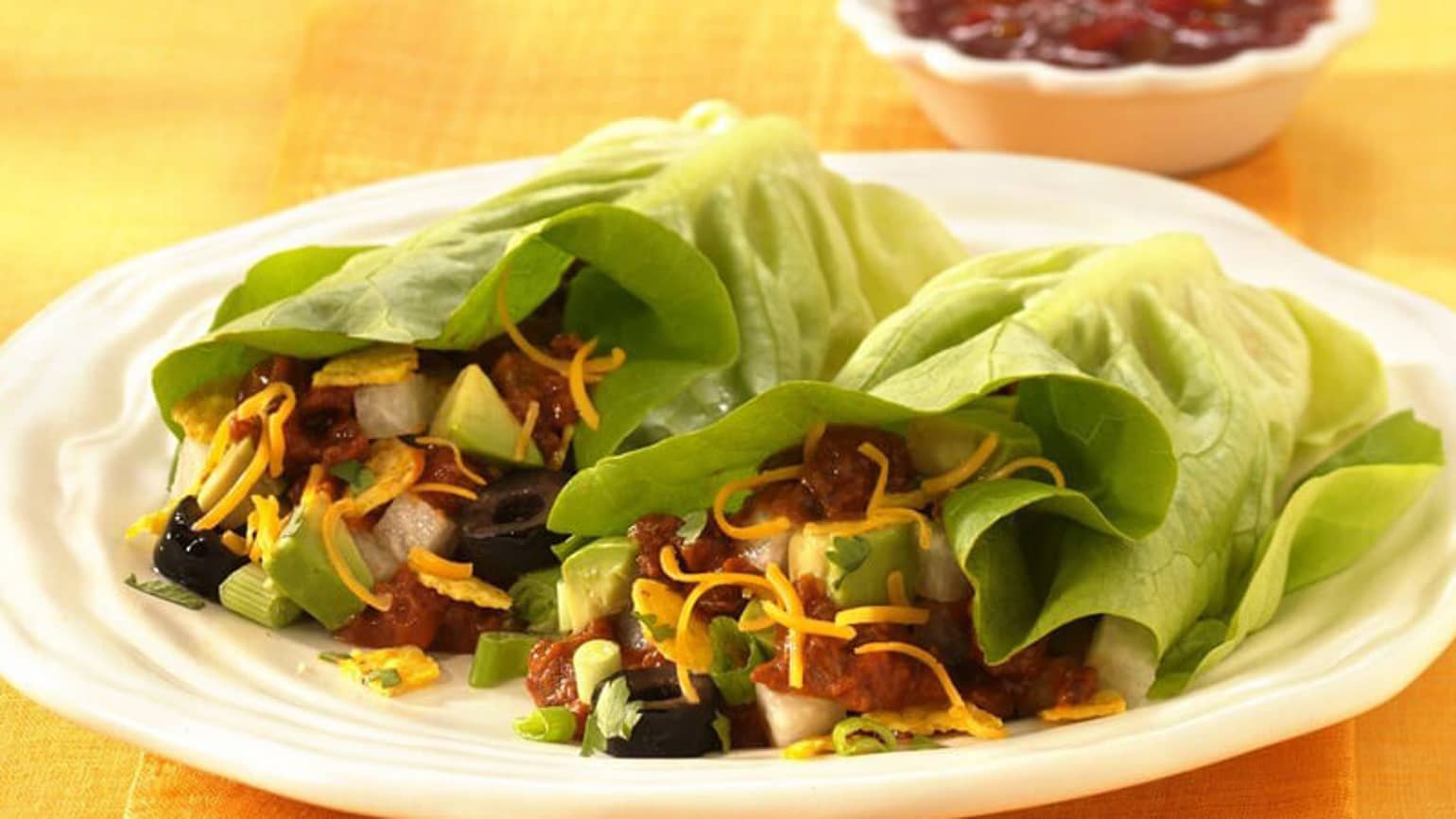 Inside-Out Taco Salad Wraps
Wrap up traditional taco fillings in a lettuce leaf for a handheld taco salad.
Ingredient List
1 cup (250 mL) Old El PasoTM Thick N' Chunky Salsa
1/2 cup (125 mL) peach preserves
1/2 tsp (2 mL) liquid smoke (if desired)
1/2 tsp (2 mL) Worcestershire sauce
2/3 cup (150 mL) diced peeled jicama
2 tsp (10 mL) fresh lime juice
1 ripe avocado, pitted, peeled and coarsely chopped
1 lb (500 g) lean ground beef, cooked, drained
1/2 cup (125 mL) Old El PasoTM Taco Sauce
1 3/4 cups (425 mL) coarsely crushed tortilla chips
1/4 cup (50 mL) chopped green onions
1/4 cup (50 mL) sliced ripe olives, drained
1/2 cup (125 mL) finely shredded sharp Cheddar cheese
1/4 cup (50 mL) coarsely chopped fresh cilantro
12 large leaves Bibb lettuce, rinsed, patted dry with paper towels
Preparation
In small bowl, mix all dipping sauce ingredients; set aside. In another small bowl, mix jicama with 1 teaspoon of the lime juice. In third small bowl, mix avocado with remaining teaspoon lime juice. Heat taco sauce with cooked ground beef in microwave, until hot.
On large serving platter, layer crushed chips, warm taco sauce with ground beef, jicama, avocado, onions, olives and cheese. Sprinkle cilantro over top. On large plate, arrange lettuce leaves.
To serve, spoon about 1/3 cup layered fillings onto each lettuce leaf; wrap lettuce around filling. Serve with dipping sauce.
Expert Tips
No peach preserves? Apricot preserves makes a yummy stand-in.